2012 NFL Draft Preview: Cincinnati Bengals 4-Round Mock Draft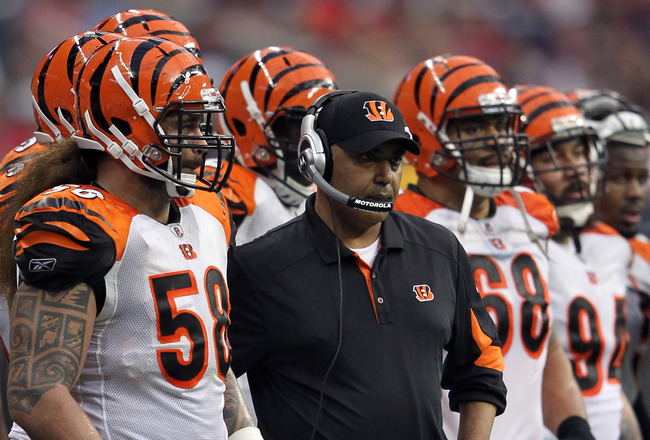 Jamie Squire/Getty Images
Following a dramatic conclusion to Super Bowl XLVI in Indianapolis, we enter February with football withdrawal symptoms at their most palpable.
However, it will not be long before we return to Indianapolis for the 2012 NFL scouting combine, with Robert Griffin III and Andrew Luck likely to headline proceedings.
The Cincinnati Bengals will be looking to build upon a promising 2011 campaign by putting together another solid draft class following the runaway success of their 2011 first- and second-round picks A.J. Green and Andy Dalton.
With a history of anaemic seasons following playoff berths, the Bengals will be hoping to overhaul that facet of history in much the same way as they have their roster. With a wealth of young talent to work with, Marvin Lewis is changing the culture in Cincinnati, and there is no better way to continue that than with a solid 2012 draft.
Please keep in mind that this is a very early mock draft. There is a general consensus of what the Bengals' needs are, and I will work from that logic. I have omitted the later rounds as we all know that after the fourth round the draft often becomes a case of "best player available."
Enjoy!
Round 1 Pick 17: David DeCastro, OG, Stanford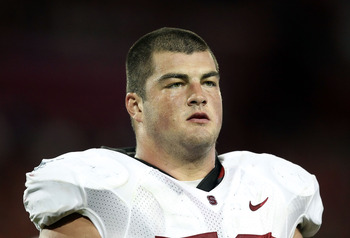 Christian Petersen/Getty Images
It may not create as large a stir as the selection of A.J. Green did in 2011, but by taking Andrew Luck's guard, David DeCastro, the Bengals offensive line will see an immediate improvement.
The Stanford Cardinal running game relied heavily on DeCastro's impressive ability to open holes in 2011, and his intelligence and aggressiveness allowed him to go largely unbeaten in pass protection despite not being an elite athlete.
Veteran guard Bobbie Williams broke his ankle in 2011, and you have to wonder if he can bounce back from it at the age of 35. Not only that, but he is a free agent, and with his age and injury working against him, it might be time for Bobbie Williams to hang them up.
If not he could return on a one-year deal, but all signs point towards a replacement being a prime concern for Marvin Lewis in this draft. DeCastro provides a long-term solution for the Bengals offensive line and his physicality will boost a unit that struggled in the big games in 2011.
Nate Livings is also a free agent so you would assume that one of the two will return. Williams' injury may determine who stays and who goes, but you can be certain that whatever happens, there will be a new guard in town by the time the first round is over.
Round 1 Pick 21: Janoris Jenkins, CB, North Alabama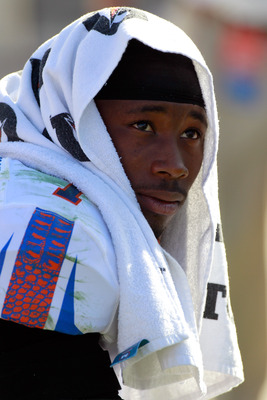 Sam Greenwood/Getty Images
North Alabama's Janoris Jenkins may not have played against elite opponents in 2011, but during his time with Urban Meyer's Florida Gators, Jenkins was an All-SEC performer.
Despite off-the-field issues that strike a similar chord with the Bengals' own Jerome Simpson, Jenkins' upside will cause the Bengals to take notice. Cincy is known to take on troubled players and Jenkins' previous indiscretions are not of a particularly grave nature.
What might catch the attention of Lewis and Mike Zimmer is the fact that Jenkins lined up against the likes of Alshon Jeffery, Julio Jones and most importantly A.J. Green, shutting each and every one down.
Jenkins is incredibly gifted athletically with loose hips and killer speed. He is competitive and doesn't shy away from tackles. He is a versatile kid with the ability to play zone, man press—you name it.
Jenkins could well be a bit of a gamble. With tremendous upside, but some frightening red flags surrounding his character, he will likely be thoroughly interrogated in the lead-up to the draft.
The Bengals won't know the status of Leon Hall for quite some time, and Nate Clements is not a long-term solution at corner. Adam Jones and Kelly Jennings struggled in the big games, and Brandon Ghee remains untested.
Janoris Jenkins would add much-needed depth, and both his game and his character would benefit from playing understudy to Nate Clements for a year.
The Jerome Simpson situation in Cincinnati might see the Bengals steer clear of this kind of character, but if he is there at 21, his playmaking ability alone could be enough to see him don stripes in 2012.
Round 2: Markelle Martin, S, Oklahoma State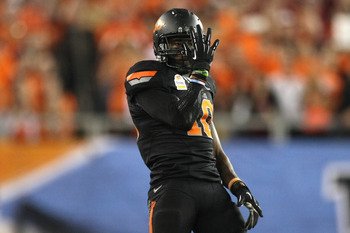 Donald Miralle/Getty Images
Markelle Martin is naturally a free safety, but has the versatility to play either position. Martin is considered to be the second safety in this year's draft after Mark Barron of Alabama, and is projected to fall to the second round.
Cincinnati will look to bring Reggie Nelson back in 2012 and with Chris Crocker still under contract, Martin will provide much-needed depth in the secondary.
Crocker has been particularly uninspiring of late and Martin would provide some lively competition in training camp and beyond.
At 6'1" and 205 lbs, Martin is the ideal size to play safety in the NFL. Martin racked up 52 solo tackles, had 11 passes defensed and two forced fumbles in his senior year at Oklahoma State.
Martin hits hard, and like Reggie Nelson, he isn't afraid to get involved with the bigger guys on the field. This works against him sometimes as he tends to try to lay the wood as opposed to wrapping up.
He breaks on the ball quickly and has sound reactions. He picks up coverage well and is someone QBs will not throw towards repeatedly.
There are some who have pegged the Bengals to go after Mark Barron in the first round, but if they don't, Martin should be someone worth targeting in the second round. The selection of a safety would likely spell the end for Taylor Mays and Robert Sands who would struggle to gain a starting spot.
Round 3: Isaiah Pead, RB, Cincinnati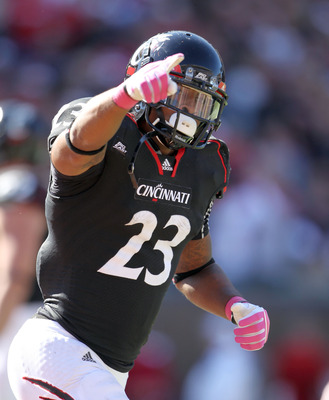 Andy Lyons/Getty Images
This one is sure to polarize opinion. While there are a lot of Cincinnati natives that would love to see Pead become a Bengal in 2012, there are also some who don't see him as a feature back.
The justification for taking Pead in the third round can be shown by understanding two things. Firstly, the Bengals will likely pursue an RB in free agency, whether that be Michael Bush, BenJarvus Green-Ellis, Mike Tolbert or someone else.
Secondly, Pead could well turn out to be feature-back material given the opportunity, but if not, he has a number of other traits that would make him a real asset to the Bengals.
Pead set a Senior Bowl record for punt returns earlier this year with 98 yards that helped him bag the MVP award, and turned the heads of scouts in the process.
Pead's special teams prowess would be a useful extra, especially considering that many are still far from sold on Brandon Tate.
Those skills have also transferred into backfield success with Pead being a threat not only as an athletic and nimble runner, but as a receiver also, proving particularly effective from screen passes.
These traits are something that will benefit Jay Gruden's West Coast system, as Andy Dalton is in real need of as many pairs of hands as possible—especially considering the frequency with which A.J. Green was double-covered in 2011.
Pead may be a change-of-pace back, but if you buy into the Bengals trying to attract a "bell cow" in free agency, Pead could be a tremendous complement to whomever they hitch their wagon to.
Round 4: Tyrone Crawford, DE, Boise State
Doug Pensinger/Getty Images
The National Football Post currently has Crawford ranked as the ninth-best defensive end in the 2012 draft, making him a good candidate for the Bengals when the fourth round rolls along.
With Robert Geathers struggling in 2011, and continued pressure largely being dependent on Carlos Dunlap's presence, the Bengals are in need of another pass-rusher.
Crawford impressed at the East-West Shrine Game and here's what the NFP had to say about his performance:
At 285-pounds Crawford showcased natural power all week at the point of attack in the run game while exhibiting the ability to be sudden with his hands and slip blocks. He's also a physical pass rusher who turns speed into power off the edge, understands angles and knows how to rush with leverage. I could see him fighting for a starting job as a 43 base end potentially early on.
With his draft stock on the rise, Crawford may jump up the draft between now and April, and you have to look at his Shrine Game performance as a promising start to his pre-draft campaign. It was only a short while ago that Crawford was 16th on the list.
The Bengals would be a great fit for Crawford, who could come in and grab a spot in the rotation right away, giving him a great place to learn and thrive off of those around him.
Keep Reading

Cincinnati Bengals: Like this team?