Classic Sports Hotties Who You Forgot About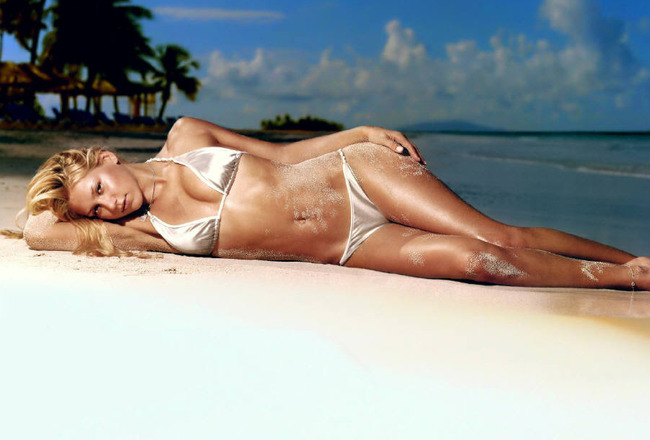 We'll never get bored of sports hotties. As the best compliments to the violent, exhilarating nature of athletics, beautiful women continue to grace our screens and ease our nerves.
But let's not forget the pioneers, those who sparked the sexy movement.
Like a fine wine, these beauties get better with age. They may have temporarily faded from our forward-thinking minds, but they're still pleasing us with their seductive approaches.
Let's take a look at classic sports hotties who have been forgotten.
Time to turn back the clock.
20. Almudena Cid Tostado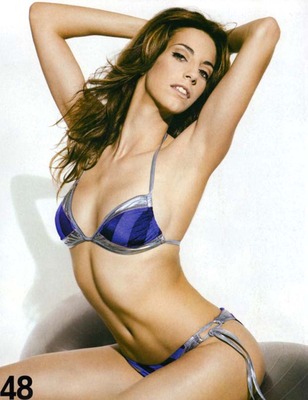 As the oldest currently competing elite rhythmic gymnast, Almudena Cid Tostado has certainly had time to master her craft.
With only one gold medal (2005 Mediterranean Games), it's easy to see why we're a bit more focused on her perfect body than on her athletic prowess.
Her quirky name makes her that much sexier.
19. Anna Benson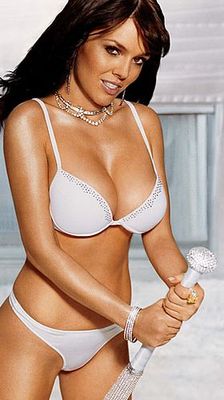 Now that she's torturing fans with her manipulative drama on Baseball Wives, we're about fed up with the wife of former MLB disappointment Kris Benson.
But there was a time when Anna Benson ruled the world of sports hotties, dominated the playing field like her husband never could.
Let's take a moment to reminisce.
18. Kristi Leskinen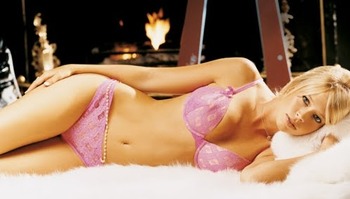 How could we possibly forget pictorials like this?
Well, beautiful freestyle skier Kristi Leskinen has somehow remained quietly in the shadows since winning a bronze medal at the 2005 X Games.
Leskinen seems to be more focused on mastering her on-camera ability.
And for that we thank her.
17. Gabrielle Reece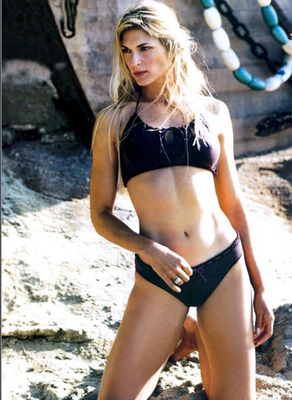 Sure she was named one of the five most beautiful women in the world by Elle, but Gabrielle Reece thrust herself into the spotlight for good when she appeared in Playboy in 2001.
Her on-camera ability has dominated a quiet volleyball career since then.
Since becoming a mother, Reece has drifted from the spotlight.
We sure do miss her.
16. Suzy Kolber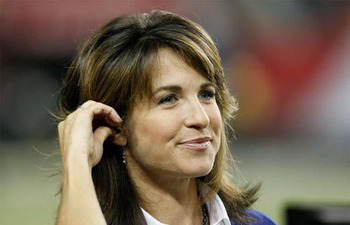 With her calm demeanor and subtle sexiness, longtime reporter Suzy Kolber has always made her appearances memorable.
She may be remembered most for interviewing and dealing with an inebriated Joe Namath, but Kolber should be revered for her innocent beauty.
It's those worry-free smiles that distract us from her nasal tones.
15. Ashley Massaro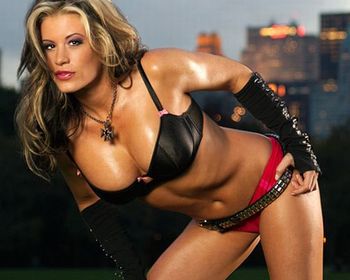 Baffled with any fan who's forgotten her, Ashley Massaro is bending over in disappointment.
Ok, so we forgot her for a little while, but Massaro's clearly back.
She may be frolicking around the World Independent Ladies Division Wrestling these days, but it was her work with the WWE that makes us want to take a look back.
Massaro has clearly never stopped adding to her resume.
14. Victoria Beckham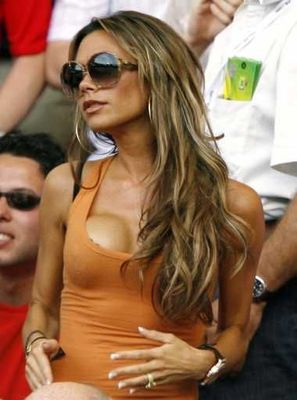 Oh you can bet we've somewhat forgotten Posh Spice, the Spice Girl who married the most famous footballer in the world. The illustrious Beckhams, ah, the ultimate power couple. Right?
It's all about David Beckham, who's pristine perfection is thrown into our faces by H&M every five seconds.
But his wife has somehow remained in the shadows, waiting for her moment to shine.
Her colorful fashion sense makes sporadic appearances.
13. Amy Acuff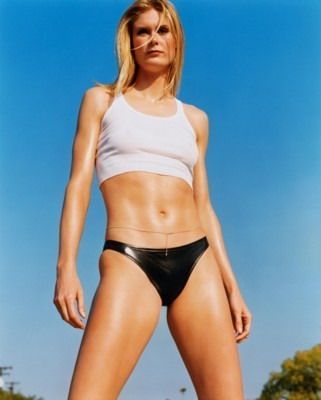 It's hard to be remembered when you only compete in the Olympics every four years.
For track and field star Amy Acuff, her legacy is built around beauty.
And every four years we witness quite the presentation.
12. Michelle Beadle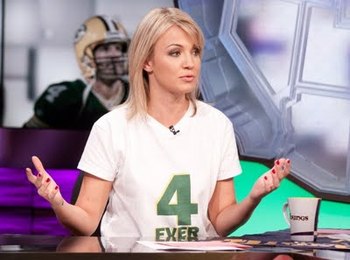 Her spunky attitude and humorous honesty make SportsNation co-host Michelle Beadle one of the sexiest women in sports. That being said, we continue to forget her impact.
She may not be as famous as Erin Andrews or produce such provocative shoots as Melanie Collins, but Beadle knows how to grab the spotlight by the horns.
We always await her next jaw-dropping statement.
11. Jamie Sale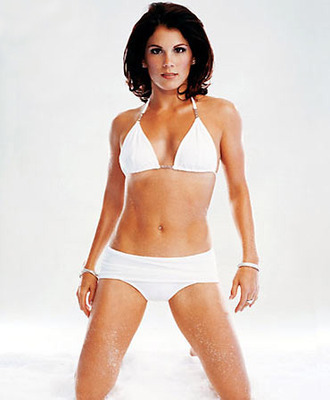 Following her Olympic gold medal in 2002, pair skater Jamie Sale seemingly disappeared from the competitive scene.
Since enhancing her resume (as seen here), Sale appeared on Battle of the Blades.
But her pictures left more than a lasting impression on us.

10. Torrie Wilson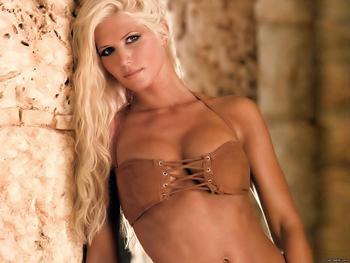 Other than a return to the WWE in 2009, sexy wrestler Torrie Wilson has remained somewhat in the shadows since retiring.
Now that she's romantically linked with Alex Rodriguez, we're forced to turn back the clock.
Ah, those were the days.
9. Leeann Tweeden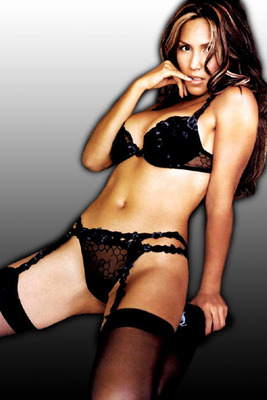 Model, Hooters hostess and FHM covergirl. Leeann Tweeden never shies away from a challenge.
Now that she's covering the Los Angeles Angels of Anaheim for Fox Sports West, after previously working as a correspondent on The Best Damn Sports Show Period, her beauty continues to shadow the sports world.
She always seems ready.

8. Trish Stratus
She may a bit too muscular for some, but Trish Stratus has mastered the art of the photo shoot.
The Canadian professional wrestler's fearless approach on camera never ceases to disappoint us, eh?
7. Misty May-Treanor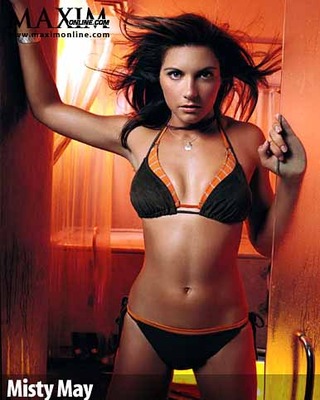 There was a time when Misty May-Treanor dominated the sports scene, and not only on the court with prolific volleyball teammate Kerri Walsh.
Before inheriting her MLB husband's last name, May-Treanor reeked of sexiness, and rarely shied from the spotlight.
It's nice to remember those juicy days.
6. Anna Kournikova
Ok, so we didn't really forget this beautiful model, who often doubles as a tennis player.
But having been on the scene for so long, it's easy to dismiss Anna Kournikova's impact on the sports world.
Her seductive nature has yet to disappoint our eager eyes.
5. Jenn Sterger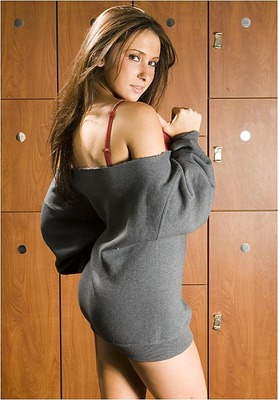 Such a promising, flirtatious start to a career for Jenn Sterger.
We remember her days as a "Gameday Host" for the New York Jets best, before her high-profile run-in with... dare we say... Brett Favre.
We'd like to believe Favre is still precisely rethinking each text message.
Perhaps if he had added a "LOL" in there, he could've had a better chance.
4. Kelly Kelly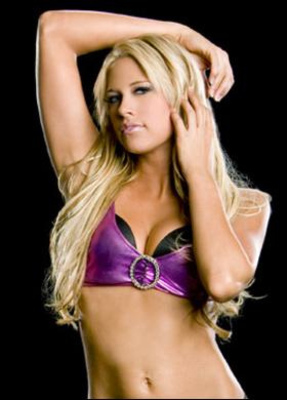 While naming herself twice clearly enhanced Kelly Kelly's legacy, it was her seductive Kodak moments and memorable matches with WWE that kept us engaged.
But we've lost track of Kelly and need her to come back into our lives immediately.
She clearly hasn't lost a step.
3. Coleen Rooney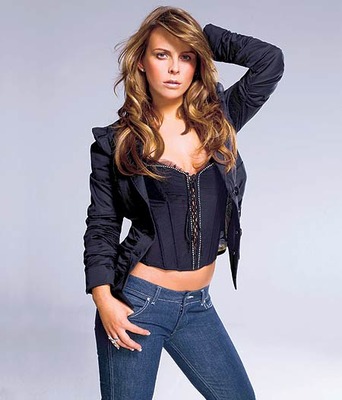 Oh boy, we have yet to stop loving Coleen Rooney.
Sure she's been the longtime wife of star footballer Wayne Rooney, but it is Coleen's fashion sense and beauty that have helped propel her into the upper echelon of the sports world.
Something about her keeps us coming back.
2. Minka Kelly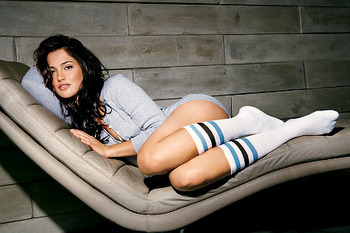 Considering most fans associate this mediocre, yet sexy actress with Pinstripes shortstop Derek Jeter, it's safe to say that her impact on the sports world flows through him.
After a high-profile breakup in August, we were naturally disappointed and bereft of optimism.
But no need to worry any longer...
Seems like she might be back for another run at the WAG world.
1. Rachelle Leah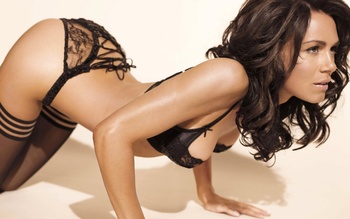 She may have returned to the Octagon at UFC 111 in 2010, but Rachelle Leah needs to hog our screens just a bit more.
While it's easy to see why the UFC hired Leah immediately after seeing a 19-year-old picture of her, it's just as confusing why we've somehow forgotten her.
The UFC needs to start sharing.
Keep Reading