Mario Manningham Catch: Biggest Play of Super Bowl Guarantees WR a Huge Pay Day
February 6, 2012

Rob Carr/Getty Images
The Super Bowl is the ultimate platform to showcase your talents to the rest of the league and Mario Manningham took full advantage of his opportunity.  
Manningham made the catch of the Super Bowl when the New York Giants needed it the most in route to a five catch, 73 yard performance.
On second and 11th from their own 12-yard line down 17-15 with time running out, Eli Manning lofted a perfectly thrown ball to the left sideline where only Manningham could catch it…and he did. It ended up being a 38-yard connection that completely swung the momentum of the game.
The rest was history.
Now the 25-year-old enters free agency and it couldn't come at a better time. With Hakeem Nicks and Victor Cruz firmly entrenched ahead of him, Manningham is going to likely leave to a team that can guarantee him more targets.
At 6'0'' 185 pounds Manningham isn't a freakish athlete, but he is more than capable of putting up 1,000 yards on a team that can give him 80 catches.
So who could that be?
One team that desperately needs a receiver and could all but assure him of 80 catches is the Cleveland Browns. They are comng off a year where rookie Greg Little led the team in receiving with a mere 709 yards, and also led the league in drops.
They desperately need a guy like Manningham who can spread the field and actually hold on to the ball.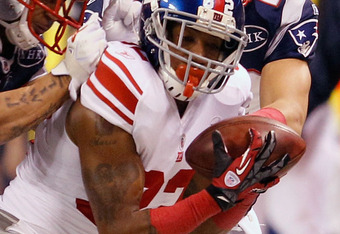 Rob Carr/Getty Images
What makes this scenario a bit more likely is the local connection. Manningham grew up in Warren, Ohio just outside of Cleveland and his family grew up as Browns fans. Manningham admitted to the Cleveland Plain Dealer that his grandpa used to dress him up in Browns' clothing as a kid:
I was about 4 years old, and he used to put me in this too-small Browns outfit. Even after I grew out of it, he used to tell my mom to put it on me on Sundays. He really wanted me to like the Browns, but I didn't.
So maybe not.
Manningham will forever be linked to David Tyree and his efforts in Super Bowl 46, but now it's time to get paid. A multi-year deal worth around $8-to-10M per year sounds about right. Reading between the lines, it sounds like he'll end up going with whoever can offer him the most money:
I don't know where I'm going to end up. I'm not really thinking about that right now. All I'm thinking about is winning this game.
Another team that has big-time receiver issues is the Chicago Bears. ESPN Chicago has already made the connection and it would certainly make Jay Cutler's life a whole lot easier. 
There is roughly a month before March 13th hits and free agency arrives so expect every receiver needy team to consider one of the hero's of Super Bowl XLVI.
As we have found out, this guy is clutch.