NHL: Would New Jersey Devils Have Dominated Without Scott Stevens?
February 7, 2012

Chris Trotman/Getty Images
It's been almost eight years since Scott Stevens last laced up his skates for the New Jersey Devils, after a 13-year tenure that saw him lead the team to three Stanley Cup titles in a nine-year period as its long-time captain.
Question is, would the Devils have gotten three Cups, or even one, without No. 4 on the blueline?
The answer is no.
Stevens wasn't even originally supposed to be in New Jersey after playing the first eight years of his NHL career in Washington. He played the 1990-91 season in St. Louis, but was then awarded to the Devils as compensation for the Blues signing Brendan Shanahan as a free agent.
Stevens originally refused to report to the Meadowlands, but relented three weeks into training camp. If he had a problem playing in the Garden State after that, it didn't show, as he tallied 17 goals and 59 points, along with a plus-24 figure and 124 penalty minutes in 68 games before the Devils fell to the rival Rangers in seven playoff games. He was later named team captain, a title he held the rest of his career.
Two years later, Stevens posted a career-best 18 goals and 78 points along with a plus-53, and was the runner-up for the Norris Trophy as the NHL's best defenseman. New Jersey, though, again fell to New York in seven games, this time in the conference finals.
Stevens would never again hit double-digits in goals in a regular season, but that wasn't the only change to his game beginning in 1994-95. Always a devastating checker, Stevens was also a volatile player who had difficulty keeping his temper in check.
That changed the year he led the Devils to their first Stanley Cup crown.
Stevens' offensive production went down the rest of his career, but so did his penalty minute totals. He realized he was more valuable on the ice than in the penalty box, especially in the defensive zone, but still remained one of the game's most fearsome hitters.
He started to show why in the playoffs during the lockout-shortened season
Stevens' first memorable postseason boom came on Slava Kozlov in the 1995 finals in Detroit. It helped the Devils to win both games at Joe Louis Arena that spring, en route to a four-game sweep of the favored Red Wings.
He clobbered Eric Lindros in Game 7 of the 2000 Eastern Conference finals as New Jersey made it all the way back from a 3-1 deficit to beat  Philadelphia, and then finished the deal by earning the Conn Smythe Trophy as playoff MVP as the Devils downed the Dallas Stars in six games.
New Jersey finished a game short of a second straight Cup the next season against Colorado. Two years later they made it three titles in nine years by outlasting Anaheim in seven games, punctuated by Martin Brodeur's three shutouts and Stevens' knockout hit on Paul Kariya.
As devastating a hitter as he was, his physical play, along with the hits he received himself in his career, eventually took a toll on Stevens. He retired after the lockout season of 2004-05 while dealing with the effects of post-concussion syndrome.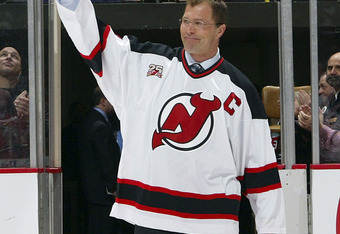 Jim McIsaac/Getty Images
The Devils later made his No. 4 the first retired number in team history. He was also inducted into the Hockey Hall of Fame in 2007.
A participant in no less than 13 NHL All-Star Games, Stevens skated away with 196 goals and 712 assists for 908 points, a plus-393 figure, and 2,785 penalty minutes in 1,635 career regular-season games. Playoff-wise, he posted 26-92-118 points along with a plus-34 and 378 PIM in 233 Stanley Cup outings.
"Captain Crunch" was more than just one of the best hitters the game has ever seen. Despite some other great players they've had over the years, it's not unfair to say that Stevens was the heart and soul of the Devils. They've missed his presence on the blueline and in the locker room since he retired, and players with his toughness and ability don't come along every year.
The Devils are thankful for the year that Scott Stevens did come along, and the 13 years he stayed in all. He helped transform them from a team that was just getting close to being a perennial contender, to one that was one of the NHL's pre-eminent franchises on the ice for a decade.