Detroit Tigers: 6 Biggest Concerns Entering Spring Training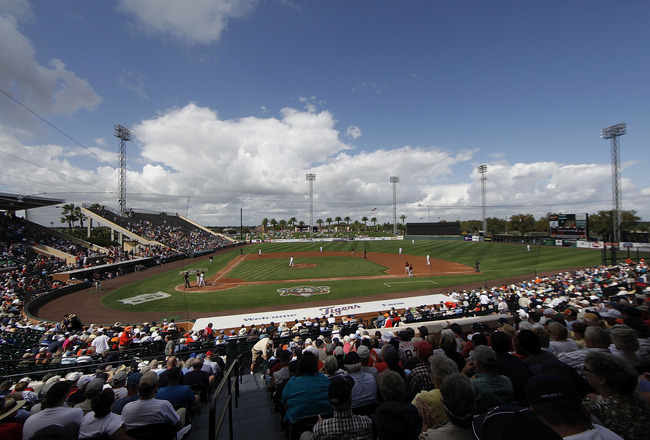 Leon Halip/Getty Images
Thirteen days from now, pitchers and catchers will arrive in Lakeland, Florida with one goal in mind: finishing the business that they could not in 2011.
With the arrival of Prince Fielder, there is a renewed sense of optimism amongst Tigers fans, despite the lost of stalwart Victor Martinez. While the lineup looks stout and the rotation looks steady, there are still some questions to be answered going into the spring.
Here are the six biggest concerns that the Tigers will need to address before the first pitch on opening day.
1. How Will They Get Production from the Leadoff Spot?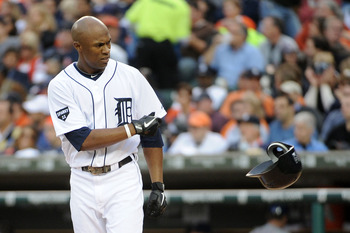 Harry How/Getty Images
In 2010, Austin Jackson enjoyed a phenomenal rookie campaign. He managed to hit a solid .293 and reached base at a .345 clip. Last year, however, was a bloodbath for the youngster as his batting average plummeted and his strikeouts rose dramatically.
While Jackson is still young and has plenty of time to improve, slotting him in the leadoff spot on a team ready to win now is risky. With an improved approach at the plate, there is no reason he could not duplicate the success of 2010, but it definitely remains an area of concern.
Other possibilities for the leadoff spot could include Andy Dirks or Ramon Santiago. Dirks, coming off a game-winning RBI that sent his club to the Caribbean Series, is a gamer and a winner. Though not blessed with as many natural tools as Jackson, he is more disciplined and consistent.
2. Who Will Be the 5th Starter?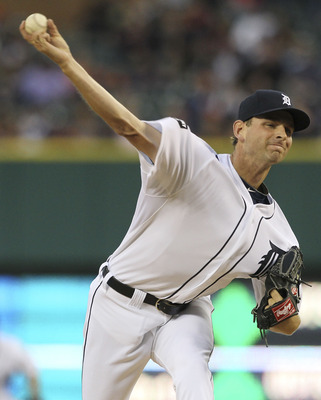 Leon Halip/Getty Images
As of right now, we know who the first four pitchers will be in the Tigers rotation. Who follows Verlander, Scherzer, Fister and Porcello is anyone's guess.
The crop of veteran free agents is thinning at this point, so barring the signing of Roy Oswalt, it looks like the candidate will have to come from within. The leaders at this point are Drew Smyly and Jacob Turner.
Though Turner has more major league experience, I do not think he should be the choice at this time. He has only made six starts above Double-A ball and won't turn 21 until May 21st.
We have all seen what can happen when you rush a young pitcher before they're ready. The last thing we need is for Turner's development to be stunted like Porcello's was.
That leaves the job to Drew Smyly. Last year, in his first year of professional ball, Smyly had an ERA of 2.07 and struck out more than a batter per inning. He is 22 and already has a major league body.
Jim Leyland has an inexplicable yearning to always have a lefty in the rotation. Smyly would provide just that.
3. Infield Defense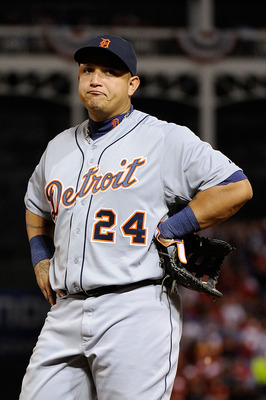 Kevork Djansezian/Getty Images
I'm not going to pretend like this is the biggest of the Tigers' concerns but it is something that they will need to address. If the starting infield consists of Prince Fielder at 1st, Ryan Raburn at 2nd, Miguel Cabrera at 3rd, and Jhonny Peralta at shortstop, they will have legitimately one of the worst defenses in recent memory. It will, however, be one of the best offensive infields in recent memory, though.
Defense is very important, especially with ground ball pitchers such as Fister and Porcello in the rotation, but the fact of the matter is, the way this infield can mash will more than make up for their defensive inadequacies.
The boys should take a lot of grounders this spring and be good to go for Opening Day, but it still remains an area of concern for the Tigers.
4. Will Jose Valverde Be as Effective This Year?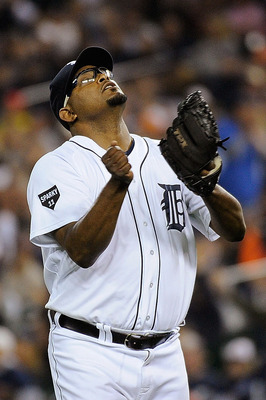 Kevork Djansezian/Getty Images
Papa Grande had one of the best years ever for a closer in 2012. He is mercurial and dynamic on the mound and has the stuff to match. With all of his recent success, you can't but get the feeling like he is due for a falloff this season.
Tigers' closers have long been snakebitten with bouts of wildness and having to tightrope walk to close out saves. From Todd Jones to Fernando Rodney, Valverde is no different. He was perfect last year in save chances but on more than one occasion, he led to raised blood pressure amongst Tigers fans.
With a small amount of bad luck, I could easily see Valverde blowing 5-10 saves this season. I can also, very easily, see an arm injury coming his way. His delivery is anything but smooth and he literally does not use his lower half.
Establishing a contingency plan for when things go awry needs to be a priority for Leyland and his staff this spring.
5. Who Will Be the Designated Hitter?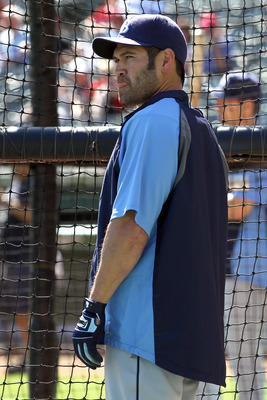 Ronald Martinez/Getty Images
With all the commotion surrounding the signing of Prince Fielder, the fact that the Tigers still need a designated hitter has been lost on just about everyone. While Cabrera will see a good amount of time there while he transitions to third base, he will not be the designated hitter regularly. I would also expect to see Fielder, Raburn, and Delmon Young fill the position at times as well.
In my opinion, the Tigers need to go out and sign Johnny Damon to a one-year deal. It kills two birds with one stone. He gives them a professional hitter who can produce in however many at-bats he is given and it gives them a true number two hitter.
Yeonis Cespedes is another option for the Tigers. His arrival would allow Delmon Young to be the everyday designated hitter and improve their outfield defense. He may be too expensive for them at this point, though Mike Illitch has proven that he is willing to spend.
6. Will Leyland Continue to Sabotage the Championship Effort?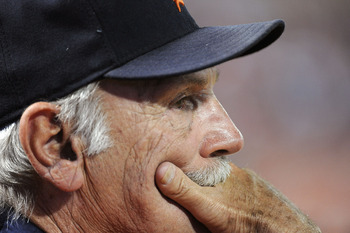 Harry How/Getty Images
I have never seen a more stubborn manager then Jim Leyland. His inability to adapt was the biggest factor in the Tigers' loss to the Rangers last fall. Leyland is absolutely in love with using Valverde in non-save situations despite the fact that his numbers were awful in such situations.
Leyland has a long history of predictability as well. He leaves pitchers in too long like clock work and even a casual observer knows that he gives his hitter one pitch to hit before he makes them bunt. He also has no interest in playing splits when it comes to making bullpen calls or pinch hitters.
More frustrating is the way he handles his roster and lineup. He gives his regulars way too many days off and shows undying loyalty to people who do not deserve it, such as Brad Penny making the postseason roster.
While I think Leyland is a decent manager, he needs to make some changes this year before he costs the Tigers a chance at the World Series yet again.
Agree? Disagree? Let me know on Twitter www.twitter.com/lefthandsmoke23
Keep Reading

Detroit Tigers: Like this team?