UFC on FUEL TV 1: Main Card Predictions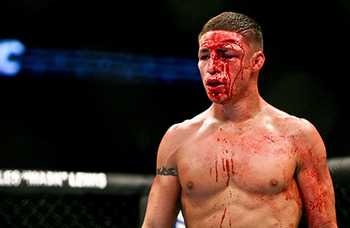 Diego Sanchez; photo cred: brawlin.net
This weekend will mark the UFC's first event held on FUEL TV.
Though many fights have already crossed paths with the FOX-owned network, this will be the organization's first full-fledged mixed martial arts card carefully crafted for the enjoyment of the fans.
In the main event of the evening, budding contenders Jake Ellenberger and Diego Sanchez will square off in a likely No. 1 contender battle which will effectively change the welterweight landscape for the time being.
With many notable matchups taking shape, who will come out on top and prevail?
T.J. Dillashaw vs. Walel Watson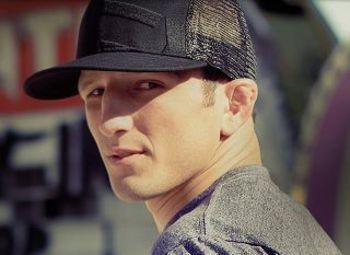 Kicking off the main card will be a bantamweight affair.
The Ultimate Fighter Season 14 finalist T.J. Dillashaw will be making his first post-TUF outing against the always tough Walel Watson.
A touted striker, Watson's long limbs and dynamic strikes would be cause for concern for most, but against a talented wrestler such as Dillashaw, the Team Alpha Male product just sees more ways to bring his lanky foe to the canvas.
Dillashaw's initial outing against John Dodson in the TUF finale was not indicative of his skills or the talent he possesses. Expect to see the Californian dominate the wily Watson for three rounds of action, working him to the mat repeatedly and pounding away with some heavy shots from up top.
T.J. Dillashaw by Decision
Stipe Miocic vs. Philip De Fries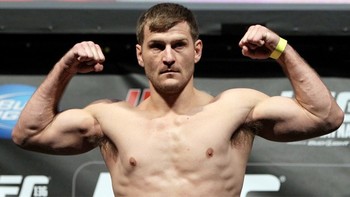 Stipe Miocic; photo cred: heavy.com
The UFC has an interesting way of bringing along their young up-and-comers—especially in the heavyweight division, where the talent is needed the most.
Both men were successful in their debuts with the UFC, with Phil De Fries taking a decision victory over fellow countryman Rob Broughton, and Stipe Miocic besting the tough Joey Beltran.
A grappler in it's purest sense, De Fries is a bit predictable and one-dimensional, while Miocic has been able to translate his successes as a NCAA Division I All-American into mixed martial arts seamlessly—also earning a Golden Gloves title along the way.
Miocic will have an answer for everything the Brit has to offer, fending off takedowns before catching De Fries with his hard right straight, sending him crashing to the mat where he will pick up the decisive finish.
Stipe Miocic defeats Phil De Fries by Knockout
Aaron Simpson vs. Ronny Markes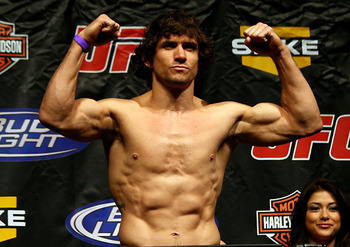 Aaron Simpson; photo cred: MMAJunkie.com
Ronny Markes was by no means a small light heavyweight, though the Brazilian now feels it will be in his best interest to try his hand in the middleweight class.
Markes debuted in the UFC with a dominant, albeit lackluster, performance against "The Terminator" Karlos Vemola—besting the six-time Czech Republic National Wrestling champion on the mat.
Despite his daunting top game, Markes has left areas wanting in the rest of his mixed martial arts game, to which a guy like Aaron Simpson would be able to capitalize on.
A former two-time NCAA Division I All-American, Simpson has since become a budding contender in the UFC's middleweight class, now winning three in a row. His clinch work is phenomenal as is his underrated strength.
Should Markes look to tie up with the collegiate-level wrestler, the Nova Uniao product will be shutdown in his advances, eating punches as he wades forward, which will begin to tax on him as the fight wears on.
Aaron Simpson wins by Decision
Stefan Struve vs. Dave Herman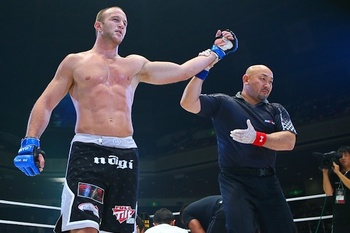 Dave Herman; photo cred: mmaconvert.com
In the co-main event of the evening, a fan friendly heavyweight affair will look to elicit some praise from the fans, as the towering Stefan Struve meets the returning Dave Herman.
Though he's continued to plug away in his striking skills over in Holland, Struve has almost always relied on his bread and butter—his jiu-jitsu prowess.
His long limbs, standing at 6-foot-11, give most opponents feelings of trepidation on the mat, though Herman is not the kind of guy that's easily shakable.
The Team Quest product will get right into Struve's grill, wading in with his powerful hooks. "Skyscraper" has shown vulnerability in being unable to take a solid shot, which will give Herman a reason to go gunning for the finish early.
Dave Herman defeats Stefan Struve by Knockout
Diego Sanchez vs. Jake Ellenberger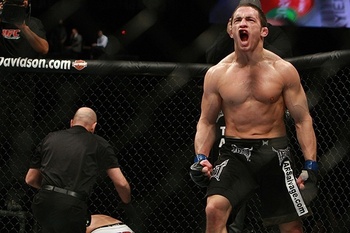 Jake Ellenberger; photo cred: Fighthub.tv
In the headliner, welterweight dynamos Jake Ellenberger and Diego Sanchez will vie for the top spot to the organization's 170-pound crown, which ironically is now split between two men.
Sanchez is a gamer in every sense of the world. His relentless pressure and unwavering cardio has aided him in most of his outings. His ability to take a punch and continue to press forward is unlike any other man in the division.
A grappler by trade, Sanchez is served best when he sprints across the cage and looks to bring his opponents to the mat, using a hellish barrage of ground-and-pound blows to clinch the finish.
However, against Ellenberger, Sanchez will meet a bigger and stronger opponent whose experience on the collegiate wrestling circuit will serve him well here. "The Juggernaut" will be able to fend off the takedown and should Sanchez wade forward recklessly, he could become the victim of an Ellenberger-knee—which recently stopped former Strikeforce champion Jake Shields in less than a minute.
At some point, one of Ellenberger's bricks will crash into Sanchez, as "The Dream" will fall into unconsciousness before the final bell.
There's a difference between being tough and being too tough. If Sanchez eats the same kind of shots he took from Martin Kampmann come Saturday, he will be laying on his back looking up at the ceiling very quickly.
Jake Ellenberger defeats Diego Sanchez by Knockout
Keep Reading