Super Bowl 2012: The Journey Was the Only Thing to Eclipse the Destination
February 7, 2012

Ezra Shaw/Getty Images
Now that the dust has settled on Super Bowl XLVI, at least for those of us not immersed in victory parades or partying shirtless, the New York Giants' season can finally be put into perspective.
While the question marks still sit above Eli Manning and Tom Coughlin's legacies, they will stay there until the end of their careers. Coughlin's season went a long way to pushing his ballot into the Hall of Fame.
The NFL tends to make people see things in black and white. One team is good, one team is bad. One receiver has 1,000 yards, one receiver has 1,500 yards. One coach has zero Super Bowls, the other coach has three Super Bowls.
What gets lost in this attitude, is the journey.
The journey is almost always better than the destination. The entertainment and drama of the journey is what sticks in the fan's mind. That single catch, that broken tackle, that dropped pass and, in some cases, that trying to sit down but falling into the end zone instead.
The entertainment of the journey doesn't interest me, I'm not a football fan.
The drama however, now that's another story completely.
You see, just because one coach has three Super Bowl rings and another has two, that does not equal the same thing. Obviously three is better to have than two, but just because you are born a billionaire it doesn't mean you achieved as much as a self-made millionaire.
The drama in an NFL season is what determines how difficult that season is going to be. Tom Coughlin's New York Giants had a lot of drama to overcome on their way to their second Super Bowl victory in the past five years.
Coughlin may have been forgiven for wishing the lockout had never ended once his team entered training camp.
Free agency wasn't a fulfilling venture for the Giants as they lost key members of their team on both sides of the ball. Despite re-signing Mathias Kiwanuka and Ahmad Bradshaw, they lost Steve Smith, Kevin Boss and Barry Cofield to go along with the releases of Shaun O'Hara and Rich Seubert.
Coughlin had the pieces in place to replace each of the players lost in free agency, but none anywhere near proven at the professional level.
After being somewhat blindsided by Steve Smith's departure to Philadelphia, Coughlin leaned on youngster Victor Cruz to play the possession receiver in the Giants offense. Prior to that point, Cruz's biggest impression in the NFL came in the preseason when he scored three touchdowns to save his roster spot for the regular season as a rookie.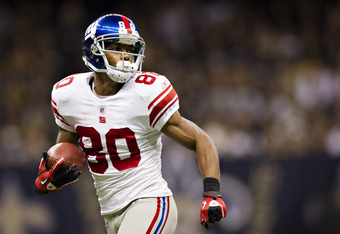 Wesley Hitt/Getty Images
Cruz certainly wasn't perfectly polished as he had to learn on the fly during his first season as a starter. However by the end of the season, he had become one of the hottest targets in the NFL. Cruz's 82 receptions may not have matched Smith's best season in New York, but his 1,500 yards through the air easily surpassed anything Smith had previously done.
He made a slow start with only two receptions in his first two games, but Coughlin must be given credit for sticking with the talented receiver opposed to choosing the safe option with either Devin Thomas or Domenik Hixon, who both had more NFL experience than Cruz at the time.
With hindsight, it is easy to say that Cruz was the obvious choice and that Coughlin deserves no credit. However, Cruz regularly made the wrong reads and at times ran the wrong routes, judging by his and Eli Manning's exchanges during the regular season. Many coaches will remove a player who does either of those things because of the increased risk for turnovers.
Coughlin's commitment to Cruz reaped its rewards as Cruz played a vital role in the Super Bowl. Without his impact, the Patriots would have instead double covered Hakeem Nicks and limited his role in the offense.
While working Cruz into the offense, Coughlin, along with his coaching staff, also had the responsibility of replacing Kevin Boss at tight end while the offensive line underwent substantial surgery.
Jake Ballard wasn't Kevin Boss, but he went from being a player without a single catch in his career to one of the more reliable outlets for Eli Manning this season. Ballard was only in his second season this year but had a level of comfort and trust playing with his teammates, which allowed him to eclipse over 600 yards in 13 starts.
With Ahmad Bradshaw and Victor Cruz in the offense, Ballard wasn't asked to rack up the receptions or yardage, yet he still managed more yards in a single season than Boss ever did.
Coughlin's free-agency period started out pretty bleakly entering the regular season, but at the very least his management after losing two crucial skill position players was exemplary. Coughlin lost two marquee players at their respective roles (a versatile tight end and a possession receiver) and replaced them with better production from lesser known talents.
Considering the transition that the offensive line was undergoing, it was a shock that the offense could function at all this year. The Giants entered training camp with three new starters as opposed to the season before.
Rebuilding your offensive line is one thing, but replacing a left tackle and center is another. Moving David Diehl inside to play left guard was never going to be a big issue because he had started for eight seasons in New York before this year.
However, Diehl was flanked by two new faces. The loss of Shaun O'Hara was obviously huge and David Baas didn't immediately enamor himself to the coaching staff or fans in New York. Replacing a leader like O'Hara, as well as trying to fill his shoes talent-wise, was always going to be difficult and his loss was palpable for the Giants' offensive line for most of the season.
William Beatty may have started a few games prior to entering his third season in the NFL and was  impressive in practice, but there is a big difference between impressing on occasion and being entrusted with the full-time job of protecting the franchise quarterback.
Beatty was essentially an unknown quantity who had been coached by Coughlin's staff and molded into the role. But he would eventually fall to a fate that struck a lot of the New York Giants players this season. 
After 10 games as the team's starting left tackle, Beatty found his way to IR and forced the Giants into another change in the offensive line makeup. Baas was also in and out of the lineup because of injury which never allowed the group to ever form any sort of continuity.
Injuries also struck the Giants in other key areas of the field.
The lost of Barry Cofield to free agency left a gap on the defensive line that the Giants were hoping to fill, at least partially, with their second-round draft choice Marvin Austin. Austin landed on IR before he even got a chance to compete for Cofield's starting spot.
Instead of relying on just the unproven second-year player who won the starting role, Linval Joseph, and a veteran, Rocky Bernard, Coughlin and defensive coordinator Perry Fewell decided to get a little more inventive.
In New York, the talent of Jason Pierre-Paul hadn't gone unnoticed, however it was Coughlin and his staff who really understood the value of their young defensive linemen.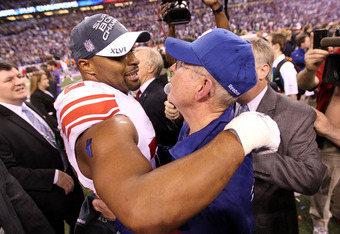 Jamie Squire/Getty Images
Once Osi Umenyiora overcame his combination of a contract dispute and his injury issues, which is another drama within the journey itself, the Giants' three defensive end front was born. Trying such a radical new front isn't something that was totally uncalled for on obvious passing downs, but the Giants actually started to use the formation more and more as the season went on.
Much like with Cruz, Coughlin let the talent dictate how his defense was going to be laid out.
He had an overload of talent at defensive end which he used to fix not one, but two gaps in the defense. On the Giants' roster, there are four starting caliber defensive ends. Instead of playing with a backup defensive tackle or linebacker, Coughlin used Pierre-Paul and Mathias Kiwanuka's versatility to get the best out of the talent at his disposal.
The Kiwanuka move in particular was football genius. Much like Cruz, there was some level of learning for the natural defensive end to endure throughout the regular season, but come Super Bowl time, Kiwanuka was a stud for the defense.
Prior to being injured in 2010, Kiwanuka had become the starting defensive end for the Giants in 2009. He had moved around a bit during his career, but he had never been a full-time starting linebacker who played with all the responsibilities of any other 4-3 backer.
Having the vision to move Kiwanuka to fill a weak spot on the Giants defense was one thing, having the courage to play him there through his mistakes was another.
The Giants had taken hits on most levels of their football team prior to the season even beginning. The secondary was no exception and it was arguably hit harder than any other part of the roster. Terrell Thomas tore his ACL before playing a down in the regular season and was placed on IR. His likely replacement was already missing for most of the season as rookie Prince Amukamara fractured a bone in his left foot in August.
Aaron Ross stepped into a starting role causing the whole of the Giants' fanbase to hold its collective breath.
Coughlin still navigated his defense through the regular season and by the time the Super Bowl came along, the whole group had come together to the point that they could contain the likes of Aaron Rodgers and Tom Brady in the playoffs while completely shutting down Matt Ryan's Atlanta Falcons.
The New York Giants' journey to the Super Bowl this year was a very long one. One full of adversity, growth, intelligence, drama and excitement. A huge amount of the Giants' journey will be forgotten over time, but those Super Bowl rings, whenever they are eventually forged, will incorporate every single moment—good and bad—from the year that earned them.
Much like Super Bowls, most outsiders will count the rings that each coach has and determine their legacy that way.
The ring is just the destination, the journey is what determines a person's legacy. Tom Coughlin's legacy? I don't know, but one thing is clear right now.
While Rex Ryan keeps promising New York Super Bowls...
Tom Coughlin keeps delivering them, through adversity, innovation and determination.
Tweeting @Cianaf