2012 March Madness Field of 68 Projections: Feb. 6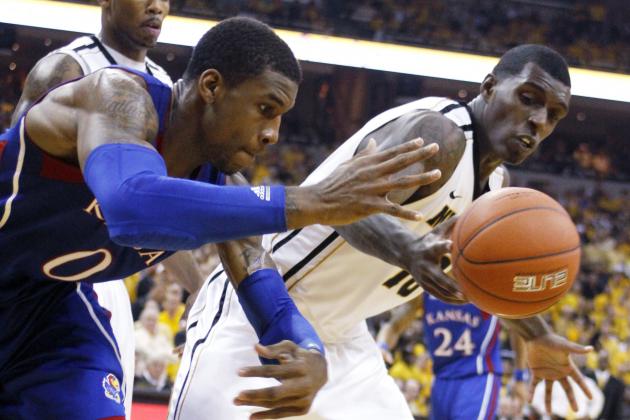 Ed Zurga/Getty Images

The Super Bowl is over and now the nation's focus shifts to college basketball.
So, where does everyone stand with less than five weeks until Selection Sunday?
As always, I am not trying to guess how teams will finish the year. I am simply seeding them based on their current résumés.
I like to break teams down into three categories:
1. Wallflowers are bubble teams because everyone wants to go to the Big Dance, but not all have the guts to ask a girl out on the dance floor.
2. Elite teams that are safely in the field are dancing with a hottie.
3. In the middle are the schools that are dancing with their sister.
Last year, I had the most accurate bracket projections in the country, correctly predicting 67 of 68 teams and once again finishing way ahead of ESPN's Joe Lunardi.
I'll begin with the two First Four at-large bid games:
(12a) BYU vs. (12d) Saint Louis

(12b) Xavier vs. (12c) Colorado State

First 10 Teams Out: Wyoming, Iowa State, California, Miami, Arkansas, UCF, Massachusetts, Ole Miss, NC State, Texas
The projections are presented in slideshow format, with slides consisting of the major conferences. First up is the ACC ...
Begin Slideshow

»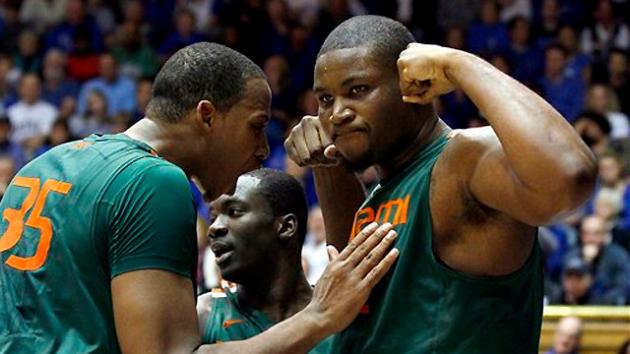 Dancing with a Hottie: Duke (2 seed), North Carolina (2)
Dancing with their Sister: Florida State (5), Virginia (6)
Wallflowers: Miami (Fla.) (fourth team out), North Carolina State (ninth team out)
Duke had won 45 straight games at home before dropping two of its last three. Miami came into Cameron Indoor Stadium on Sunday and mounted a 16-point lead before holding on to survive in overtime. The Blue Devils still have a very impressive résumé with an RPI of 3, the toughest strength of schedule in the country and four wins over the RPI top 25, but they will need a win at Chapel Hill on Wednesday to have a chance at returning to the top line.
Florida State has been one of the best teams in the country over the past month, running its win streak to seven with a victory over Virginia on Saturday. The Seminoles' computer numbers (RPI 17, SOS 11) are strong and they are 7-4 against the top 100.
A good way to get yourself in the bubble discussion is by winning at Durham, and the Hurricanes are just outside the field following their huge victory over Duke. But one win does not make a résumé—just ask Virginia Tech. That was Miami's first top-65 victory and it is still just 3-7 versus the top 100, but there are plenty of opportunities left with contests against FSU and UNC coming up.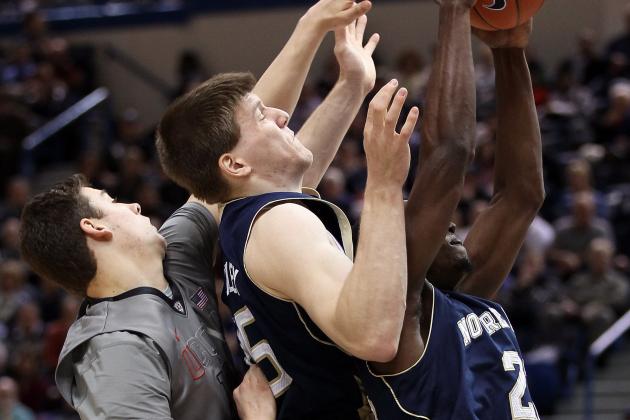 Elsa/Getty Images

Dancing with a Hottie: Syracuse (1), Georgetown (2), Marquette (4)
Dancing with Their Sister: Louisville (5), Connecticut (7), West Virginia (8)
Wallflowers: Notre Dame (10), Seton Hall (10), Cincinnati (11)
Georgetown had a solid week with wins over UConn and South Florida to set up a huge showdown against arch rival Syracuse at the Carrier Dome on Wednesday. The Orange got center Fab Melo back on Saturday and once again looked like the best team in the country, dominating St. John's, 95-70, at Madison Square Garden.
Marquette drops a bit after the 17-point pounding it took at Notre Dame. The Irish, meanwhile, just keep on rolling. That was their fourth straight win over an RPI top-33 team.
Louisville is riding a four-game winning streak as well and will collide with a team going in the opposite direction on Monday night, when the Cardinals host Connecticut. The Huskies snapped their four-game losing streak with a convincing 23-point victory over Seton Hall on Saturday, but head coach Jim Calhoun is once again dealing with health issues that could finally end his career on the sidelines.
Meanwhile, the bottom has fallen out for the Pirates, who have lost six straight. The good news is that all of those games were against top-100 competition and four came on the road, so they won't get penalized too much by the selection committee. The Hall's computer numbers (RPI 33, SOS 13), three top-50 wins, six top-100 victories and zero sub-100 losses compare favorably to fellow Wallflowers.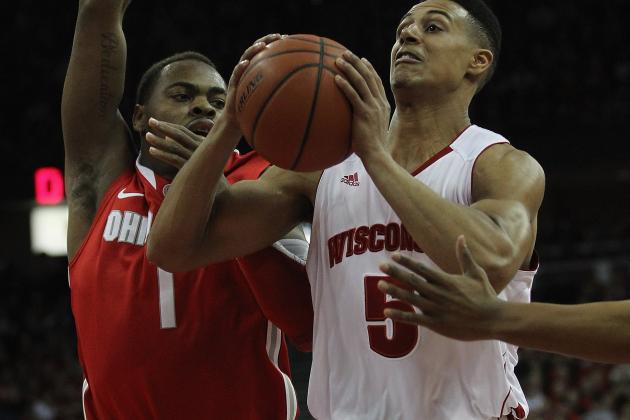 Jonathan Daniel/Getty Images

Dancing with a Hottie: Ohio State (1), Michigan State (3)
Dancing with Their Sister: Wisconsin (5), Indiana (6), Illinois (7), Michigan (7)
Wallflowers: Purdue (9), Minnesota (9), Northwestern (11)
Ohio State's résumé has not really stacked up against those of other teams battling for the top line until this week. Wins over Michigan (home) and Wisconsin (road) move the Buckeyes to an impressive 6-3 against the top 50 and fourth in the RPI.
Michigan State takes a small step back after turning in one of the worst offensive performances of the season on Tuesday, putting up just 41 points in a loss at Illinois.
Northwestern continues to play hide-and-go-seek with the field. The Wildcats are back in after finally picking up the equivalent of gold to a bubble team—a road win over a top-50 squad. Northwestern's 74-70 victory at Illinois on Sunday also improved its conference mark to 4-6, which definitely gets you a look considering how difficult the Big Ten is this year.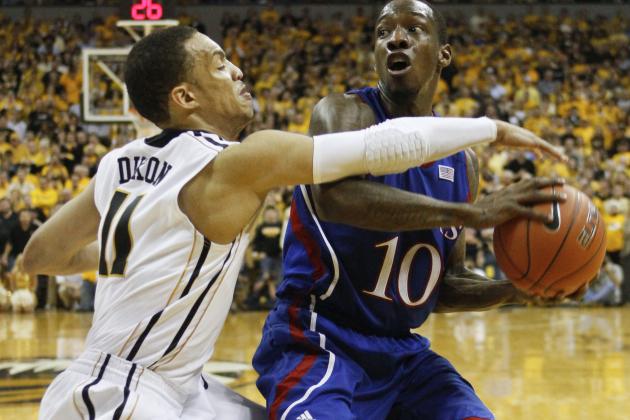 Ed Zurga/Getty Images

Dancing with a Hottie: Baylor (1), Missouri (2), Kansas (3)
Wallflowers: Kansas State (9), Iowa State (second team out), Texas (10th team out)
Missouri used a late run to topple Kansas at home on Saturday night and swap spots on the S-curve.
Kansas State lost at surging Iowa State on Tuesday, dropping the Wildcats into Wallflower territory. KSU's computer numbers (RPI 50, SOS 68) are not good and it is just 5-5 in league play.
The Cyclones have won three straight, but in the latest evaluation of bubble teams, they fall just short compared to the competition in a few crucial categories: only four top-100 victories, a loss to No. 121 Drake and a 176 non-conference strength of schedule. This reminds me of Colorado's résumé last year.
Oklahoma can no longer be considered after falling to 3-7 in the Big 12.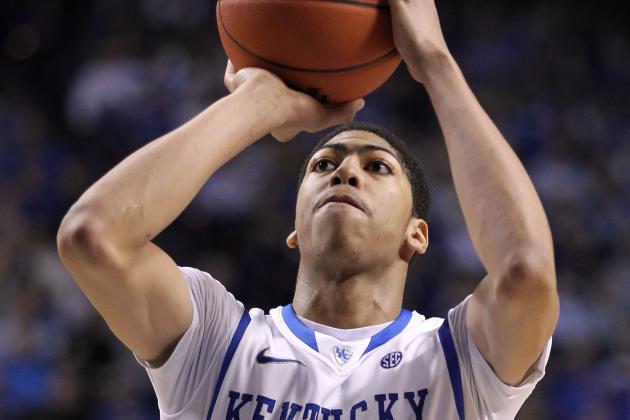 Andy Lyons/Getty Images

Dancing with a Hottie: Kentucky (1), Florida (3)
Dancing with Their Sister: Vanderbilt (6), Mississippi State (6)
Wallflowers: Alabama (10), Arkansas (fifth team out), Ole Miss (eighth team out)
Florida continues to improve its résumé with a seven-game winning streak that now includes a victory over Vanderbilt on Saturday. The two best teams in the SEC square off Tuesday, when the Gators travel to Kentucky.
It was a rough week for the Commodores, who lost not only to Florida, but at Arkansas as well. However, the Razorbacks lost all of the momentum from that win when they lost at LSU four days later.
Alabama had only one game last week and beat Ole Miss by two at home on Saturday to stabilize its spot in the field, at least for now.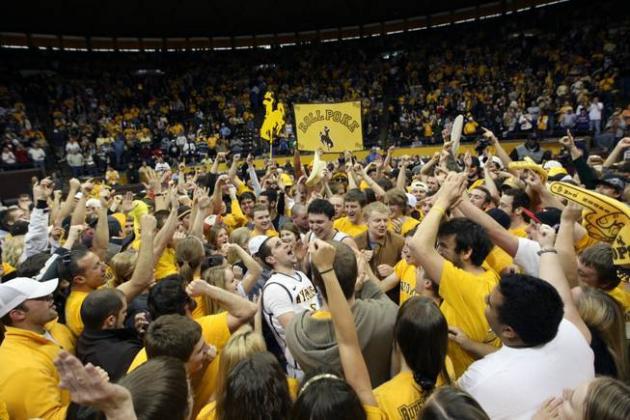 Dancing with a Hottie: UNLV (4)
Dancing with Their Sister: San Diego State (8)
Wallflowers: New Mexico (11), Colorado State (12c), Wyoming (first team out)
Wyoming enters the discussion after a 68-66 home win over UNLV on Saturday. That was the Cowboys' second top-50 win (they also beat Colorado State on Jan. 21) and they are a solid 5-3 in true road games. Working against Wyoming, however, are its woeful computer numbers (RPI 69, SOS 130) and sub-100 losses to Green Bay and TCU. The Cowboys play a huge game at New Mexico on Saturday.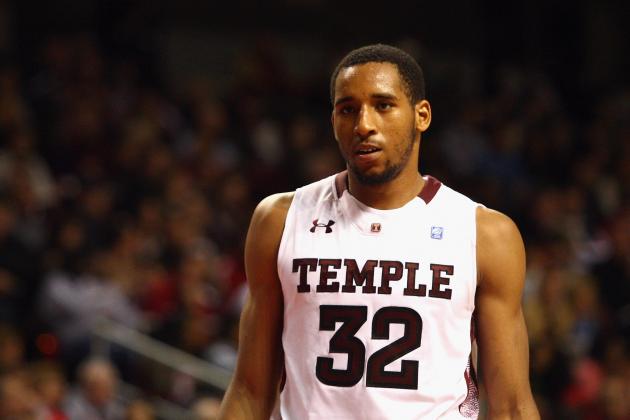 Chris Chambers/Getty Images

Dancing with Their Sister: Temple (5)
Wallflowers: Dayton (11), Saint Joseph's (12), Xavier (12b), Saint Louis (12d), UMass (seventh team out)
Dayton was playing some of the best basketball in the country a couple weeks ago, when the Flyers were 14-5, but since then, the Flyers have lost four in a row. It seems strange to put a team with a losing record in the A-10 and a 72 RPI into the field, but Dayton's four top-50 victories are hard to ignore.
Xavier blew a big lead at Memphis and now finds itself in a projected First Four game.
UMass barely has a prayer after losing at No. 244 Rhode Island on Wednesday.
With so many teams on the bubble, this conference could get anywhere from one to five teams in the NCAA tournament. Should be interesting to watch over the next five weeks.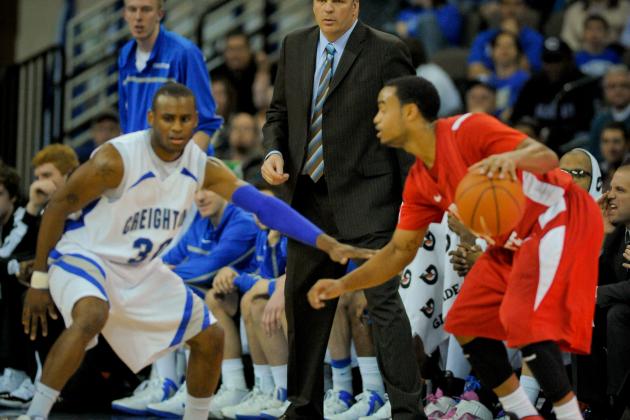 Eric Francis/Getty Images

Dancing with a Hottie: Murray State (3), Creighton (4), Saint Mary's (4)
Dancing with Their Sister: Southern Miss (7), Gonzaga (8), Memphis (8)
Wallflowers: Wichita State (9), Harvard (10), BYU (12a), Washington (12), California (third team out), UCF (sixth team out)
Creighton drops a line after falling at Northern Iowa to snap the Bluejays' 11-game winning streak.
Gonzaga lost at BYU last week, so the Bulldogs need Thursday's showdown against Saint Mary's even more. The Cougars, meanwhile, jump into the field as a result of that victory, which was their first over a top-50 opponent.
Southern Miss just continues to win. That's 15 of 16 against Div. I opponents after a 75-72 decision over Memphis on Wednesday.
Washington has won five straight to grab the automatic bid out of the Pac-12 for now. Cal drops out of the field after a home loss to Arizona, and it's looking more and more like this "power" conference will only get one bid with Oregon losing at Colorado and Stanford falling to Arizona.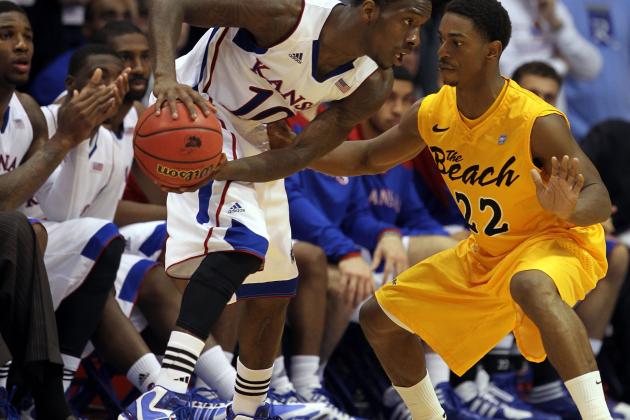 Jamie Squire/Getty Images

No. 13 seeds: Akron, Long Beach State, Middle Tennessee, Oral Roberts
No. 14 seeds: Nevada, Cleveland State, Davidson, Iona
No. 15 seeds: Bucknell, VCU, Belmont, Weber State
No. 16 seeds: Long Island, UNC Asheville, Mississippi Valley State vs. Norfolk State, Stony Brook vs. Texas-Arlington
Jordan is one of Bleacher Report's College Basketball Featured Columnists. Follow him on Twitter @JordanHarrison.