Giants vs. Patriots: Mario Manningham and Most Memorable Performances
February 6, 2012

Al Bello/Getty Images
It wasn't quite as entertaining as the last time the two teams played in Super Bowl XLII, but Super Bowl XLVI between the New York Giants and New England Patriots was nothing if not watchable. It was a battle from the get-go and it ended up going down to the final play.
When it comes to the Super Bowl, you really can't ask for much more than that. And if you're a fan of the Giants, you can't ask for anything more than a 21-17 victory.
As is always the case on Super Sunday, we're going to remember a few individual performances for years to come. From where I'm sitting, five performances stand out more than all the others.
Let's count 'em down.
5. Aaron Hernandez
Al Bello/Getty Images
It was obvious from the start that Rob Gronkowski just wasn't going to be himself. With him well below 100 percent, it was going to be up to Aaron Hernandez to pick up the slack.
Hernandez did just that. He emerged as Tom Brady's go-to guy throughout the course of the game, and he ultimately ended up leading the Patriots with eight receptions for 67 yards and a touchdown. Brady looked his way 14 times.
None of Hernandez's receptions were huge. The longest went for 12 yards, and that was his touchdown catch in the third quarter.
What was remarkable about Hernandez was how he was Johnny on the spot for Brady on Sunday. That's typically Gronk's job, but Hernandez did it as well as anybody could have asked.
4. Jason Pierre-Paul and Justin Tuck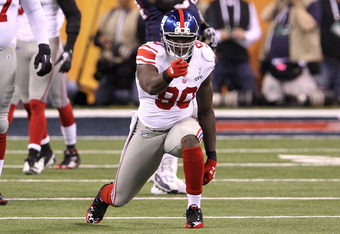 Andy Lyons/Getty Images
I'm lumping these two in together because it wouldn't be fair to mention one without the other. Jason Pierre-Paul and Justin Tuck both played fantastic games in Super Bowl XLVI.
JPP's greatness doesn't really show up in the box score, which shows he had two tackles and no sacks. What he did do was deflect two key passes, and it seems like he found his way into the backfield every single time Brady dropped back to pass.
He didn't sack him and he only hit him once, but JPP definitely made Brady uncomfortable.
Tuck did get to Brady. He sacked him twice and he was the one who forced Brady into committing intentional grounding in the end zone in the first quarter. That gave the Giants two points and ultimately led to seven more.
If the Giants don't get those nine points, they lose. Plain and simple.
3. Tom Brady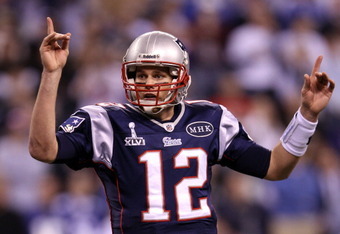 Elsa/Getty Images
Tom Brady was not great in the Super Bowl, but remember, the overarching theme here is "memorable," and Brady's Super Bowl performance was most definitely that.
On the one hand, there was the good. At one point in the third quarter, Brady was 20-of-24 for 201 yards and two touchdowns and he had set a Super Bowl record with 16 straight completions. The Patriots were winning, too.
On the other hand, there was the bad. Brady finished 7-of-17 with no touchdowns and a pick.
The difference, as pointed out by Ryan Wilson of CBSSports.com, seemed to be Tuck's sack shortly before the end of the third quarter. Brady dinged up his left shoulder on the play; he wasn't the same after that.
People are going to blame Brady for the loss, but they shouldn't. Brady played well enough to lead the Patriots to a win. It's not his fault New England's defense couldn't contain the Giants at the end, and it's certainly not Brady's fault his receivers dropped a couple key passes at the end of the fourth quarter.
2. Mario Manningham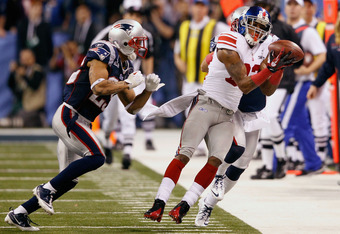 Rob Carr/Getty Images
Hakeem Nicks ended up leading the Giants in receiving with 10 catches for 109 yards, but the Giants don't win the Super Bowl without Mario Manningham.
Years from now, we're going to remember Manningham for the spectacular catch he made in the fourth quarter. Eli Manning flung it up for grabs in Manningham's general direction and he caught it in traffic along the left sideline. He managed to get two feet down while maintaining possession to the ground.
The catch set the Giants up at midfield. They would ultimately score a touchdown to take the lead.
Long story short, Manningham was this year's David Tyree.
1. Eli Manning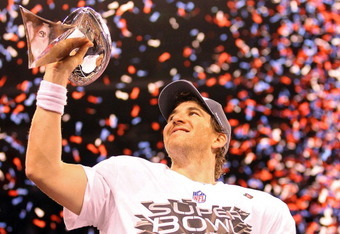 Ezra Shaw/Getty Images
Throughout the course of the game, Eli Manning didn't seem to be playing that great of a game.
However, Manning's greatness was evident in the Giants' final drive. He made that brilliant throw to Manningham and he ended up completing four more passes before the drive was over.
All told, Manning completed 30 of his 40 passes for 296 yards and a touchdown. He was named Super Bowl MVP. Again.
We've seen better Super Bowl performances, but Manning's performance was definitely one of the more clutch performances we've ever seen in a Super Bowl. When the Giants needed him to make plays, he did.
This is just what he does, apparently.