Eli Manning Wife: Super Bowl Shot of Abby One of the Few Glimpses Fans Will Get
February 6, 2012

What's the biggest difference between Eli Manning and Tom Brady besides winning Super Bowls after 2004?
The way their wives handle the attention of being married to a Hall of Fame quarterback in the most popular sport in America.
We've all heard of Gisele Bundchen and her supermodel ways. She gets paid to pose for the camera.
Abby Manning, on the other hand, could walk around Times Square tomorrow and nobody would even recognize her.
So who is Abby and how has she been able to avoid the spotlight for so long?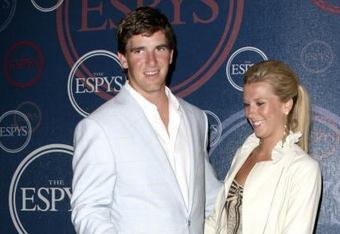 Eli, 31, married Abby, 27, in 2008 after meeting her in college at Ole Miss. They had a daughter last year.
While they share similar interests in fashion, Abby works behind the scenes as an account executive for wedding dresses and evening wear for designer Pamela Roland. I'm sure you know all of the specifics about the company so I'll spare you the gory details.
Essentially, she prefers to have a quiet and behind-the-scenes lifestyle that is almost impossible to have when your husband wins two Super bowls.  
She doesn't go on self-promotion tours that make her money. She doesn't use her husband's fame to try and become famous herself. She goes about her life like most Americans and it's pretty refreshing quite honestly.
She has the looks to model, but she doesn't want to. It seems like everybody is dying to be famous in 2012 and here is one instance where somebody is actually avoiding it.
So when the NBC cameras were able to catch a three-second shot of Abby, it was the first time millions of people had ever seen her before.
So maybe walking down the street in Times Square this week isn't the greatest idea after all, but it's not Abby's fault; it's her husband that keeps on winning Super Bowls.
How selfish of him.