UFC 143: The Night the Music Died
February 6, 2012

Usually, I love MMA. My husband and I buy every UFC event, but on February 4, 2012, the excitement and gaiety went out of MMA fighting for us. Particularly for me. On that Saturday night, the day before the Super Bowl, the "music" died.
No, I wasn't singing, "Bye, Bye, Miss American Pie." I was screaming at Carlos Condit, "you said you are "the Natural Born Killer," because you love to fight! Stand still and fight, damn it! You said you would fight anyone, anytime, anywhere; you said you would fight Nick Diaz for no money at all!"
"What on earth are you doing? This is not fighting!"
My yelling and cursing sent our 125-pound Akita female Misty into my husband's arms for protection from my ensuing meltdown. He comforted her, but became enraged himself when the decision was announced.
"That was it?" he asked. "I thought you said these guys were fighters. Why didn't that killer guy fight?"
As I had seen Condit's other fights, I was completely flummoxed. What had happened to his killer instinct? Where was that fire that burned within him and caused him to become a UFC fighter?
What a cruel joke!
Track never was an attraction I sat through, even when my sons, or later my grandson participated in it. This was not my favorite sport, was it?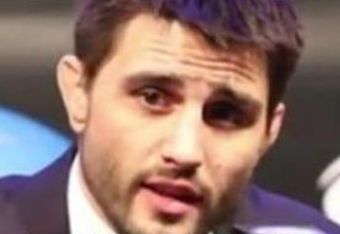 Having had a six-year long fascination with Georges St-Pierre, and suffering the barbs and criticisms from his "fans" that his fights had grown boring and he only fought not to lose, I was painfully conflicted.
The loss of the famous gladiator, the old familiar theme song, the "new" look of the FOX version of UFC events and now this stunning revelation: My sport is gone!
Never will I experience the thrill of anticipation that the beginning theme song used to trigger. No longer will the event nights be special for me.
Guess golf is not really so bad to watch after all.