Big Ten Recruiting Grades: Urban Meyer and Brady Hoke Lead the Way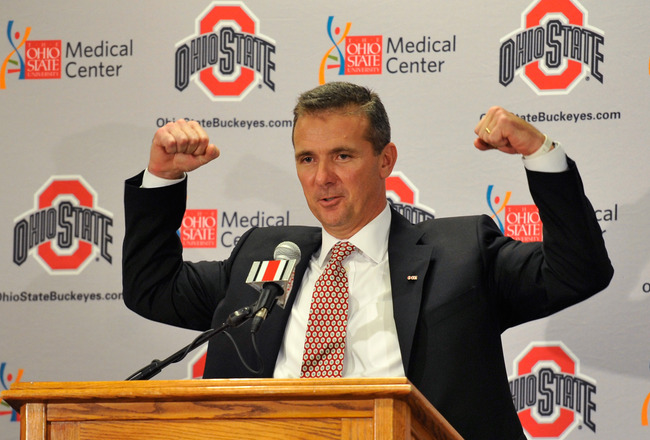 Jamie Sabau/Getty Images
Over a year of hard work wooing teenagers, meeting with high school coaches, sweet talking parents and promising significant others jobs* has finally come to pass and we once again have a bunch of aggregate numbers and subjective rankings upon which to judge coaches; numbers which are either the most important thing guiding the progress of your respective program for the next four years, or numbers that pale in comparison to the ability of each particular staff to coach up recruits in a specific system (your opinion on the matter influenced directly by how many four-star recruits your team signed).
*(Offer only applicable in Alabama)
The fact of the matter is that college football recruiting is itself an inexact science. Inexact in that there is no magic wand that recruiting gurus can wave over a high school highlight tape or crystal ball which to look into and see the future. Some two-stars are going to become all-Americans because they are late bloomers, are in the right system, or are just smarter and/or just plain harder working than the rest.
But don't take that for a tacit acknowledgement that recruiting rankings aren't valuable. On the contrary: recruiting rankings are a huge predictor of success that more often than not are going to point to success on a large scale. While a greater number two and three-stars are going to become all-Americans than four and five-stars, a much greater percentage of four-and five-stars will do it simply because there are so few highly ranked players per class (around 250-300 four-stars and 25-40 five-stars depending on recruiting service and year).
Recruiting rankings by and large work except for the specific instances in which they don't, but with all the variables that follow national signing day it is hard to pinpoint just where the problem lies.
That was all a bit of disclaimer for what is to follow. Some of you will be mad that I give your team's 2012 recruiting haul a bad grade. You'll cry, "what about the sleepers?" or, "stars don't matter," or, "you'll be sorry." Some of you may be right three or four years down the road.
I don't care. The fact is, these "meaningless numbers" that half of you will rally against are much more predictive of success on a grand scale than anything else. It is why Alabama—the team that has signed the top class in the nation in four of the last five years—is coming off its second BCS title in the last three while Indiana—a program that couldn't recruit its way out of a paper bag—hasn't seen bowl eligibility over the same time period.
Like I said, recruiting rankings matter except for those few instances when they don't, but let's not throw the baby out with the bath water. There is a lot left to learn about the 2012 recruiting class, but there is a lot we already know. Time for the first of many grades for the 2012 class.
This isn't a power ranking, and level of difficulty is taken into account (it is harder to recruit to a bottomed out Indiana program than it is to Michigan State or Wisconsin). Teams are judged by needs filled and quality depth as well as talent acquired.
(For the record, all recruiting rankings hereafter will be from Rivals.com. There are four main recruiting services that one can choose from, but on the whole Rivals and Scout are the most time-tested and highly thought of. Some players are rated higher on ESPN or 24/7, some are rated lower. Take all of this into account if and when you call me an asshole for "criminally underrating" the future contribution of the two-star sleeper at safety your coach picked up at the last minute.)
Minnesota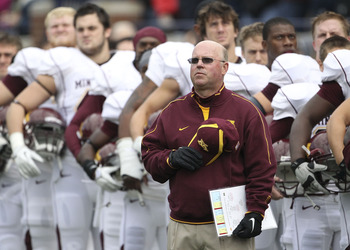 Leon Halip/Getty Images
27 commits (0, 5-star; 0, 4-star; 19, 3-star)
Jerry Kill doesn't have an easy job to do. Recruiting in Minnesota has a number of built in disadvantages: the talent base in the state isn't high (unlike Ohio and Pennsylvania) and the state doesn't border any particularly rich recruiting hotbed. The weather is a turn off for some out of state kids and the program's recent struggles have taken it out of the national spotlight (you know, other than when an ESPN anchor says something along the lines of "hooo-boy, Minnesota is bad").
Still, when things are good in Minnesota the team is capable of bringing in solid talent while poaching recruits here and there from outside the Midwest. On that note, Jerry Kill's first class is a step in the right direction. Eight of the 27 recruits are from Minnesota (including four of the top six in the class) while five JUCO transfers should help solidify depth in the short term.
One of Kill's big complaints in his first year was the team's lack of athleticism—especially on defense. To that end he has worked hard to bring about a sea-change. Twelve of the recruits are defensive players (with two more being labeled athletes). This includes six defensive backs and five defensive linemen.
On the other side of the ball Minnesota added talent as well. The top two recruits (both rate 5.7's—the highest 3-star ranking on Rivals) are a wide receiver and quarterback respectively and both are in-state recruits. Behind them are four 5.6 rated players: two offensive linemen (both from Minnesota), a wide receiver, and a defensive back.
This isn't the kind of recruiting class that will blow you away, but a successful future is built on a solid foundation. This class fills the right needs and does it with almost completely three-star talent while incorporating JUCO transfers that can help in the short term. Not a bad first class.
Grade: B+
Indiana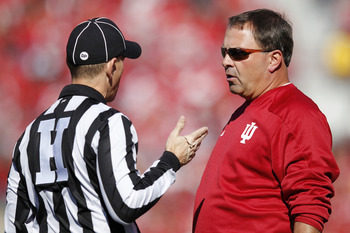 Joe Robbins/Getty Images
25 commits (0, 5-star; 0, 4-star; 18, 3-star)
Indiana's recruiting situation isn't much better than that of Minnesota, but for different reasons. Indiana is in a much better geographical location with which to lure recruits— sitting between talent-rich Ohio and the constant stream of talent coming out of Chicago—but the problem lies in getting the recruits to go to Indiana, a program that has been a laughingstock the entire lifetime of the current high school class.
However, Kevin Wilson comes equipped to handle the unique recruiting situation at Indiana. He has a successful track record as an offensive coach at both Northwestern and Oklahoma, and his time at Northwestern means he is familiar with Big Ten recruiting, especially that of the Chicagoland area.
Fourteen of Indiana's 25 recruits come from the Ohio-Indiana-Illinois block of states, while Wilson's foray into Big-12 country is paying dividends in the form of two Texas recruits and one Kansas JUCO.
As far as needs go, Indiana is much like Minnesota: both need solid depth and an influx of athleticism. Of the four 5.7-rated recruits Wilson has brought in, two are offensive players (running back Tevin Coleman and wide receiver Kevin Davis) and two are defensive players (defensive end Nick Mangieri and defensive back Antonio Marshall). This follows from an even split between both sides of the ball (12 defensive players, 13 offensive players).
One area that fails to impress is the numbers along the lines. Good football begins with good line play, and Indiana is only bringing in three offensive linemen. While two of them are rated as 5.6's, the other is a 2-star.
If Indiana wants to be able to hold up during Big Ten play, the offensive line will need to be a point of emphasis. However, with no shortage of needs, one has to concede that Wilson did a solid job filling out his first class.
Grade: B
Illinois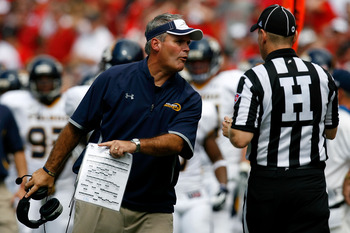 Kirk Irwin/Getty Images
19 commits (0, 5-star; 0, 4-star, 14, 3-star)
Sometimes, circumstance is just too much to overcome. As a new coach taking over just weeks from signing day, one is often resigned to grinding out a mediocre haul based on two facts: 1) if the guy before you is run out of town, the chances are the team didn't play very well and that sticks in the mind of a recruit and 2) it was that guy before you who had more than a year to build up relationships with the recruits already committed and those still on the fence.
Tim Beckman's first class when examined in that light is somewhat excusable. Ron Zook did him no favors with the epic late-season collapse. Even Zook's ability to sell himself and the program to high school kids seemed to erode down the stretch.
The class itself isn't bad, but it isn't what Illinois is used to recently either. With a fairly centralized location Big Ten-wise and a close proximity to Chicago, Illinois has been able to fairly consistently out-recruit its on-field product over the past few years.
Having Zook—who could get the kids on campus with the best of 'em, but didn't know what to do with them once they were there—helped. But for Illinois to whiff completely on 4-star players is unsettling.
This is a class that is equal to that of the conference bottom feeders, and one that is light on in-state players (just four). The bright side is that there are five players each from Florida and Ohio—two of the most talent-rich states in the country.
Beckman will get a pass on this recruiting effort, but Illinois shouldn't be on the same level of Indiana and Minnesota next year.
Grade: B-
Northwestern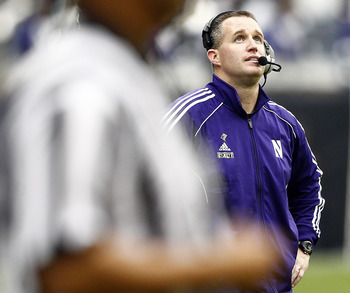 Bob Levey/Getty Images
21 commits (0, 5-star; 2, 4-star; 12, 3-star)
The Big Ten often gets self-identified by fans, administrators and coaches with words like integrity, academic excellence, etc. These are all great words, and to a certain extent they ring true. The Big Ten has been one of the best conferences when it comes to over-signing, and member institutions pride themselves on academic as well as athletic reputation.
But let's not kid ourselves. Football still reigns supreme over much of the conference, and while your average student might have a hard time getting into a Big Ten school, your average student with a perfect spiral and a 4.5 40-yard dash will face significantly fewer barriers.
That is unless he wants to play for Northwestern. Northwestern is the one school in the conference that is private, and that has a big effect on admissions for athletes—see the similar case of Stanford, which had to turn away a recruit because he failed to pass admissions. If the rest of the Big Ten has to turn away an academic non-qualifier, it is most likely based on the fact that he doesn't hold up to NCAA academic standards on the whole.
This hurts Northwestern in some cases, but not as much as you would think. The team has been able to stay competitive thanks to solid coaching and that same academic reputation. Consider the case of 4-star DE Ifeadi Odenigbo. His major concern was academics and because of i,t Northwestern was able to land one of the most sought-after defensive end prospects in Ohio.
And that is the case with most of Northwestern's class. The star rankings don't jump off the page, but there is plenty of talent to be found regardless. Other than Odenigbo, there is 4-star defensive tackle Greg Kuhar along with two high 3-star defensive players (DB Traveon Henry, DE Dean Lowry). Five total offensive linemen (four 3-stars and a 2-star).
On top of that, there are a number of skill-position players and athletes who should fit perfectly into the Wildcat offense.
This class is heavy on the lines (five offensive, four defensive), solid on star power (two 4-stars), and composed wholly of the kind of kids Northwestern recruits: good students and solid athletes. This isn't the best Northwestern can do (look at what Stanford—a similar program in terms of academics—did this year), but it is a very good class regardless.
Grade: A-
Wisconsin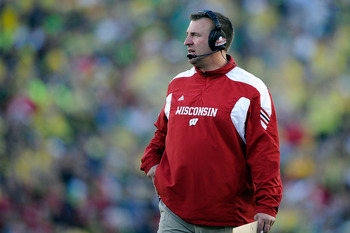 Kevork Djansezian/Getty Images
12 commits (0, 5-star; 3, 4-star, 7, 3-star)
All these touchy-feely rankings probably had you thinking this was going to be all fun and games. Nobody was going to get slammed because just like little league baseball, everyone just tried so darn hard.
Wrong.
Wisconsin's class is a failure on many levels. While Wisconsin isn't a known recruiting power in the Midwest along the lines of Ohio State, Michigan and Notre Dame, there is no reason that Wisconsin can't bring in a class bigger than 12 members.
After two straight Big Ten championships and one of the best offensive runs in recent conference history, one would think that the Badgers would at least be able to fill up a class. Furthermore, there is no reason that a team as accomplished at developing NFL offensive linemen as Wisconsin should lose a 4-star prospect to a rival school—no matter what Bret Bielema thinks about a so-called "gentleman's agreement."
Now, there are other factors involved. First, Wisconsin did lose a great deal of its coaching staff to other jobs over the last couple months, and that is bound to have an effect on the finished product. On top of that, there are some talented players coming in. Linebacker Vince Biegel was one of the most sought-after players in the Midwest, both linemen Dan Voltz and Walker Williams are well-regarded, and the skill positions are well-represented with Bart Houston at quarterback and Vonte Jackson at running back.
The problem is, there just aren't enough of them. A class of 12 players simply isn't enough when one accounts for attrition, injury and failure to develop. This class means that in three years Wisconsin is going to be an impossibly young football team.
That doesn't guarantee failure, but it certainly lowers the margin for error in the next two recruiting classes. Two strikes in a row will be a major blow to the program.
Grade: D
Penn State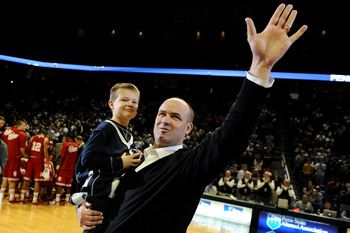 Patrick Smith/Getty Images
19 commits (0, 5-star; 2, 4-star; 11, 3-star)
At various points over the past six months, it was a wonder that Penn State would have a recruiting class at all at this point.
The Nittany Lions didn't exactly start off hot on the trail, in part because of the advancing age of Joe Paterno and his inability to recruit away from Happy Valley (a common refrain for the past few years). Then it hit the fan.
The Jerry Sandusky child molestation scandal crippled the Penn State athletic department, cleaned out the longest-tenured coaching staff in the country and turned the most stable program in the FBS into a boiling cauldron of fear, outrage and uncertainty.
Since that didn't seem to be a sufficient level of difficulty, what was left in the smoldering crater that once was the Penn State administrative offices decided to hire an NFL coordinator with a terrible college track record and no head coaching experience, that—get this—was openly more concerned about his current team's playoff run than his new team's future*.
What followed was predictable. Penn State's solid class started to fall apart at the seams. Three top-rated defensive recruits (DT Tommy Schutt, LB Camren Williams and DB Armani Reeves) defected to Ohio State, while a fourth recruit, DE Noah Spence, long thought to be a heavy PSU lean, also joined Urbz in Columbus.
The remaining class is by no means bad. There are promising athletes like Eugene Lewis at wide receiver and a handful of high 3-star players, not to mention a great deal of 2- and 3-star players for depth (Penn State, unlike Wisconsin, was at least able to bringing in nearly 20 players).
On top of that, there remain several defensive players who should keep the Nittany Lion defense deep and talented including Jamil Pollard (4-star defensive tackle) and Nyeem Wartman (high 3-star linebacker).
Unlike Wisconsin, however, Penn State is situated in the talent-rich state of Pennsylvania with significant inroads into Ohio as well as the north Atlantic coast from Maryland to Massachusetts. Even in a down year, more is to expected out of one of the Big Ten's three biggest recruiting powerhouses. Circumstances matter, but so do results.
Grade: C
*(This isn't a critique of O'Brien. He absolutely has to follow through with the Patriots because that is and has been his job. You don't walk out on a Super Bowl run you helped engineer. No, this is a critique of the Penn State administration for not going after a guy who was going to be able to devote himself to the position fully from the outset.)
Iowa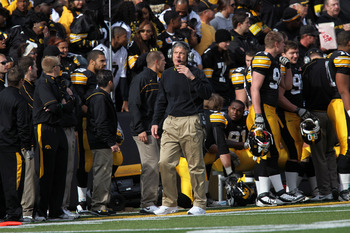 Reese Strickland/Getty Images
24 commits (0, 5-star; 4, 4-star; 15, 3-star)
Just like many of the other schools in the Big Ten have stereotypical classes, so too does Iowa, which has brought in another class that looks and feels like an Iowa class.
First,there is geographical composition. Iowa brought in a few kids from in-state, but did most of its damage poaching recruits from Midwest regions such as Chicago and the rest of Illinois (six) and the Detroit area (three), while also picking off recruits from hotbed states such as Ohio (two), Pennsylvania (one), Texas (one) and Florida (one).
You don't build a winning team with players from Iowa, but you do build depth with them, and the Hawkeyes have once again done a good job moving across the region for talent in other schools' backyard.
The class itself has some promising players. Two of the 4-star pickups are defensive linemen (DT Jaleel Johnson, DE Faith Ekakitie) who should get a chance to contribute early, while the addition of two running backs (especially 4-star Pennsylvania RB Greg Garmon) should at least give Iowa fans something to salivate about in the coming months.
Below the top end of the class is the usual smattering of 2-and 3- star linebackers, defensive backs and wide receivers that Iowa has had a habit of turning into All-Big Ten players over the last decade. Whether that continues with two new coordinators is still a question, but one has to give Iowa credit for talent development.
This class isn't heavy on star power, but it is the kind that Iowa has had success with in the past.
Grade: B+
Michigan State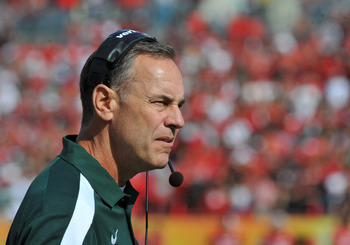 Al Messerschmidt/Getty Images
18 commits (0, 5-star; 3, 4-star; 14, 3-star)
There are two ways to look at Michigan State's class:
First, it is another step in gradual improvement from the John L Smith years that left the roster devoid of talent and full of questionable characters. Michigan State's class has the requisite star power at the top in a trio of 4-star players, including two very good in-state players in WR Aaron Burbridge and DE Jamal Lyles.
Past that, the class is a range of 3-star talent that includes a number of borderline 4-star players (receivers Macgarrett Kings and Mony Madaris, QB Tyler O'Conner) with only one 2-star, defensive tackle David Fennell.
The second way to look at it is that after a Big Ten championship two years ago and two straight 11-win seasons, it is frustrating that Michigan State is unable to break through the glass ceiling of recruiting when it comes to the traditional Midwest powers (both of which are coming off rough stretches).
Of the top 10 recruits in the state of Michigan, the Spartans were only able to land two, despite a four-game win streak against the Wolverines (who took seven of the top 10). The Spartans won only one head-to-head battle (Aaron Burbridge, a questionable academic case that Michigan's staff may or may not have cooled on).
Meanwhile, the state of Ohio remained once again firmly in the control of Ohio State (and to a lesser extent Michigan). The Spartans' biggest commit, DE Sevon Pittman, defected to the Buckeyes upon the hiring of Urban Meyer.
The truth lies somewhere in between these two conclusions. Michigan State's program is certainly on the rise thanks to recent success, but even mid-level Big Ten programs like Iowa and Wisconsin—both of which have been better longer than Michigan State—only win a fraction of the head-to-head recruiting battles against Michigan or Ohio State when those programs are performing at peak level.
Michigan State got a jump start in in-state recruiting due to the wayward Rich Rodriguez years in Ann Arbor, and that success helped build the foundation for success the last two seasons. However, there are still plenty of solid football players in Michigan, Ohio and Pennsylvania and the biggest Midwest programs (OSU, UM, PSU, ND) can't grab them all.
Michigan State's class is right about where it needs to be for the time being. It has a few big-name players and a lot of quality depth with roots in the Midwest (14 players) and a few national recruits.
Grade: B
Purdue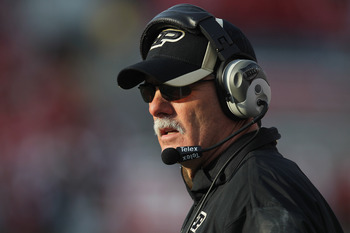 Jonathan Daniel/Getty Images
26 commits (0, 5-star; 2, 4-star; 22, 3-star)
It was initially surprising to see Purdue ranked fourth in the Big Ten on Rivals' 2012 class rankings. Purdue? Recruiting success? Do I have a fever?
But rest assured, Purdue does have a very good class starting with the players at the top. Athlete Carlos Carvajal projects as the kind of big (6'7'', pass-catching tight end that is so popular in football lately. On the other side of the ball, DE Ryan Watson could be the next in a line of very good Purdue defensive linemen.
On top of that, with two quarterbacks graduating at the end of 2012, the Boilermakers are set for the future with Robert Gregory, a dual threat out of Chicago, and Aloyis Gray coming in to add depth.
The class as a whole is second only to Minnesota in terms of numbers, and it addresses needs on both sides of the ball. There are six offensive linemen, three quarterbacks, four wide receivers, two kickers and three tight ends.
The only worry about some of these numbers (cough, three quarterbacks, cough) is that some important positions are being overlooked in favor of others, which could hurt depth, especially on defense where Purdue is bringing in only two linebackers, two defensive backs and no defensive tackles.
There is a chance that some of these players are pegged for a position switch, and despite some funky distributions, the talent is good across the board—3-star and above. Not a bad haul for Purdue.
Grade: B
Nebraska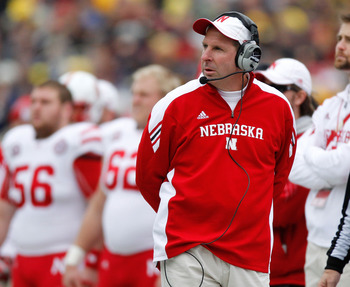 Gregory Shamus/Getty Images
17 commits (0, 5-star; 6, 4-star; 11, 3-star)
Few recruiting classes started slower than Nebraska's, but perhaps only Ohio State's ended on a stronger note. Almost half of Nebraska's commits (eight) came within the month prior to signing day.
That is fortunate, since for a long time Nebraska looked like its class would turn out like Wisconsin's. The difference, of course, being that Nebraska's class has been heavier on talent—especially that which can contribute early. Two of Nebraska's 4-star defensive recruits are JUCO transfers (LB Zaire Anderson and DB Mohammed Seisay) and both should instantly solidify quality depth at their respective positions.
The rest of the class is similarly loaded with defensive talent. There should he much-needed depth added to the defensive line in the form of two tackles already pushing 300 pounds, Vincent Valentine and Aaron Curry, 4-star defensive end Greg McMullen, and high 3-star defensive end Avery Moss.
Outside of Anderson, the linebacking corp also gets a lift from Jared Afalava, Michael Rose and Thomas Brown. For a defense that underperformed a year ago and is losing its best three players going into 2012, the added depth should help.
Offensively the class is small, just six players, but lineman Paul Thurston and receiver Jordan Westerkamp are both 4-star players who could contribute early (if Thurston puts on weight), while running back Imani Cross and quarterback Tommy Armstrong will have time to learn the system behind entrenched starters.
Nebraska's class isn't very big (and the inclusion of JUCO players will only make that lack of depth more felt as time goes), and the lack of offensive players is a concern. But it is top- to-bottom more talented than almost every other class in the conference.
Grade: B
Michigan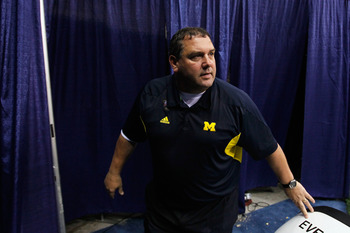 Kevin C. Cox/Getty Images
25 commits (2, 5-star; 10, 4-star; 13, 3-star)
Now we get to the top of the class. The rest of the Big Ten put together respectable classes that filled needs and should pan out in the long run. What Michigan (and Ohio State) did was absolutely control the Midwestern recruiting landscape.
Michigan's 2011 class wasn't highly rated and was pieced together from two-thirds Rich Rodriguez recruits and Brady Hoke last-minute recruits. It was an uninspiring finish, but almost immediately the Wolverines began to gain momentum for the 2012 class.
Michigan had 24 recruits by the beginning of the season (three would de-commit), and among those were nine 4-star recruits and two 5-star. By the end of the recruiting season, Michigan would finish with a class of 25 recruits that was in the top 10 to all four recruiting services (top five to Scout).
Past the lofty ratings is a class that should help Michigan in the areas that are of most need. Offensive line was perhaps the biggest going forward, and Michigan landed a 5-star guard in Kyle Kalis, two 4-star linemen in Blake Bars and Erik Magnuson, and a highly rated 3-star prospect, Ben Braden, who was a top t10 recruit in-state.
Along the defensive line, Michigan brought in six recruits, including monstrous defensive tackle Ondre Pipkins, who should immediately contend for playing time. Add in an impressive haul of linebackers (4-star: Royce Jenkins-Stone, Joe Bolden, James Ross; 3-star: Kaleb Ringer) and a handful of skill position players in two tight ends, two wide receivers,and three running backs, and the Wolverine class is almost perfect.
The only problems are just tiny nits to pick. Michigan should have gotten at least one more lineman and one more tight end—depth is scary at both positions. An immediate contributor at wide receiver would have helped tremendously next year as Michigan has no true deep threat.
Outside of that, the Michigan class is nearly perfect, and on top of that the early flood of commits helped coaches get a leg up on the 2013 class. Good news for Michigan fans hoping to see the recruiting train keep rolling.
Grade: A-
Ohio State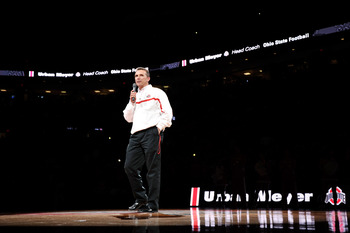 Jamie Sabau/Getty Images
25 commits (2, 5-star; 14, 4-star; 9, 3-star)
How would a coach go about improving upon a class on the same level as Michigan? Piss everyone off in the process of doing it.
Ohio State's class unfolded the opposite of Michigan's. The Buckeyes brought in a normally strong 2011 class, but faltered out of the gate recruiting the 2012 class because of the controversy surrounding Jim Tressel and the NCAA investigation.
With Tressel's exit and Luke Fickell's takeover, recruiting floundered for much of 2011. The losses on the field didn't help, but the main question was who would be taking over the next year.
Once Urban Meyer rode into town, everything began falling into place. Since Meyer took over, Ohio State gained the commitments of eight 4-star players and two 5-star players (that is, of course, counting Adolphus Washington who preempted Meyer's announcement, but nonetheless made it clear he committed to play for Meyer).
Not only that, but Ohio State did this by largely raiding the rest of the conference. Meyer flipped three 4-star Penn State commits (DT Tommy Schutt, LB Camren Williams and DB Armani Reeves), a Michigan State commit (4-star DE Se'von Pitman), a Wisconsin commit (4-star OT Kyle Dodson), while finally locking down 4-star running back Brionte Dunn for good after a long flirtation with Michigan.
The star power is incredible, but what is most important is the ways in which Meyer has filled his depth chart going into year one. The class includes three 4-star offensive linemen (Dodson, Taylor Decker, and Joey O'Conner) and two more 3-stars. The defensive line will get two 5-star ends as well as 4-stars Pittman and Schutt.
There are also four linebackers and four defensive backs (five of the eight are 4-stars and the other three are high 3-stars).
Offensively, there are two 4-star running backs and one receiver to go along with two more high 3-star receivers. The only positions not well-represented are tight end (one) and quarterback (one). But with Braxton Miller in the mix, there is no need to do anything but recruit a capable backup.
There is no other way to put it, Meyer's first class is as close to perfect as it gets (not including the late decision of 5-star receiver Stefon Diggs). It is one of the best classes in the country and edges out Michigan for best in the conference simply by being more highly rated (seven of the nine 3-stars are rated 5.7 by Rivals).
The best part? Listening to other coaches complain about Meyer stealing their recruits as if there were ever a "gentleman's agreement" in place.
Grade: A
Keep Reading