Who Killed the Franchise NFL QB?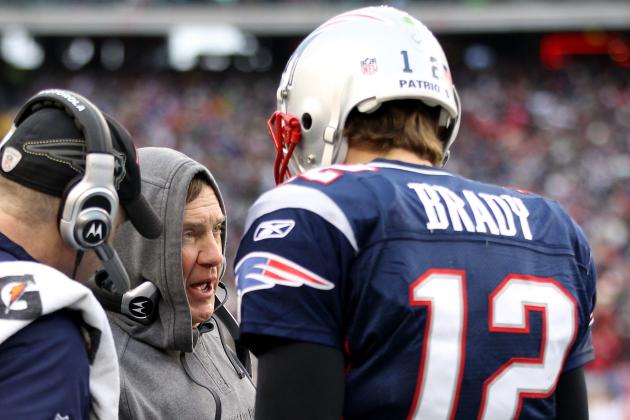 Jim Rogash/Getty Images
Tom Brady
Over the last few years the NFL has gone from a running league to a quarterback driven offense that depends on passing to get big plays.
Every team needs a franchise quarterback, but very few teams have one. There must be some reason that so many teams that don't have one.
Somebody must be to blame.


Maybe it was Tom Brady, the late round Future HOF QB every coach seems to think they can find and develop?
Brady was pick 199 in the sixth round of the 2000 draft.
There were six QBs who were picked before Brady including Spergon Wynn from Texas State by the Browns earlier in that round.

Every coach thinks he can be the one to take a raw kid with some athleticism on a low round pick and make him into the next franchise QB. But as we have seen, a coach is more likely to get hit by falling space junk than turn a late round QB into a future hall of famer. That doesn't stop teams from drafting a QB late in almost every draft.
The fact that so many teams draft a quarterback every year in the late rounds tells us how successful that policy is. Few teams have a true franchise guy under center.
Begin Slideshow

»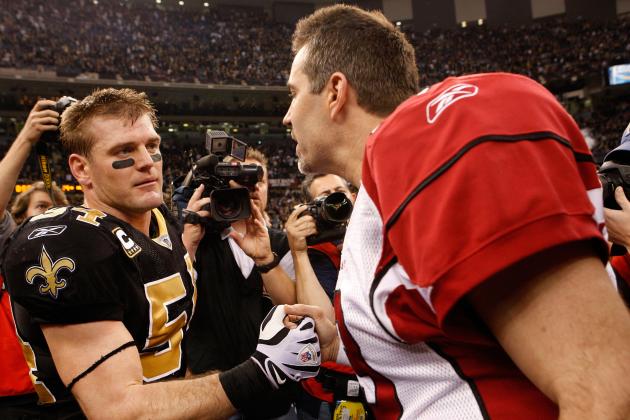 Ronald Martinez/Getty Images
Kurt Warner
Kurt Warner came literally out of the Piggly Wiggly grocery store to lead the Rams to a win in the Super Bowl in 1999. Browns fans will remember that the Rams thought so little of Warner they put him on the veteran expansion draft list in '99.
Despite my screaming at the TV, the Browns passed on the future NFL Hall of Fame QB.
While very few teams were scouting grocery stores, there were a number of undrafted free agents signed by teams.
None of those guys worked out.
Despite that, teams continue to add undrafted QBs to their preseason roster hoping to catch Warner lightning in their bottle.
So far none of them have been struck.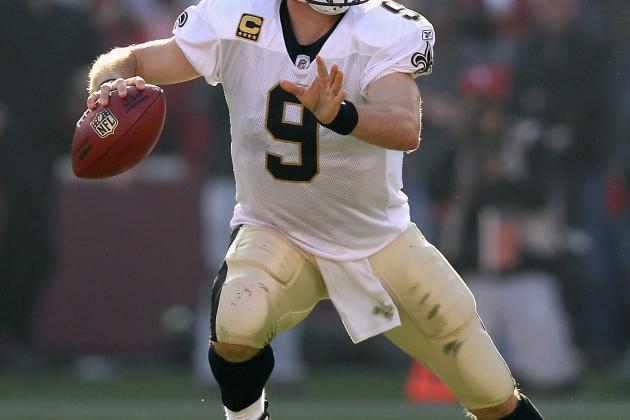 Ezra Shaw/Getty Images
Drew Brees
A lot of college quarterbacks who generate tremendous numbers are less than six feet tall.
Wisconsin QB Russell Wilson is one example, in this year's draft. The problem is that most of those small stature QBs don't become franchise QBs, either.
While many analysts think Wilson is an exception to the "Too Short" rule, teams will continue to take under six-foot tall QBs in the middle or late rounds to prove they can develop into another Brees. Of course, most of these picks will not.
Most of the small QBs play in the shotgun and do not have experience dropping from under center.
Often they struggle with the footwork necessary to master the drop back.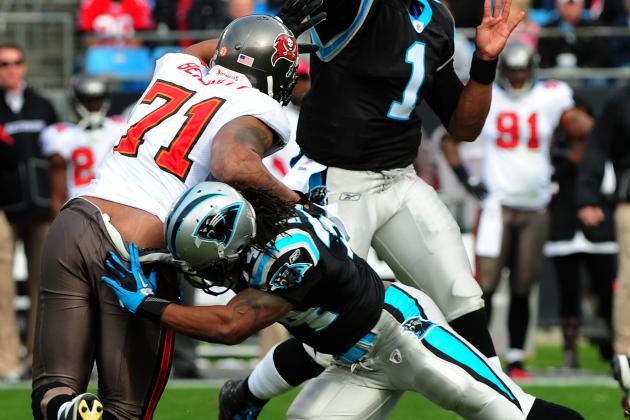 Scott Cunningham/Getty Images
Cam Newton
There have been a great number of super athletic QBs coming to the NFL out of college. While many of them fail, others like Cam seem to get their bearings quickly and take full advantage of their abilities.
Too often these players depend too much on their athleticism and don't work hard enough
on their techniques.
They also tend to do what they did in college—look at their first option and run if he is
covered.
No, this is not the culprit.
There is actually two much better suspects.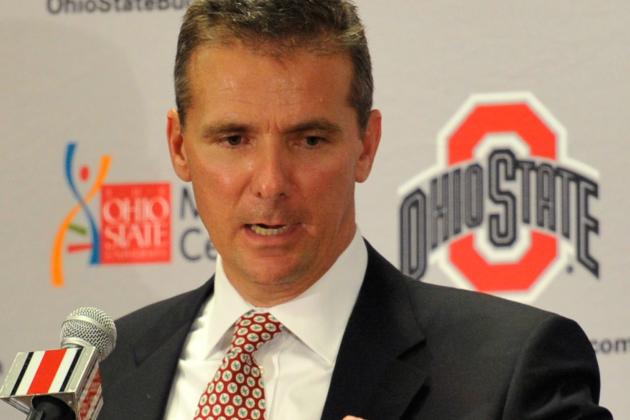 Jamie Sabau/Getty Images
Urban Meyer
Meyer's O has won two titles, so he would be the one to ask about the spread. However, we have seen college offenses come and go in the league before.
There are several coaches who brought their offensive style to the NFL, and for the most part they are now back coaching college teams.

The college spread QBs don't generally read defenses pre- or post-snap. In recent years the plays are called in the SEC by the coaches based on the pre-snap read from the coach in the press box and signaled in with hand signals or charts.
Often the O depends on short passes with yards after the catch. NFL defensive backs are too fast and the coverage is a lot tighter than in college. Players with little experience in rotating zones and combo zone/man coverages struggle in the NFL.
The college game is moving away from the pro game rather than closer to it. The great athletes used to play WR in college.
Now they play QB and run as often as they throw. The NFL is nervous with running QBs. Unless they are 240-plus pounds, they don't tend to last long.
Another aspect of the difference between the college game and the NFL is the requirement for accuracy.
In college the windows into which a QB throws are five to 10 times the size of NFL windows. A typical QB in college will see two or three cornerbacks of NFL quality
in a season. In the NFL, WRs wear the corners like a second shirt.

Perhaps the last issue is that of a great athlete's ability to depend on their physical ability to play at high school and college. They tend to not focus as much on techniques like footwork and throwing motion.
The job of a college coach is to win games, not to prepare his QB to succeed in the NFL.
Coaches may talk about preparing a QB for the next level while recruiting him, but once the kid gets to college, he is asked to use his physical talents to win games.
The QB never does get reps to learn a three-, five- or seven-step drop or how to read a defense after the snap.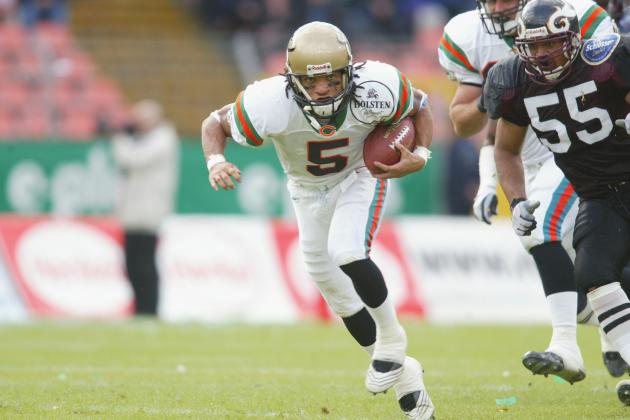 Adam Pretty/Getty Images
NFL Europe
NFLE was a great learning opportunity for players.
One of the reasons I was screaming for the Browns to take Warner in the expansion veteran draft was that I had seen him play there. He had been the MVP of NFL Europe.
Not only would a developmental league be a great help to QBs, it would help give some
younger officials experience. That would be a great improvement over the old and overweight guys in striped shirts on the field now.
That is what I think. Tell us what you think.
If you like this, join me on the Internet radio version of News, Notes and Rumors M-Th at 6 PM EST on http://mooheadradio.com/2.0/.
Bill Smith is a former coach of several semi-pro teams, has done color on radio for college football and basketball and has scouted talent. He edits http://fryingpansports.com.
He is a senior writer for http://nfldraftdog.com/index.html. He has also published several novels on http://www.eBooks-Library.com/Contemporary/ and a non-fiction work at http://www.merriam-press.com/.