25 Best Twitter Accounts to Follow for the NFL Fan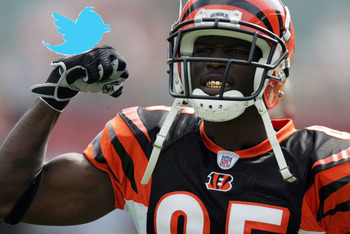 Not too long ago, we had to wait days or even weeks to get in-depth updates on our teams through various newspapers or magazines, while television never bothered with the meticulous details we crave.
But here to fill the void, storming the coasts of practically every country in almost a Blitzkrieg fashion, is the revolutionary age of the Internet.
However, even with the Internet fully intact, it can take well over an hour for someone to produce an article outlining a breaking news story or any story with a number of details.
But now, the latest and greatest social networking phenomenon allows us to be fed every detail as they happen in real time, and always in 140 characters or less.
Of course I'm referring to Twitter, the wonderful invention that allows you to broadcast the thoughts and events of your day as they occur, which is clearly a useful tool for media outlets intelligent enough to take advantage.
So if you follow the news but stubbornly resist social trends, yet your friends are constantly two steps ahead of you with the latest sports updates, then they are likely knee-deep in a puddle of the world's latest tweets.
However, Twitter not only offers the most up-to-date headlines, but it also removes the buffer between fans and the hundreds of NFL Players who have personal accounts.
So if you're an NFL fan who's finally ready to join the rest of society on Twitter, then here are 25 accounts you must follow...
Chad Ochocinco @ochocinco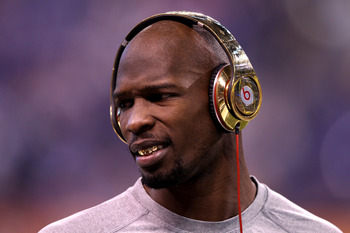 Elsa/Getty Images
Chad Ochocinco is an obvious choice, as he was practically the pioneer who began the use of Twitter among NFL players.
We've grown accustomed to the humorous antics of Ochocinco, from his numerous touchdown celebrations to his questionable name change from "Johnson" to "Ochocinco."
This is why Ochocinco has well over 3 million followers on Twitter. And if you stalk him long enough, he might just fly you in for a football game and free merchandise.
Terrell Owens @terrellowens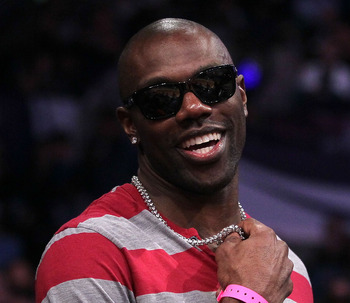 Kevork Djansezian/Getty Images
Like Ochocinco, Terrell Owens is one of the most recognizable characters in the NFL due to his attention-seeking antics on and off the field, though in a less innocent way.
Due to his career of pillaging the Dallas star and showing off his Sharpie, Owens has attracted over a million Twitter followers.
But if you don't have a sense of humor, then you'll still get a kick out of following Owens just to witness his financial downfall.
Wes Welker @WesWelker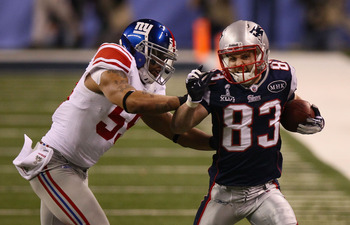 Win McNamee/Getty Images
Maybe you passionately hate the New England Patriots and simply feel like heckling Wes Welker for dropping a potentially game-winning pass in the Super Bowl, or maybe you just have a strange appreciation for a well-groomed mustache.
Either way, Wes Welker is worth following on Twitter, and over 315,000 people agree.
On his page, he claims to be a "professional tweeter that wastes his talents playing American Football."
Other than his sense of humor, Welker updates his followers on the happenings in his life. He even holds an occasional contest, including one that took suggestions on naming his new horse.
Adam Schefter @AdamSchefter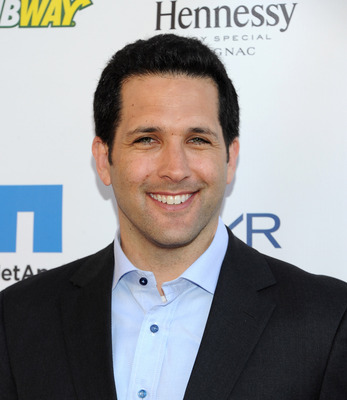 Jason Kempin/Getty Images
Adam Schefter is ESPN's NFL insider and happens to be very good at what he does, which is why well over a million people track his Tweets.
Out of all the "insiders" throughout the NFL, Schefter is one who clearly stands out above the rest. He is often dishing out updates before any other reporter can catch even the slightest scent.
Is he always accurate? No, absolutely not. But he always has something new to stir up.
DeSean Jackson @deseanjackson10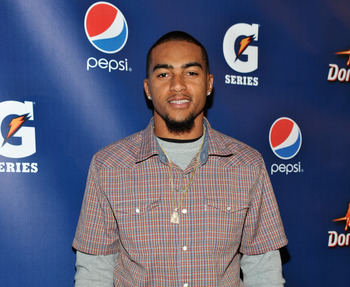 Mike Coppola/Getty Images
Eagles receiver DeSean Jackson is not the most likable guy in the NFL, but he's certainly a popular character, hence his following of over 400,000 people.
Jackson frequently updates his followers on different promotions, as well as the various events he plans on attending.
But if you're lucky, you might witness him and Jaguars kicker Josh Scobee duke it out in another "Twitter battle," which will surely provide about five minutes of mediocre and poorly spelled entertainment. Totally worth it.
Marshall Faulk @marshallfaulk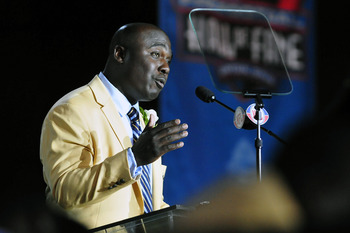 Jason Miller/Getty Images
As a Hall of Fame running back, Super Bowl Champion and St. Louis legend, Marshall Faulk is a busy man who frequently records his happenings on Twitter.
A good portion of his updates focus on charity events relating to the Marshall Faulk Foundation, but as a analyst with the NFL Network, he gives us an inside scoop from a unique point of view.
Drew Brees @drewbrees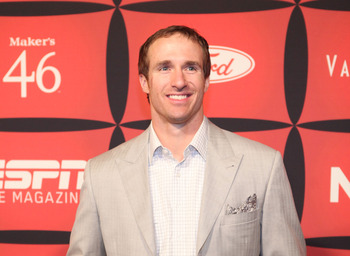 Robin Marchant/Getty Images
Drew Brees is not only one of the most productive and respectable quarterbacks in the NFL, but he is also a family man who's not shy about updating his fans on his personal life.
Other than broadcasting his charities and appearances, Brees also shares pictures of his family, including his wife and two kids.
In fact, just two weeks ago he announced to his Twitter followers that his wife is pregnant with their third child.
Chris Mortensen @mortreport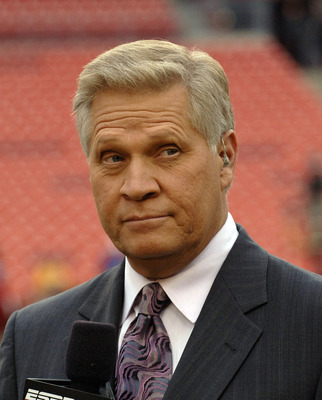 A. Messerschmidt/Getty Images
Chris Mortensen is ESPN's senior analyst and is well known for his ability to report fresh news to his readers.
His inside sources throughout the NFL allows him to not only create new stories, but also confirm various rumors circulating the Internet.
For example, on Monday he was among the first to confirm rumors started by a Kansas City radio station claiming that the Pittsburgh Steelers had hired Todd Haley as their new offensive coordinator.
If you're particularly interested in following a Twitter account that provides the most up-to-date headlines, then Chris Mortensen is practically a necessity.
Reggie Bush @reggie_bush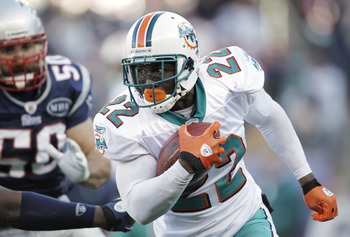 Winslow Townson/Getty Images
Whether it's his revoked Heisman Trophy, his Super Bowl ring, or his love affair with a Kardashian, there's something about Reggie Bush that makes him a popular guy.
The Dolphins running back has over 2 million followers on Twitter, which is unbelievable considering his posts basically involve his daily routines, as well as his terrible taste in music.
If that's your sort of thing, then Reggie Bush is your guy.
Michael Lombardi @michaelombardi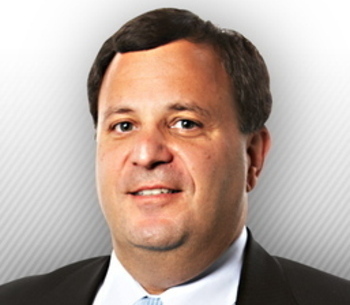 Michael Lombardi is a respected reporter for NFL.com, as well as an analyst on the NFL Network.
On top of possessing pure football knowledge and access to multiple inside sources, Lombardi is one of the most accurate and respected football writers in the country.
If you follow NFL news on Twitter, then your list cannot be complete without Lombardi.
Kerry Rhodes @kerryrhodes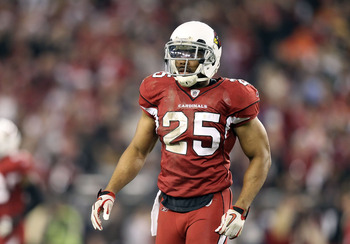 Christian Petersen/Getty Images
Kerry Rhodes might not be the most jaw-dropping player at his position, but he's someone who was smart enough to create his own popularity through solid Twitter interaction with his fans.
You may be a fan of his former team (New York Jets) or his current team (Arizona Cardinals), but even if you're not obligated to support him, he's still a dedicated member of Twitter who openly engages in dialogue with his followers.
Rhodes is one player who certainly proves that Twitter is a unique accomplishment.
Brian McCarthy @NFLprguy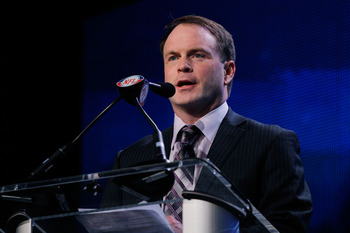 Scott Halleran/Getty Images
Brian McCarthy offers a unique view to the world of the NFL as a member of the league's public relations department.
If your interest in the NFL goes beyond your favorite team and the game itself, then "NFLprguy" will certainly appeal to you.
McCarthy frequently updates his followers on various press conferences, league events, as well as major announcements from across the NFL.
Darnell Dockett @Ddockett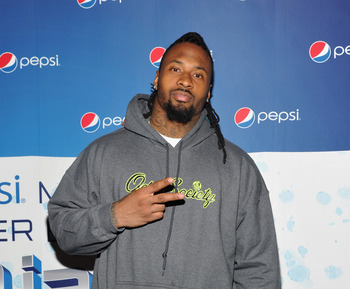 Mike Coppola/Getty Images
Darnell Dockett is known on Twitter for his willingness to interact with fans and update followers on his daily events.
Dockett is also frequently displays his sense of humor, which is evident from his well-publicized interaction with a police officer during a traffic stop.
Of course, Dockett did not hesitate to update his followers on every detail of the incident, including the part where he demanded a warrant before allowing officers to search his vehicle.
Drew Rosenhaus @RosenhausSports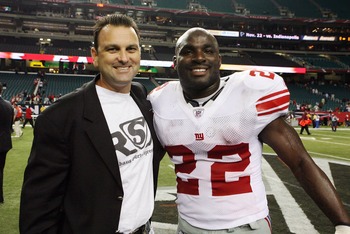 Doug Benc/Getty Images
It may stem from the movie Jerry Maguire, or perhaps the foul-mouthed Ari Gold from HBO's Entourage, but either way there's a unique charisma associated with talent agents, which makes Drew Rosenhaus a popular guy on Twitter.
Rosenhaus doesn't provide the same level as entertainment, but he's certainly one of the most notorious agents associated with the NFL.
His list of clientele features some of the most frowned-upon players in the game: Plaxico Burress, Tommie Harris, DeSean Jackson, Chad Ochocinco, Terrell Owens, Donte' Stallworth, Jeremy Shockey and Ricky Williams.
However, due to his status as one of the most notable sports agents in the world, he certainly offers a unique view into the world of the NFL, which makes his Twitter feed an attractive one.
Chase Daniel @ChaseDaniel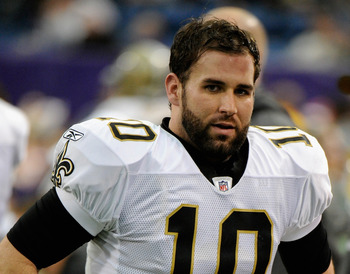 Hannah Foslien/Getty Images
Chase Daniel may be a backup quarterback behind Drew Brees, but with over 50,000 followers on Twitter, he's likely one of the most popular second-stringers in the game.
Daniel has a cult following stemming from his legendary status as a star quarterback for the Missouri Tigers, but what he really offers is an unyielding willingness to acknowledge his fans, which is a rare trait.
Whether you're a Saints fan or just someone interested in the life of a backup quarterback, you'll be pleased with Daniel's Twitter feed.
Michael Fabiano @Michael_Fabiano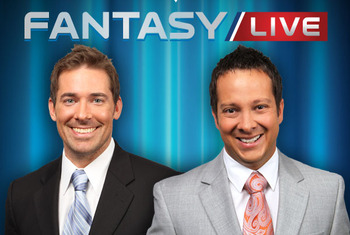 If you could not care less about NFL news and are more concerned with being crowned the next champion of your fantasy football league, then you must follow Michael Fabiano.
According to his profile on NFL.com, Fabiano previously worked for CBS but is now the Fantasy editor for NFL.com.
His Twitter feed provides constant updates on various injuries around the league and he possesses remarkable knowledge on various player statistics.
If you must know whom to sit and whom to start, then Fabiano is an obvious choice.
George Atallah @GeorgeAtallah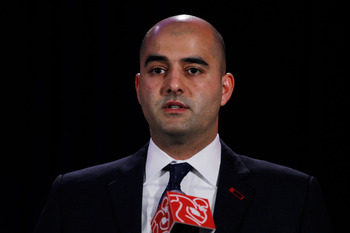 Scott Halleran/Getty Images
George Atallah is the Assistant Executive Director of External Affairs for the NFL Players Association (NFLPA).
As a member of the NFLPA, Atallah saw a spike in popularity last summer during the NFL lockout, but the interest has settled ever since the situation was resolved.
However, if you still have a general interest in the happenings of the NFLPA or are eager to hear the players' take on certain NFL rules and regulations, then Atallah will provide you with such information through his Twitter account.
He may not be the most interesting guy associated with the NFL, but he undoubtedly offers a distinct viewpoint.
Bleacher Report @BR_NFL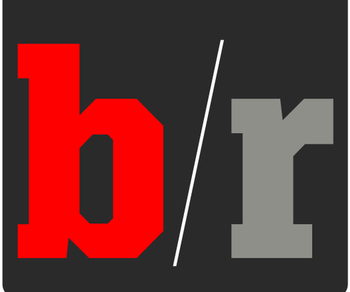 Shhh! They're watching!
Seriously, if you're a fan of Bleacher Report (a real possibility since you're on the site right now), then there's no reason not to follow us on Twitter.
The Bleacher Report feed will bring you up-to-date headlines and links to some of the most intriguing topics currently featured on the site.
If you dig the unique fan-based perspective that makes Bleacher Report what it is, then you'll find the Twitter feed quite useful.
Peter King @SI_PeterKing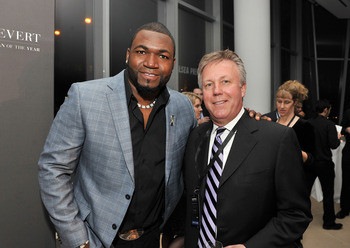 Stephen Lovekin/Getty Images
Peter King has done it all. He's been on HBO, NBC and ESPN. He's the author of multiple books, and he's currently working with Sports Illustrated.
His knowledge of the NFL is uncanny. Prior to the 2010 season, he predicted that the Pittsburgh Steelers and the Green Bay Packers would meet in Super Bowl XLV. He made the prediction nearly five months in advance, and it turned out to be astonishingly accurate.
You typically don't see seasoned writers grasp fashionable trends such as Twitter, but King has an account and is tweeting with the best of them.
With King's knowledge and experience, it would be a waste to ignore his updates.
SportsCenter @SportsCenter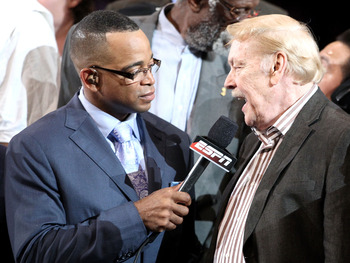 Christian Petersen/Getty Images
SportsCenter is one of the most widely viewed sports shows on television, but if you miss an episode, then you might want to check out their Twitter page.
Not only will you get current news on the NFL and other major sports, but if you send Tweets to them, there's a chance you'll have your message aired on ESPN.
The SportsCenter feed lacks a personal touch, but it will certainly keep you informed on the latest breaking news.
Rashard Mendenhall @R_Mendenhall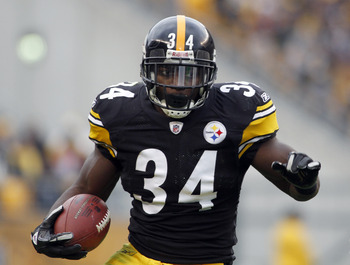 Justin K. Aller/Getty Images
If you sympathize with NFL players for being treated like multimillionaire servants, or if you're blatantly disgusted with the widespread relief over the death of mass murderer Osama Bin Laden, then you'll love Rashard Mendenhall's Twitter feed.
Mendenhall's feed is pretty typical for the most part as he frequently discusses his mundane daily activities just like most NFL players.
Not that there's anything wrong with differing opinions, but if your views are generally viewed as "controversial", then Mendenhall is right up your ally.
Jim Irsay @JimIrsay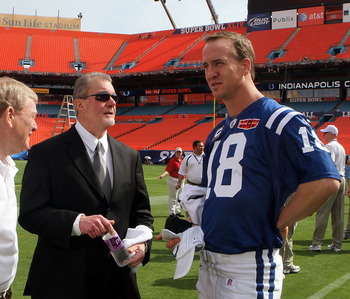 Doug Benc/Getty Images
As the owner of the Indianapolis Colts, Jim Irsay's Twitter account offers Colts fans something that few fans can experience—a direct look into the mind of their team's owner.
Irsay updates his page with various Colts-related news, such as player transactions and team announcements.
Also, due to the current drama between Peyton Manning and the Colts, Irsay's feed should provide some entertainment at some point, regardless of which team you root for.
Troy Polamalu @tpolamalu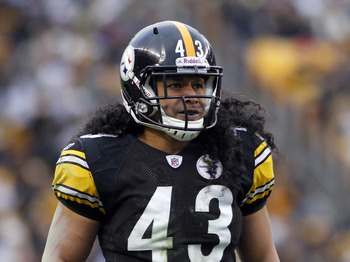 Justin K. Aller/Getty Images
Troy Polamalu is one of the better defenders in the game, as well as a proud face of the decorated Pittsburgh Steelers franchise.
As a well-respected member of the organization, he frequently has inside knowledge knowledge on current happenings within the team, such as contests and ticket giveaways.
Polamalu is very active on Twitter and open to his fans, but just be sure not to criticize him as he apparently takes enough online heat from his overbearing wife.
Matt Hasselbeck @Hasselbeck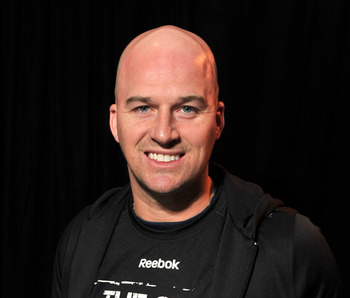 Stephen Lovekin/Getty Images
Matt Hasselbeck is a hero in the city of Seattle despite of his current roster spot with the Tennessee Titans. He is known as a stand-up guy with a good sense of humor, which is evident from some of his tweets, such as the farewell message he left for Seahawks fans before heading to Tennessee.
However, while his intentions are good, he does slip up on occasion.
Last summer during the lockout, Antonio Cromartie was rather critical of the Collective Bargaining Agreement (CBA) negotiations. Hasselbeck replied to Cromartie on Twitter: "Somebody ask Cromartie if he knows what CBA stands for."
Hasselbeck eventually deleted the message, but not before it gained attention from the media.
But regardless, Hasselbeck is yet another player who makes himself available to his fanbase through Twitter, which makes for an interesting feed.
Larry Fitzgerald @LarryFitzgerald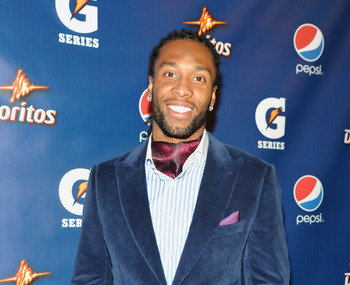 Mike Coppola/Getty Images
Larry Fitzgerald plays with a generally overlooked team, but he is arguably the best overall player at possibly the sexiest position in all of football.
The Cardinals wide receiver is among the elite players in the entire league, so he inevitably attracts his share of attention, regardless of his team's popularity.
But unlike Terrell Owens, Chad Ochocinco, Randy Moss and other degenerate receivers, Fitzgerald is breaking the trend and establishing a new reputation within the wide receiver position, which consists of hard work, team loyalty and gratitude towards the community.
Fitzgerald's charity work focuses on the Carol Fitzgerald Foundation, which was founded for his mother, who died of breast cancer.
You can follow Fitzgerald on Twitter to remain current on his upcoming charity events, or you can just keep in touch with one of the game's best.
Keep Reading