2012 NFL Mock Draft: One Mistake Every Team Must Avoid in First Round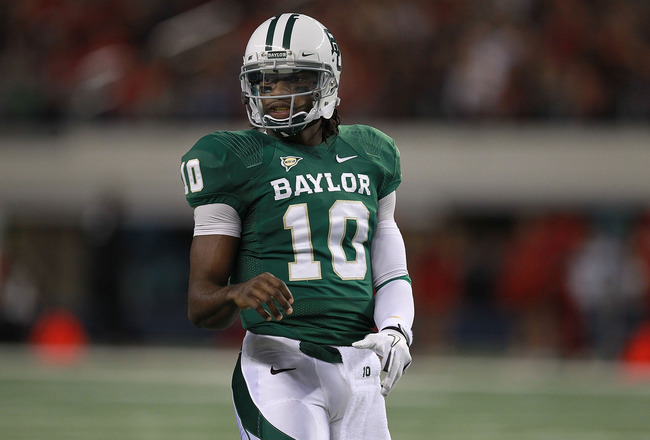 Ronald Martinez/Getty Images
Every year, the NFL Draft and the scouting process are full of wonderful surprises.
But for every wonderful surprise, there's a bust or a huge mistake a team made in not trading.
Teams look at many different options when it comes to their time on draft day, especially in the first round.
There's a simple mistake that every team in the NFL just cannot make.
1. Indianapolis Colts: Drafting Someone Other Than Andrew Luck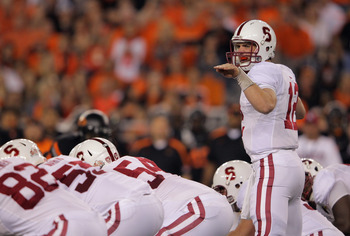 Doug Pensinger/Getty Images
As tempting as it may be to draft someone like Robert Griffin III, Luck is the safer pick.
With the Colts expected to release Manning instead of paying him $28 million, they need a quarterback that's able to lead a team right away.
While Griffin may have a bit of a higher ceiling, Luck is still the best prospect in the draft.
2. St. Louis Rams: Trading Down Too Far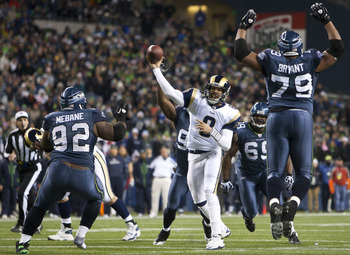 Jay Drowns/Getty Images
It's no secret that the Rams want to trade down in the draft.
Since they have the No.2 overall pick, they should get multiple offers from teams trying to trade up and snag Robert Griffin III. This will lead to a lot of picks that could help the team now and in the future.
The Rams have a lot of holes. But they need to make sure they don't trade down too far and grab a player who can contribute immediately.
3. Minnesota Vikings: Not Trading Down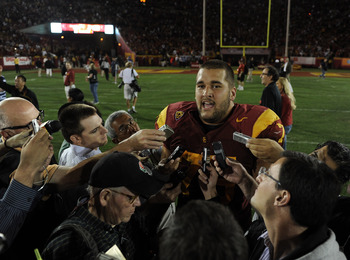 Harry How/Getty Images
The Vikings aren't as bad a football team as their record would show. But they still have holes.
With a few extra picks and players, they might be able to win the close games they lost this past season.
However, if Matt Kalil is still on the board, they might have a hard time passing on him.
4. Cleveland Browns: Passing on Robert Griffin III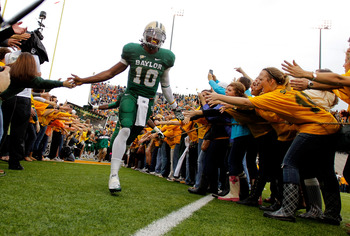 Sarah Glenn/Getty Images
Yes, I understand that Colt McCoy wasn't in a great situation. But I also know that McCoy doesn't have very good physical tools in his own right.
The Browns need to search for a new QB of the future. RGIII is their guy.
5. Tampa Bay Buccaneers: Taking Trent Richardson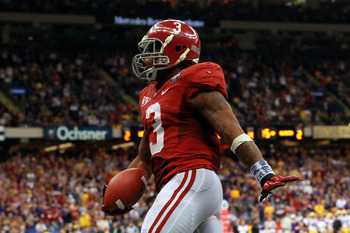 Ronald Martinez/Getty Images
The Buccaneers have huge cornerback problems. First, they have the ever-troubled Aqib Talib. Second, they have the aging Ronde Barber.
Though some are calling for Trent Richardson due to LeGarrette Blount's inept ability in passing situations, the Bucs can afford to wait it out one more year with him.
They must upgrade their defense by selecting Morris Claiborne.
6. Washington Redskins: Trading Up for Anyone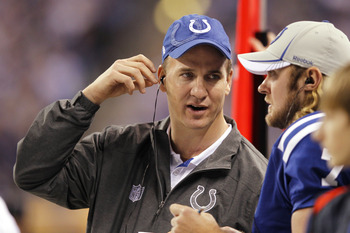 Joe Robbins/Getty Images
The Redskins are actually in a pretty good position at the sixth spot in the draft.
They could take a receiver or quarterback here. If Griffin's here, they take him. If not, they can take a receiver. If they don't feel anyone here is good, they can trade down.
Washington is in the hunt for a few big quarterbacks, notably Peyton Manning.
If they still have a legitimate shot at landing him when draft time comes, they shouldn't feel the need to trade up.
7. Jacksonville Jaguars: Taking a Pass Rusher over a Receiver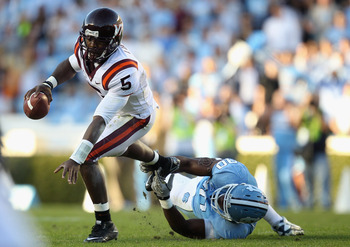 Streeter Lecka/Getty Images
The Jags had a variety of problems in 2011 and their pass rush was one. However, any problem on defense is much better than the failure that was the Jaguars' passing game.
If Jacksonville wants Blaine Gabbert to succeed in any way, they must get him a dominant receiver that can grab any ball thrown his way such as Alshon Jeffery.
8. Carolina Panthers: Drafting on Offense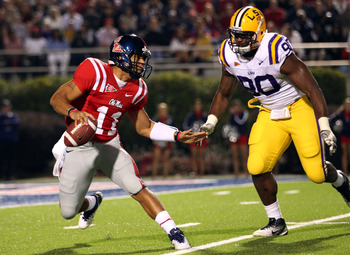 Joe Murphy/Getty Images
No one expects the Panthers to select an offensive player, so this should be easy.
The Panthers should improve their defense in the first round and could use their second round pick on an offensive player if they so desire.
9. Miami Dolphins: Trading Up for Robert Griffin III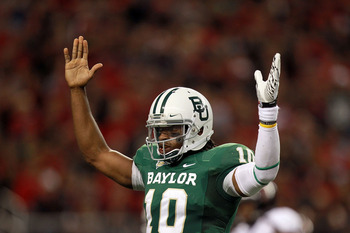 Ronald Martinez/Getty Images
In a situation similar to the one the Redskins are in, the Dolphins need a new quarterback and are in the running for such high-profile names as Peyton Manning and Matt Flynn.
If they fail to get Manning, it seems likely that they'll get Flynn. Why have both Griffin and a free agent QB?
10. Buffalo Bills: Drafting Someone Other Than an Offensive Lineman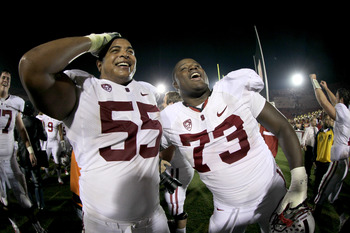 Stephen Dunn/Getty Images
With the news that Ryan Fitzpatrick played through broken ribs, drafting an offensive lineman becomes even more paramount for the Bills.
The Bills started the season hot because of Fitzpatrick but then they started losing when his play fell off.
Buffalo's offensive line did a poor job all season long and with the money they have invested in Fitzpatrick, they should use the pick on a tackle or guard instead of a pass-rusher.
11. Kansas City Chiefs: Depends on Dwayne Bowe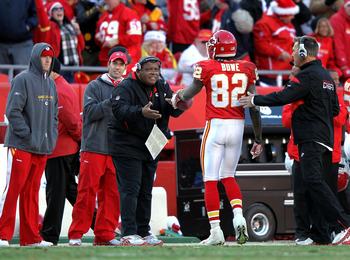 Jamie Squire/Getty Images
If Dwayne Bowe leaves in free agency and the Chiefs don't find a receiver to replace him, drafting anything but a receiver could haunt them.
The Kansas City Chiefs could be in a tough position if Bowe leaves. They need an offensive tackle badly and they can't afford to pass up Jonathan Martin or Riley Reiff given they fall to No.11.
12. Seattle Seahawks: Taking Nick Perry over Zach Brown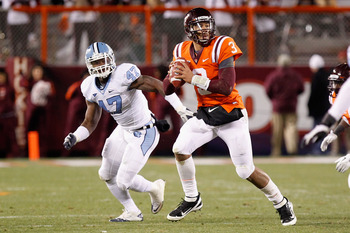 Geoff Burke/Getty Images
The Seahawks need a pass rush, thus leading many to mock explosive USC OLB/DE Nick Perry to the Seahawks.
Zach Brown might be the better pick.
With Leroy Hill or David Hawthorne set to leave in free agency, the Seahawks could have a huge hole at outside linebacker.
Choosing Zach Brown would fill the weakside spot with the quickness to add some pass rush and contribute in coverage.
13. Arizona Cardinals: Drafting Something Other Than a Linebacker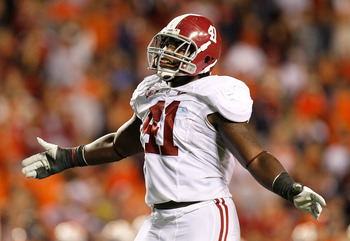 Kevin C. Cox/Getty Images
While Samuel Acho came on late and showed that he should open the season as a starter, Joey Porter showed that he should retire.
Drafting a player like Upshaw who has experience as an outside linebacker or an explosive player like Nick Perry could go a long way in improving the Cardinal defense.
14. Dallas Cowboys: Selecting David DeCastro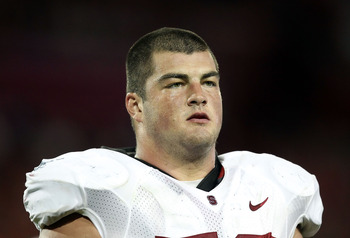 Christian Petersen/Getty Images
The Cowboys have needs at both guard and cornerback. But cornerback is the more pressing need.
While DeCastro could be available at this spot, so could a number of cornerbacks such as Dre Kirkpatrick or Janoris Jenkins.
The Cowboys would be wise to avoid upgrading their offensive line and instead bolster their secondary.
15. Philadelphia Eagles: Choosing Michael Floyd over Kendall Wright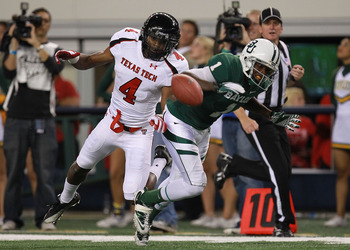 Ronald Martinez/Getty Images
Now this is a big if in many ways.
I, for one, think that Wright is a candidate to make a huge rise up draft boards—something he could've already done had he not missed the Senior Bowl.
If DeSean Jackson leaves, then the Eagles need a new deep threat to stretch defenses and while Floyd is talented, he doesn't have the elite speed Wright does.
16. New York Jets: Passing on a Running Back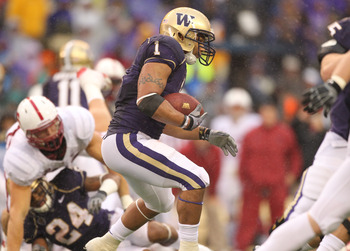 Otto Greule Jr/Getty Images
Let me say this first: I fully expect Courtney Upshaw to be gone by now.
Though the Jets have a hole at receiver, they've had little ground game to boast. And with Mark Sanchez playing like he does, the passing game can't be a priority for the Jets.
The Jets gained an average of 3.8 yards per carry last season. They need an upgrade at running back.
17. Cincinnati Bengals: Not Drafting the Best Player Available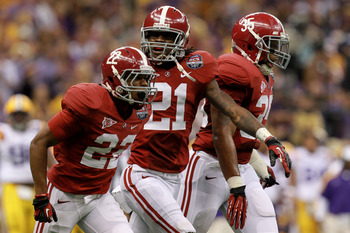 Ronald Martinez/Getty Images
With the 17th pick in the draft, the Bengals could go with a defensive back, running back or even wide receiver if the right one falls to them.
Because they have so many options with this pick and also because they have another first round pick, they'll simply choose the best player available from one of those positions.
18. San Diego Chargers: Taking Another Bust of a Pass Rusher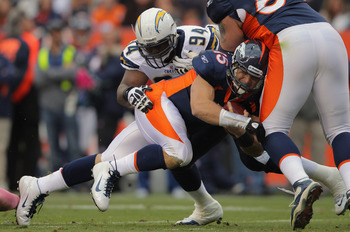 Doug Pensinger/Getty Images
While it's premature to call Corey Liuget a bust, he was supposed to add a pass rushing element to the Chargers that he didn't in first year.
Two years before they selected Liuget, the Chargers took Larry English to add to their pass rush but busted on him.
If they're going to select a player whose forte is rushing the quarterback, San Diego better get it right this time.
19. Chicago Bears: Passing Up Peter Konz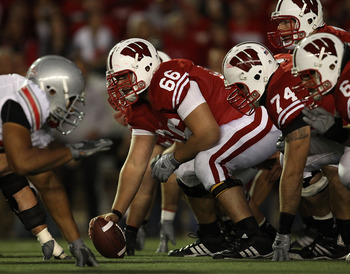 Jonathan Daniel/Getty Images
The Bears could use a new center in an effort to build up an offensive line to protect Jay Cutler.
Konz, a junior, was excellent in all areas for the Badgers as he routinely dominated elite competition while also being able to pull out and seal the edge on certain plays.
Konz played in a pro-style system at Wisconsin and would serve the Bears well for the next decade or so.
20. Tennessee Titans: Drafting on Offense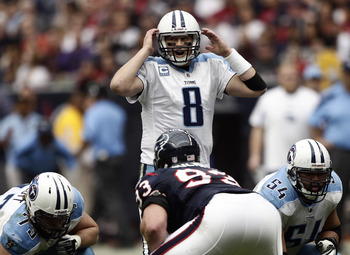 Bob Levey/Getty Images
The Titans could use a few upgrades on the offensive line, but that can wait until the second round.
Tennessee needs to use the 20th pick on a defensive end, a position in which they got little production from last season.
If not defensive end, they could use it on a cornerback like Janoris Jenkins or Dre Kirkpatrick should they still be available.
23. Detroit Lions: Upgrading Secondary over Offensive Line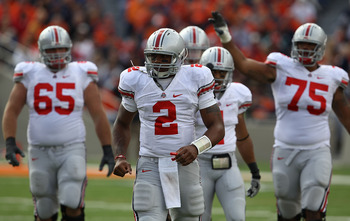 Adams is No.75 in case you don't know. Yes, the giant one.
Jonathan Daniel/Getty Images
The one prospect the Lions will have to take a hard look at is Mike Adams, a left tackle prospect who could slide to this spot after having a few troubles late in the week at the Senior Bowl.
Another position the Lions could choose to upgrade is cornerback.
If Mike Adams is still here, they should give him a look. If he isn't, they may also want to look at Cordy Glenn from Georgia.
24. Pittsburgh Steelers: Choosing Anyone Else but an Offensive Lineman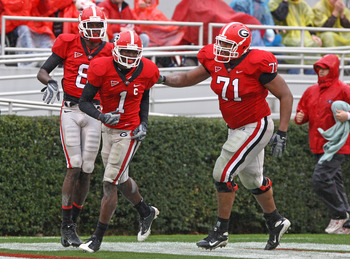 Mike Zarrilli/Getty Images
This one is fairly obvious.
The Steelers offensive line has dealt with things from injuries to poor play. It needs an upgrade, especially at guard.
Cordy Glenn is your guy here.
25. Denver Broncos: Passing on Jerel Worthy
Gregory Shamus/Getty Images
Yes, this may be a reach for Jerel Worthy at No.25 overall. But the Broncos seriously need an upgrade at defensive tackle.
If Worthy can give a consistent effort on every snap and allay concerns about his work ethic, the Broncos could very well have a gem.
Though cornerback is tempting, that need will have to be filled in either free agency or next year's draft.
26. Houston Texans: Selecting a Player with the 26th Pick
Elsa/Getty Images
If Kendall Wright, Michael Floyd, Alshon Jeffery and Justin Blackmon are all gone when the Texans pick, they won't have a receiver worth taking with the 26th pick.
Their best option would then be to trade down into the early second round, grab an extra pick and choose either Mohamed Sanu of Rutgers or Chris Givens of Wake Forest.
27. New England Patriots: Keeping Both of Their Picks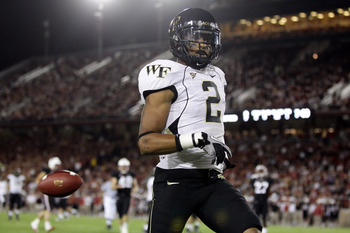 Ezra Shaw/Getty Images
The Patriots are in a similar situation to the Houston Texans.
They need to select a receiver that can help out their quarterback, but the Patriots need a deep threat more than the Texans do.
Trading back and selecting a guy expected to run around a 4.40 like Chris Givens would be the best option for the Patriots.
Belichick is just going to keep trading picks until one day he owns the entire second round.
28. Green Bay Packers: Drafting the Best Player Available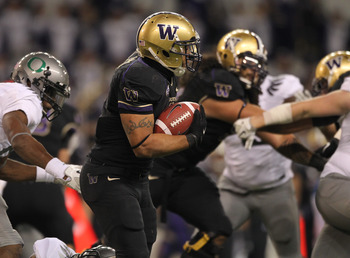 Otto Greule Jr/Getty Images
The Packers have a few holes they could fill with this pick. They could choose a running back or a player at almost position on defense. Don't use the pick on offense.
Green Bay need a pass rushing defensive end or a pass rushing outside linebacker, though Ted Thompson often subscribes to his philosophy of taking the best player available.
For once, you need to choose a player that fits the need, Ted.
29. Baltimore Ravens: Not Drafting the Best Player Available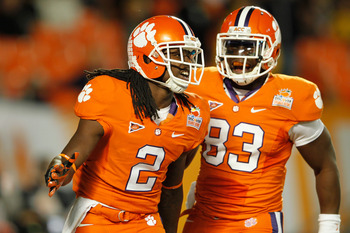 Unfortunately this isn't College Basketball and the Ravens can't just select a One and Done Sammy Watkins.
Mike Ehrmann/Getty Images
Overall, the Ravens are a pretty solid team. Though they're aging in several positions, most of their players are expected to return next season.
The Ravens could sit here and follow the idea of drafting the best player available.
If not, they could even use this pick on a tight end like Dwayne Allen or Orson Charles.
30. San Francisco 49ers: Passing on a Wide Receiver or Cornerback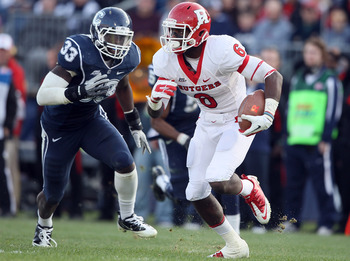 Elsa/Getty Images
The 49ers' big weakness is at wide receiver where they have three free agents.
San Francisco is in a spot where they can comfortably reach for a receiver and steal one from a team that has traded back.
If they don't want to reach, they could select a cornerback like Stephon Gilmore or Jamell Fleming and groom him as a future starter.
32. New York Giants: Drafting a Tight End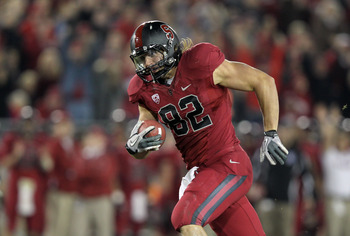 Ezra Shaw/Getty Images
Though the Giants could have a better tight end, it isn't a must. Jake Ballard is a serviceable player.
The Giants would be much better suited to taking a running back behind the oft-injured Ahmad Bradshaw or taking a defensive back.
Keep Reading