Peyton Manning Rumors: Move to Miami Would Make Dolphins a Serious Threat
February 6, 2012

Rob Carr/Getty Images
As every day passes, it's looking more and more like Peyton Manning will not be an Indianapolis Colt by the time the 2012-2013 season starts.
With all of the talk of where he could be traded, word now is that Manning has given the Colts a shortlist of teams that he would play for. The Dolphins are said to be on that list.
As odd at is it would be to see the great No. 18 in Turquoise and orange, getting Manning would turn an average Dolphins team into a playoff team and a serious contender. However, all of that depends on the veteran's neck.
Manning's agent Tom Condon told the Miami Sun-Sentinel about his client's road to recovery:
There had been substantial discussion that [Peyton Manning] wasn't going to be able to play, and that it was too dangerous and foolish for him to even think about it, and that's not accurate. He is sound in the structural part of his neck and he can certainly take a hit and play a football game. How effective he would be in the game, probably not as effective today as he would be two months from now. He's on a timeline.
The biggest question that needs to be answered before the Colts make their decision and the Dolphins make theirs will be how long it is before Peyton Manning will be ready to start again at the NFL level.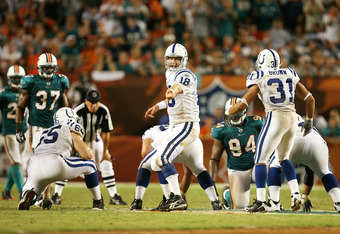 Doug Benc/Getty Images
If the timeline is beyond the realm of possibility for Indianapolis and they do trade or cut him, the Dolphins have shown that they are very interested in signing Manning.
With an offensive group that already includes Reggie Bush, Davone Bess, Anthony Fasano, Brian Hartline and Pro Bowl receiver Brandon Marshall, Manning would come into a team that has as many weapons as his current Colts.
Add in a stellar defense and the Dolphins will be 11-5 and headed to the playoffs, while the Colts are bogged down in mediocrity for the next two or three seasons.
Check back for more on the National Football League as it comes, and check out Bleacher Report's NFL Page to get your fill of all things football.