UFC 143: Who Every Main-Card Fighter Should Be Fighting Next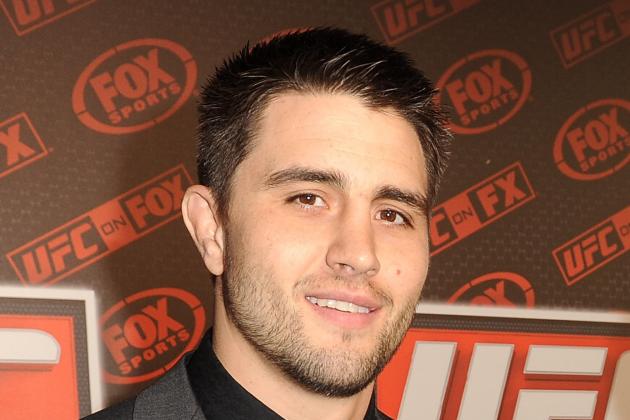 Jason Merritt/Getty Images

UFC 143 is done and dusted, and the major winner of the night was Carlos Condit. He had a brilliant game plan, perfectly executed it and looked amazing. He used a vast array of weapons, and his conditioning was impressive. He avoided getting trapped into Diaz's fight, and I think the win is what matters.
The people complaining should realise that Condit was clever avoiding brawling with Diaz, and it's like complaining about Chad Mendes taking a striker down.

Anyway, this slideshow is about looking at who each fighter on the main card will fight next.
Begin Slideshow

»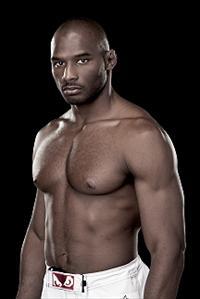 http://www.google.com/imgres?um=1&hl=en&sa=N&biw=1280&bih=667&tbm=isch&tbnid=oUKvF_2ekjpg8M:&imgrefurl=http://www.mma-core.com/fighters/_Clifford_Starks%3Ffid%3D158651%26tab%3D5&docid=4l1KkgKAFnO9PM&imgurl=http://www.mma-core.com/images/fighters/full/Clifford_Starks_158651.jpg&w=200&h=299&ei=chwwT9WsNIyy8QPe_8XaDw&zoom=1&iact=rc&dur=171&sig=107105758060653382555&page=1&tbnh=149&tbnw=104&start=0&ndsp=18&ved=1t:429,r:4,s:0&tx=65&ty=72
Michael Kuiper made his UFC debut at UFC 143 and impressed me in a close decision loss to Rafael Natal. He is a fighter I would love to see more of.

Clifford Starks looked outclassed against Ed Herman, who took the wrestler down and submitted him. Starks needs to not be taken down when he is the superior wrestler. A bout between the two would likely be an exciting fight with the loser cut.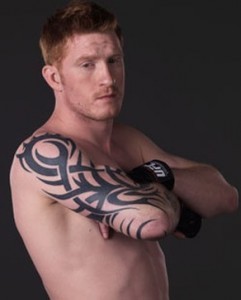 http://www.google.com/imgres?um=1&hl=en&sa=N&biw=1280&bih=667&tbm=isch&tbnid=--fgMqoiGYWpcM:&imgrefurl=http://mmavalor.com/2012/02/02/ed-hermans-comeback-story-continues-at-ufc-143/&docid=SmmeIGHLnnsq-M&imgurl=http://mmavalor.com/wp-content/uploads/2011/06/ed-herman-241x300.jpg&w=241&h=300&ei=PAMvT9OtHMXk8QPKn_WIDw&zoom=1&iact=rc&dur=272&sig=107105758060653382555&page=1&tbnh=156&tbnw=128&start=0&ndsp=18&ved=1t:429,r:4,s:0&tx=55&ty=7
Ed Herman is unbeaten since his return from injury, an injury he suffered in a fight against Aaron Simpson. He lost that fight when attempting a high kick, and he collapsed to the mat in pain causing a stoppage.
Since that fight, Herman has won over Tim Credeur, Kyle Noke and Clifford Starks all inside two rounds.

Aaron Simpson has since gone 4-2 with losses to highly ranked Mark Munoz and Chris Leben. His recent wins over Mario Miranda, Brad Tavares and Eric Schafer and a win over Markes would push him up the division.
Ronny Markes has only lost once, but since his loss has five consecutive wins including wins over Paulo Filho and Karlos Vemola.

A fight between two fighters on winning streaks could potentially push one into the bottom of the upper tier of the middleweight division. Spice would also be added if it was a Simpson-Herman rematch.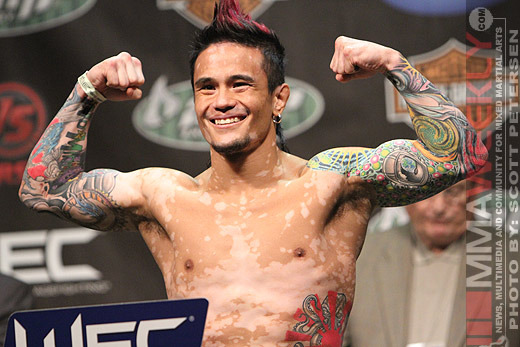 http://www.google.com/imgres?um=1&hl=en&sa=N&biw=1280&bih=667&tbm=isch&tbnid=eRaWuSKFVpeavM:&imgrefurl=http://www.mmatattoos.com/&docid=p_RcF_gMK0MprM&imgurl=http://www.mmatattoos.com/wp-content/uploads/2010/12/28-Scott-Jorgensen-WEC-53-w.jpg&w=520&h=347&ei=MAovT5PeKYid8gPYwcHgDg&zoom=1&iact=rc&dur=789&sig=107105758060653382555&page=1&tbnh=132&tbnw=179&start=0&ndsp=19&ved=1t:429,r:4,s:0&tx=81&ty=81
Scott Jorgensen looked outclassed against Renan Barao as he did against Dominick Cruz a while back, however, he continues to show he is better than most other bantamweights around. He is a good wrestler with solid stand-up, which means he has the tools to overcome most others.

Bowles is another top-class bantamweight coming off a loss, this time to dangerous Urijah Faber. Like Jorgensen, Bowles also has a loss to champion Dominick Cruz and holds a base in wrestling while being a competent stand-up fighter.

Matching up the two would decide who remains a contender and who becomes more of a gatekeeper for the division. With both having solid wrestling and stand-up skills, it will likely be a close matchup posing lots of questions about the fighters.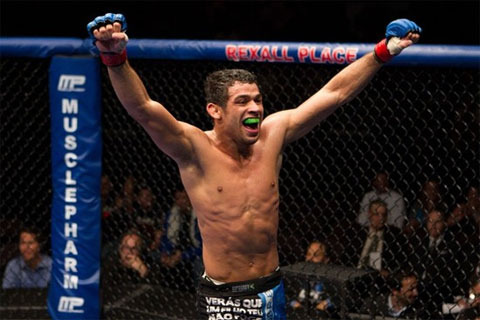 http://www.google.com/imgres?um=1&hl=en&sa=N&biw=1280&bih=667&tbm=isch&tbnid=S-YG-uZPG1SxBM:&imgrefurl=http://www.nominuto.com/esporte/outros-esportes/renan-barao-vai-para-rio-de-janeiro-aprimorar-tecnica/75654/&docid=U750n-km3CwTKM&imgurl=http://www.nominuto.com/_resources/files/_modules/news/news_75654_20110825022428ee6c.jpg&w=480&h=320&ei=LgwvT9K8G8Oo8AP_qImGDw&zoom=1&iact=hc&vpx=279&vpy=110&dur=207&hovh=183&hovw=275&tx=187&ty=73&sig=107105758060653382555&page=1&tbnh=139&tbnw=162&start=0&ndsp=18&ved=1t:429,r:13,s:0
Dominick Cruz is one of the most dominant UFC champions around having virtually cleared out his whole division. Faber is the only man holding a win over him, but Cruz avenged that loss recently.
The third fight will decide who the best is for good, and with wins over all other fighters, Cruz needs some new contenders while Faber also has wins over nearest competitor Brian Bowles.

Barao is one of the most exciting fighters in the UFC and has wins over two Top 10 fighters in Brad Pickett and Scott Jorgensen. Both performances have been impressive and suggest he is probably ready for a shot at the title.

A Renan Barao versus Dominick Cruz/Urijah Faber fight would no doubt be one of the most intriguing and entertaining bouts of 2012. It could also signal the last real competitive challenger that the champion has.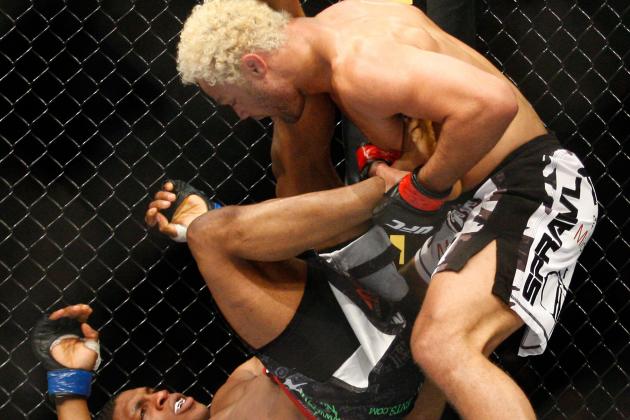 Richard Wolowicz/Getty Images

Josh Koscheck didn't impress at UFC 143, but opponent Mike Pierce has that effect on people, and Koscheck still remains one of the highest ranked fighters in the division with only one loss not to champion Georges St-Pierre.

Alves and Kampmann are fighting at UFC on FX2. Despite the fact neither has a particularly great record recently, they could both shoot up the divisions and are known threats. Kampmann especially has been victim to some horrific decisions that could arguably lead him to being No. 2 in the division.

This fight would lead to a striker versus grappler matchup with the winner heading to the higher tier of the division. For the loser, it would probably signify that the fighter belongs as a gatekeeper.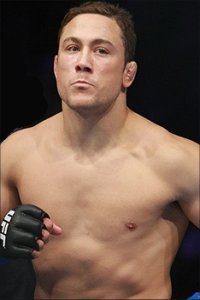 http://www.google.com/imgres?um=1&hl=en&sa=N&biw=1280&bih=667&tbm=isch&tbnid=Fc3T3Qa3S6-KCM:&imgrefurl=http://www.sherdog.com/fighter/Mike-Pierce-25415&docid=9nMEmyzVKJv3pM&imgurl=http://www.cdn.sherdog.com/_images/fighter/20090925112706_mikepierce.JPG&w=200&h=300&ei=2jkwT8KhAsiV8QOnx-WbDw&zoom=1&iact=hc&vpx=186&vpy=168&dur=318&hovh=240&hovw=160&tx=63&ty=125&sig=107105758060653382555&page=1&tbnh=145&tbnw=92&start=0&ndsp=22&ved=1t:429,r:0,s:0
Mike Pierce fought valiantly in a loss against Josh Koscheck, but remains in the middle of the UFC welterweight pack. His three UFC losses have come against top contenders Jon Fitch, Johny Hendricks and Koscheck. However, he still doesn't hold a defining win.

Dong-Hyun Kim is probably the fighter with better wins including wins over Amir Sadollah, Nate Diaz and most recently Sean Pierson. He lost to interim champion Carlos Condit in between fights but looked liked he had worked on his striking in the Pierson fight.

The fight would provide a clear clarity between two wrestlers on who belongs in the upper tier in the division and who should be a gatekeeper.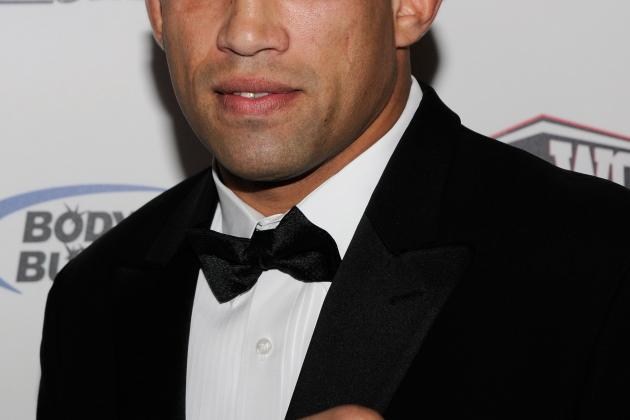 Ethan Miller/Getty Images

Mir has a winning streak of three fights, and in a division with a lack of real contenders, Mir has to be near a title shot. Wins over Mirko "Cro Cop" Filipovic, Roy Nelson and Antonio "Big Nog" Nogueira are all impressive, but Mir probably needs another win before getting the shot.

Werdum has recently been one of the best heavyweights around. Wins over Fedor Emilianenko and Nelson were sandwiched with a loss to Alistair Overeem who is the No. 1 contender, and the fight didn't answer questions definitively. He should be close to a title shot considering his close loss to the No. 1 contender and wins over top fighters.

Because of the strengths of the two fighters, it is definitely an interesting matchup. Both are black belts with feared grappling but also have dangerous strikes as shown in recent fights with Nelson and Cro Cop. It would also form a good title eliminator.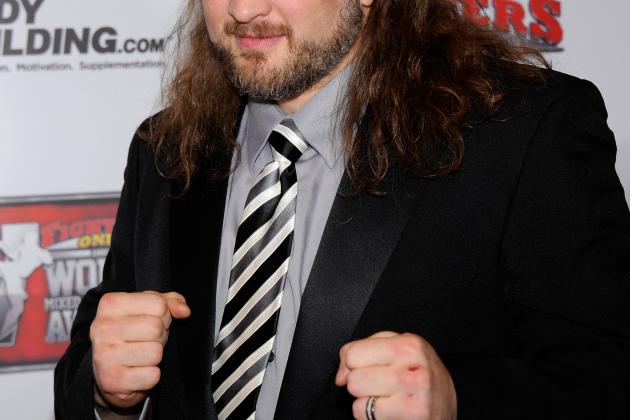 Ethan Miller/Getty Images

Roy Nelson seems to be the gatekeeper of the division along with Cheick Kongo. Losses to Mir, Junior dos Santos and Werdum show that Nelson isn't the quality to hang with the top of the division, but wins over Brendan Schaub, Stefan Struve and Cro Cop show he is probably above the middle tier of fighters.

Matt Mitrione was a contender fast tracked to a big fight in just his sixth professional fight. Kongo proved a step too far after Mitrione had wins against Christian Morecraft, Tim Hague, Joey Beltran and Kimbo Slice. Mitrione will use the lessons learned from that fight to hopefully come back a better fighter.

This fight would feature probably the two most successful fighters from The Ultimate Fighter 10. A win could keep one of them in contention, while a loss will be catastrophic to hopes of staying near the top of the division.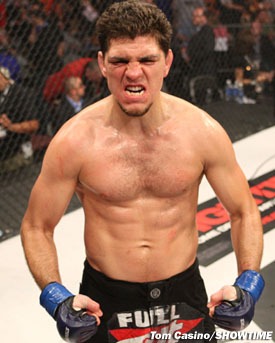 http://www.google.com/imgres?um=1&hl=en&sa=N&biw=1280&bih=667&tbm=isch&tbnid=S_ycG_lPvEKT6M:&imgrefurl=http://www.mmaforreal.com/2010/3/7/1361933/we-are-currently-in-discussion-for&docid=fO4QQM_fY4rB-M&imgurl=http://cdn2.sbnation.com/fan_shot_images/102913/nick-diaz-4.jpg&w=275&h=343&ei=-DUwT-jkEMiN8gOC19yBDw&zoom=1&iact=rc&dur=308&sig=107105758060653382555&page=1&tbnh=148&tbnw=117&start=0&ndsp=19&ved=1t:429,r:6,s:0&tx=33&ty=50
Nick Diaz did retire after the fight. So this is only a potential fight if he does come back. If Diaz does come back, I can only see him fighting to improve upon his legacy in big-name fights. Nick doesn't seem the type of guy to enjoy fighting his way back up through the ranks

B.J. Penn similarly retired after the Diaz fight distraught from a devastating defeat. However, since the fight, he has discussed the possibility of facing Diaz who he thought was disrespectful. Penn is also probably in a position where he can pick fights to further his legacy.

The rematch would provide both with different chances. Penn would be looking to prove that he had a bad night and is capable of competing with any welterweights, while Diaz would be looking to prove that he really is that good. If these two do fight again, it would be nice to see a rematch of the first fight.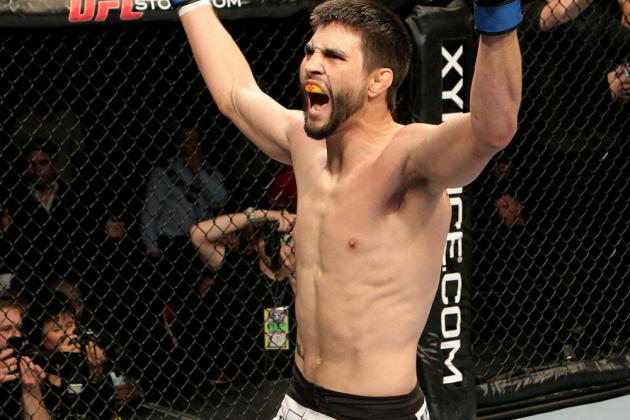 http://www.google.com/imgres?um=1&hl=en&sa=N&biw=1280&bih=667&tbm=isch&tbnid=H5GIMQNIbFv5sM:&imgrefurl=http://www.ufc.com/news/Let-The-Prime-of-Carlos-Condit-Begin&docid=GQWpVbTWcxt2nM&imgurl=http://video.ufc.tv/120/120_EventPhotos/10_Hardy_v_Condit/10_Hardy_v_Condit_03.jpg&w=1000&h=1500&ei=CzcwT7y8Asik8QOR9Y37Dg&zoom=1&iact=hc&vpx=858&vpy=262&dur=174&hovh=275&hovw=183&tx=140&ty=133&sig=107105758060653382555&page=1&tbnh=141&tbnw=112&start=0&ndsp=21&ved=1t:429,r:18,s:0
Carlos Condit was supreme on Saturday, as he has been for his whole UFC career. He has also been my favourite fighter and remains that way. I cannot see Condit willing to wait nine months for GSP. I think he will look to take a fight in the meantime.

The fight that screams No. 1 contenders fight to me is Diego Sanchez versus Jake Ellenberger. Sanchez has put together a decent set of results with wins over Paulo Thiago and Martin Kampmann.
Ellenberger meanwhile, has been on a terrific run since his only UFC loss against Condit with the big win coming over Jake Shields.

This fight would be a fight of the year candidate.
Condit is an exciting fighter just like Sanchez and Ellenberger. The Ellenberger rematch would be intriguing as both have similar skill sets, and the first fight was an enthralling one.
Sanchez is a perennial fight of the night winner, and a fight with Condit would provide great fireworks and with either fighter it would potentially improve buys for when GSP returns to take on the winner.