Ranking Top 10 MLB Starting Pitchers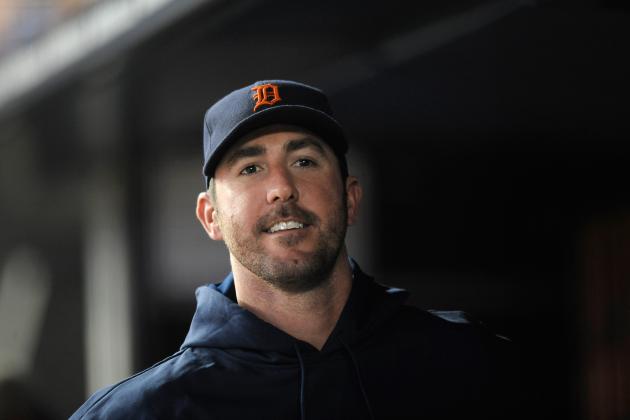 Patrick McDermott/Getty Images

The NFL season has come to a close and attention will begin to shift towards baseball.
The 2011 MLB season was one of the most exciting seasons in recent years and this offseason has left baseball fans antsy for the upcoming season.
An old saying is "pitching wins championships."
Every team needs an ace on their rotation that can carry their staff and lead their team.
Here is a look at a ranking of the top 10 starting pitchers going into the 2012 season.
Begin Slideshow

»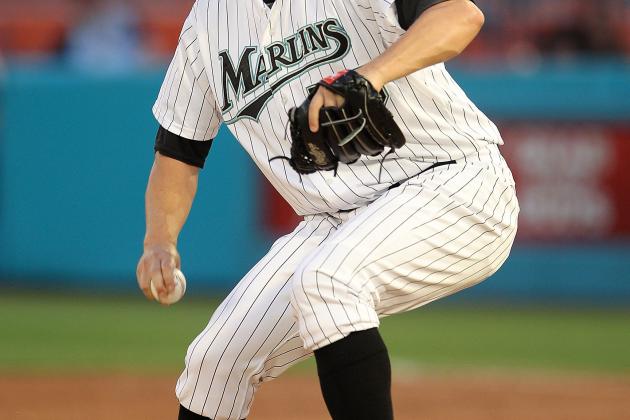 Mike Ehrmann/Getty Images

Josh Johnson
Josh Johnson has been a dominant pitcher when healthy.
"Healthy" being the key word.
Johnson made only nine starts in 2011 and eight starts in 2007 and 2008 combined. In 2010, he had a 2.30 ERA and in his nine starts last season he had a 1.64 ERA. If he can stay healthy in 2012, he could be a 20 game winner with an improved Marlins team.
James Shields
James Shields finally proved he was a number one starter in 2011.
He had been a fairly mediocre pitcher his entire career but seemed to finally figure it out and had a record of 16-12, with a 2.82 ERA and 225 strikeouts. Shields may go back to his pre-2011 form in 2012, but if he could prove to be more than just a "one-year wonder," then he could continue to be a top starter in the MLB like he was in 2011.
David Price
David Price regressed in 2011 which took him out of the top 10. His record went from 19-6 in 2010, to 12-13 in 2011. His ERA also almost went up by one run. However because of his talent and potential, he has to be at least an honorable mention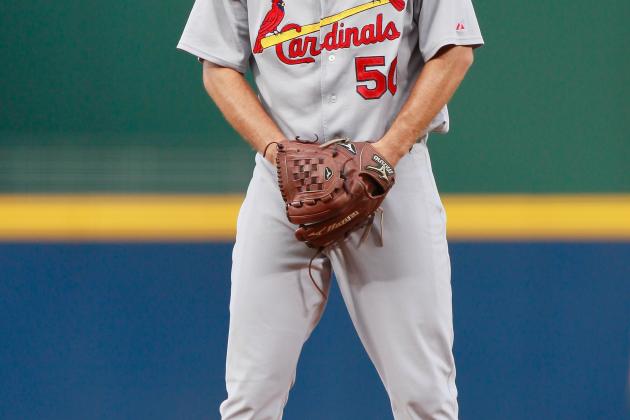 Kevin C. Cox/Getty Images

Adam Wainwright has been one of the best pitchers and arguably was the best starter in baseball during the 2009 and 2010 seasons.
In February of 2011 Wainwright received Tommy John surgery on his right elbow, and in effect missed the entire 2011 season.
The surgery has a success rate of about 90 percent, and takes about a year to recover.
The success of Wainwright's return will be crucial for the St. Louis Cardinals season.
2012 Prediction:
16-10, 2.87 ERA, 202 K's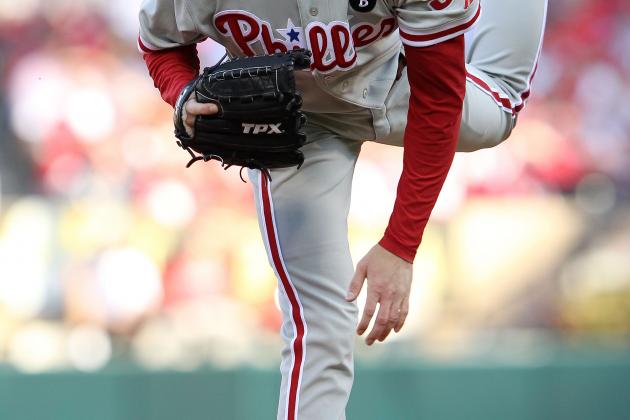 Jamie Squire/Getty Images

I am not the biggest Cole Hamels fan.
However he is going to be playing for a long term contract as he signed a one-year, $15 million deal avoiding arbitration this offseason. Players usually have their biggest years the year before their contract expires.
Hamels had a strong 2011 season to add to his already impressive career. He has not been able to take the next step and win 20 games in a season yet, but expect him to be near that number in 2012.
2012 Prediction:
18-10, 3.08 ERA, 191 K's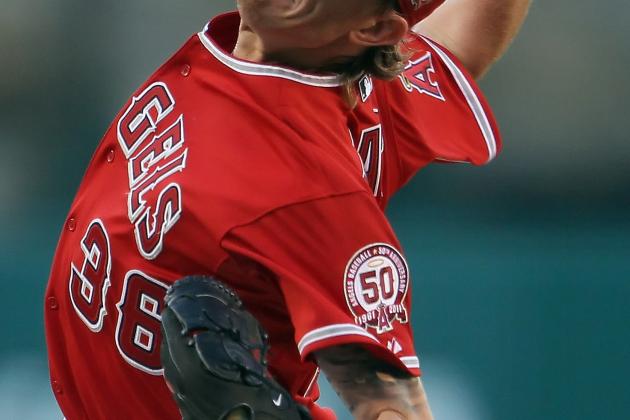 Jeff Gross/Getty Images

Jered Weaver had a breakout season last year. However he was inconsistent at times.
In the month of April he was 6-0 and then in May he was 0-4.
The addition of Pujols in the Angels lineup should improve Weavers chances at winning each time he steps on the mound. Expect Weaver in 2012, to have a season somewhere around his average season (16-9, 3.31 ERA).
2012 Prediction:
18-9, 3.11 ERA, 200 K's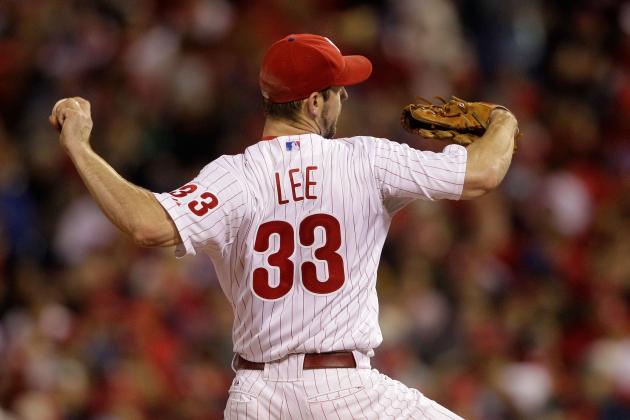 Rob Carr/Getty Images

Cliff Lee figured things out and saved his career in 2005. Since then, he has been one of the top pitchers in baseball basically every season.
He finished in third in the 2011 NL Cy Young voting. After being on five teams in three years, he finally settled down with the Phillies.
In his second full season with them, Lee could see one of the best years of his career.
2012 Prediction:
16-7, 2.74 ERA, 223 K's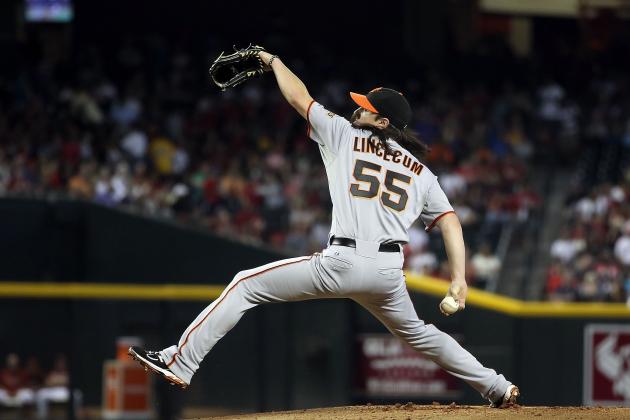 Christian Petersen/Getty Images

Tim Lincecum won the NL Cy Young award in 2008 and 2009, however has not been as dominating since. That is not saying that he had bad seasons in 2010 and 2011.
At 28 years old Lincecum is officially a veteran as he enters his sixth season.
The Giants still do not have a great offense which could hurt Lincecum's record in 2012 but his ERA should be where it usually is.
2012 Prediction:
16-8, 2.40 ERA, 215 K's
Otto Greule Jr/Getty Images

The most impressive thing about "King" Felix is what he has accomplished so far and he is still young.
After back to back seasons with an ERA under 2.50, Hernandez's ERA rose to 3.47 in 2011. He is still on a bad Mariners team so 20 wins is a really difficult task.
He should again be in the AL Cy Young talks in 2012, as he enters his prime and his eighth season.
2012 Prediction:
16-10, 2.38 ERA, 223 K's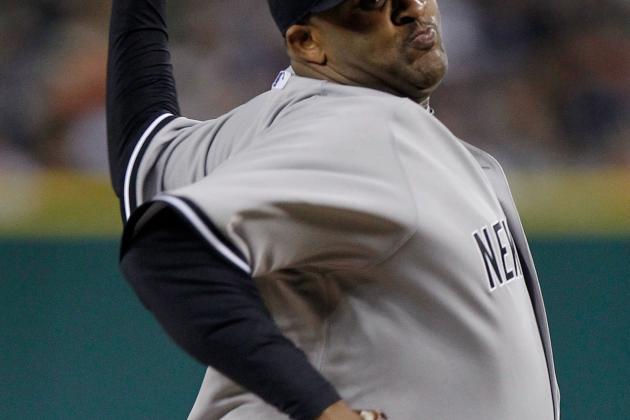 Gregory Shamus/Getty Images

C.C Sabathia has been one of the most consistent pitchers in all of baseball for the past five years. He is surprisingly durable and the definition of a work-horse. He is always reliable and seems to always be in the Cy Young discussion.
There is no reason to believe that Sabathia will not have another Cy Young type season in 2012. His ERA has decreased all three years with the Yankees.
2012 Prediction:
21-8, 2.97 ERA, 220 K's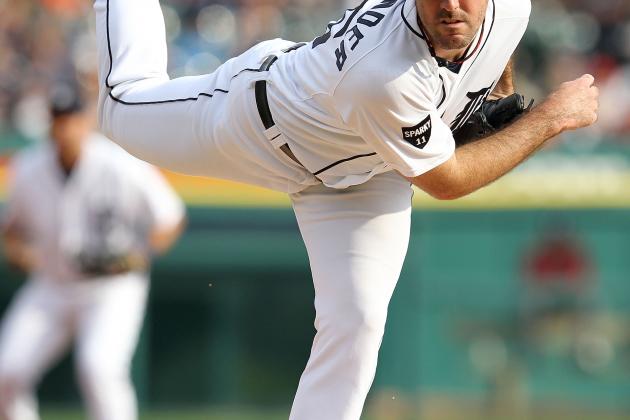 Leon Halip/Getty Images

Justin Verlander was the 2011 AL Cy Young and MVP. He has been a solid pitcher his entire career but 2011 was something special.
He is still the ace of the heavy AL Central favorite, Detroit Tigers. He will most likely regress a little in 2012 because that kind of season is rare for anyone.
2012 Prediction:
19-6, 2.73 ERA, 248 K's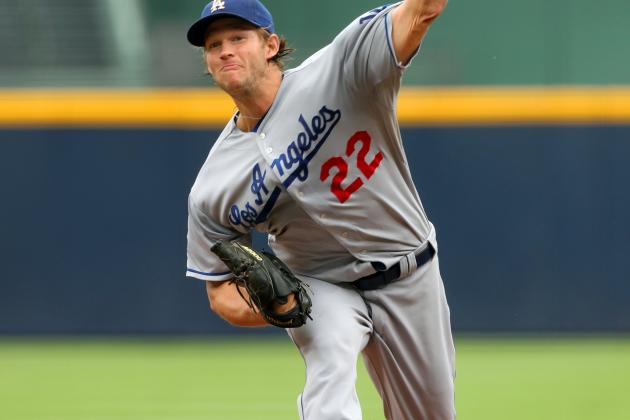 Joe Murphy/Getty Images

Clayton Kershaw is the best young pitcher in baseball right now and won the 2011 NL Cy Young at only 23 years old.
The Dodgers should be able to be a competitive team in 2012 and years to come with Kershaw as their ace. Like Verlander though, it will be difficult for him to repeat his 2011 season, but he should have a similar season in 2012.
2012 Prediction:
19-7, 2.40 ERA, 252 K's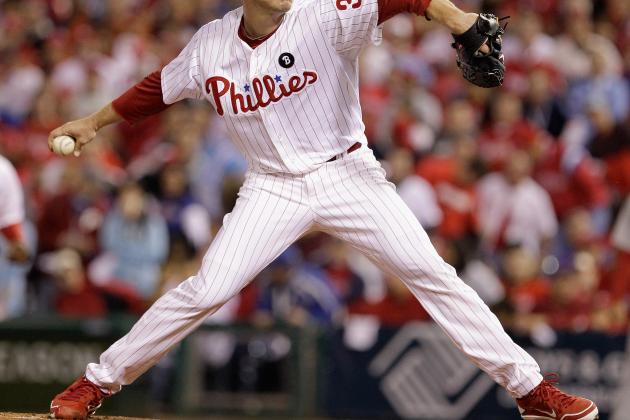 Rob Carr/Getty Images

Roy Halladay has been the best pitcher in baseball for basically the past ten seasons.
He has also finished in the top five of the Cy Young voting in all of the last six seasons.
The Phillies are still one of the best teams in baseball. In his first two seasons with the Phillies he has averaged 20 wins a season, with an ERA under 2.50.
2012 Prediction:
21-6, 2.43 ERA 225K's