Jared Allen Got Robbed: Reaction to the Associated Press NFL Awards Winners
February 5, 2012

Hannah Foslien/Getty Images
Yesterday, the NFL announced who won each of the 2011 regular season awards. The Most Valuable Player, Player of the Year and Rookie of the Year awards were all handed out on Saturday and most of the winners were deserving.
Here is a reaction for all of the winners that were announced yesterday.
MVP—Aaron Rodgers
Aaron Rodgers deserved this award and this was a great pick by the Associated Press. While Drew Brees did break Dan Marino's record passing yards record, why is no one mentioning that Tom Brady also surpassed the old mark?
No doubt, Brees' season was amazing and impressive, but when two other quarterbacks throw for 5,000 yards, it does take a little bit away from Brees' record-breaking season.
Brees would have won the MVP almost any other year, but Rodgers' team went 15-1. It was a well deserved award, but I am surprised Tom Brady didn't even receive a single vote. 
Offensive Player of the Year—Drew Brees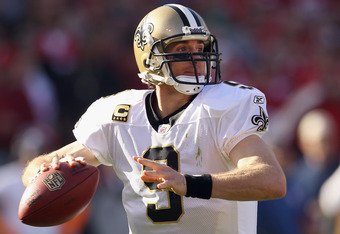 Ezra Shaw/Getty Images
This one was a good selection as well. Brees broke a yardage mark that stood for 27 years and passed for 46 touchdowns. His offensive numbers were historic and he deserved this award. The only reason Rodgers won the MVP over Brees was because Rodgers was more efficient and more valuable to his team, but Brees' total stats are impressive.
Defensive Player of the Year—Terrell Suggs
What a joke. Terrell Suggs had a phenomenal year and was a deserving candidate, but how did Jared Allen not win this award?
Allen is on a bad team and is one of the only people on the Vikings' defense for whom you need to construct a particular game plan. Nothing is stopping opposing offenses from triple teaming Allen, knowing that he's the Vikings' only true threat.
Yet, Allen still came one sack away from breaking the single season sack record.
Allen posted 22 sacks last year and forced four fumbles. He only posted four less tackles than Suggs as a defensive end. Suggs is a linebacker. It is a lot harder to get tackles as an end than a linebacker, yet Allen still came just shy of posting the exact same number of combined tackles. 
Suggs had three more forced fumbles and played on a much better team, but this is about the best defensive player in 2011, not the most valuable, which Allen probably is anyway.
Jared Allen was the best defensive player in 2011. How he was robbed of this award is beyond me.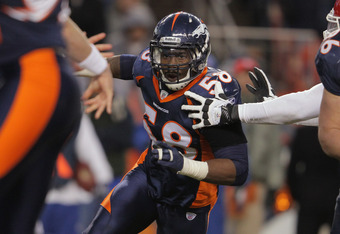 Doug Pensinger/Getty Images
Offensive Rookie of the Year—Cam Newton
No surprise here. Cam Newton broke records in his rookie season and looks to be one of the best young quarterbacks in the NFL. He scored a ridiculous amount of touchdowns on the ground and he passed for more than 4,000 yards as a rookie.
The only way he wouldn't have won this award is if the AP voted after the Pro Bowl, then the voters would have seen Cam Newton's horrid showing in the second half of the game. Yikes.
Defensive Rookie of the Year—Von Miller
This one is debatable only because Aldon Smith had three more sacks and played remarkably in his rookie season as well. I don't have a problem with this selection because Von Miller and Aldon Smith both had equally great years.
If Von Miller hadn't been hampered by injuries he could have easily gotten the same number of sacks as Aldon Smith. Also, Smith only played on passing downs at the beginning of the year, while Miller played most of the game. Honestly, if Aldon Smith won this award I would not have been upset.
Miller did end up winning, though, and he definitely deserved the award for his ridiculous season.
Coach of the Year—Jim Harbaugh
This one everyone saw coming. Harbaugh took a 6-10 49ers team and transformed them into a 13-3 team with one of the best defenses in the league. He also took Alex Smith and made him an above average quarterback, which is an accomplishment in itself.
If anyone else have won this award, I would have reason to argue. Since Harbaugh won it, I have no complaints.
Comeback Player of the Year—Matthew Stafford
This award should have gone to Stafford and it did. Stafford battled through adversity in his first two seasons when he had shoulder surgery, playing on the awful Detroit Lions. In his third season, he took a talented Lions team to the playoffs while posting historic numbers.
Stafford didn't do much in his first two years because of injuries, but this year, he threw 5,000 yards and 40 touchdowns. D'Qwell Jackson had a great year, but Stafford's season tops the list of comeback performances.