NFL Draft 2012: First Round Mock with the Most Realistic Trades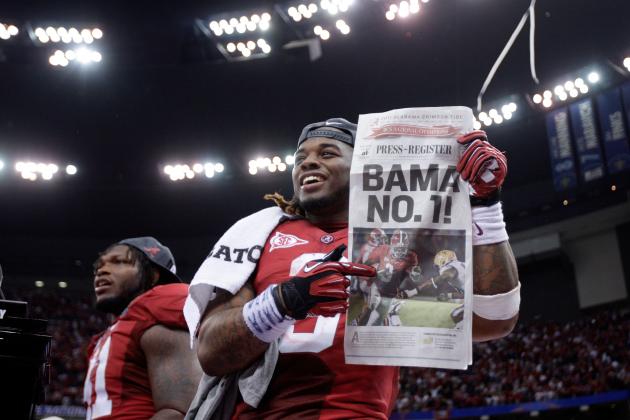 Andy Lyons/Getty Images

Trades happen every year and this year will be no exception. They're essentially impossible to predict, but it doesn't hurt to try.
With the new CBA, trades are more likely than ever. Last year, there were four trades in the first round alone. Could this year top that?
Here is a first round mock where I've put in four trades in the first round as well. Trades are tough to predict, but I did my best to figure out who would move up to secure that falling prospect that they've got their eye on.
Begin Slideshow

»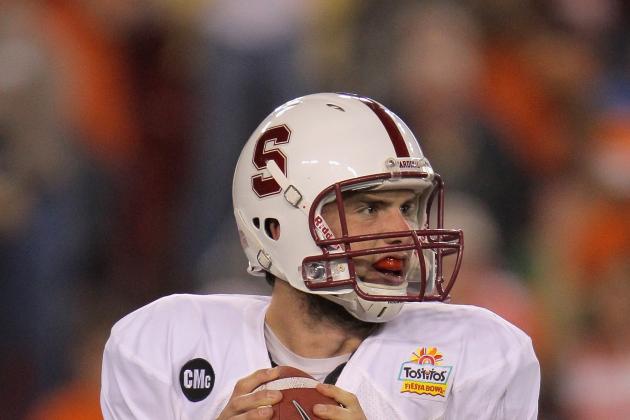 Doug Pensinger/Getty Images

It's looking more and more like the Colts are just going to take Andrew Luck. Given the rumors that are flying around about Peyton Manning's healing and the little media tussle that Manning had with owner Jim Irsay, I think Manning may retire.
Now, until reliable reports come out, there's no way to know. But my gut says the Colts will be sticking with Luck as the future of their franchise.
I've said before that I think the Colts should trade this pick if Manning is healthy. But I'm starting to think that they're entrenched into the Luck selection.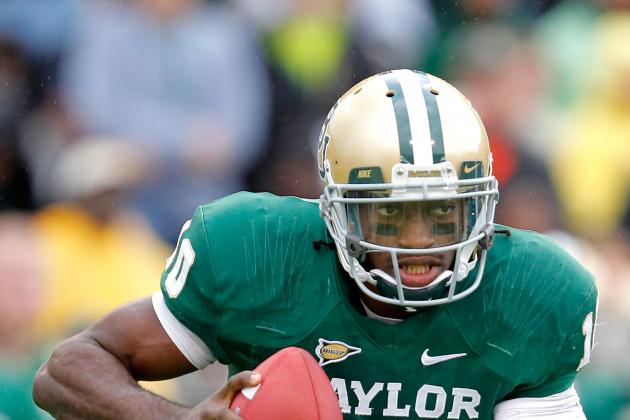 Sarah Glenn/Getty Images

And here's the first trade. Cleveland gives up both it's first round picks to the Rams in order to move up to No. 2 overall and secure the Robert Griffin pick.
That may seem a little expensive for a move of two spots, but I'm betting that the Browns will get some of the Rams' later picks for it.
Also, the Browns aren't the only team interested in Griffin. The Seahawks, the Redskins, the Dolphins, the Chiefs and the Cardinals could all be in the hunt for a new quarterback. The Browns will have to pay up.
That said, the value of a franchise quarterback is impossible to calculate and that's what RG3 is.
Cleveland has a solid offensive line, a good defense and will have a lot of cap room to add wide receivers or a running back in free agency. RG3 could be the difference-maker that they need.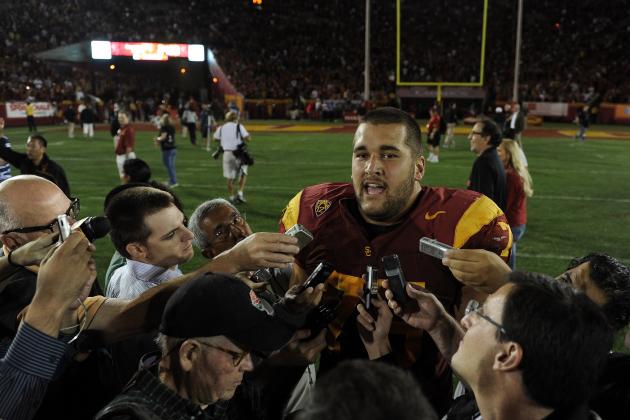 Harry How/Getty Images

The Vikings get what is likely the top player on their big board, so they stay where they are.
The Vikings have had an aging offensive line for some time now. Furthermore, they've linked themselves, for better or worse, with Christian Ponder for the time being. He is going to be their franchise (at least for the next few years), so they might as well protect him.
Matt Kalil has it all: size, great tape, bloodlines. You name it, he can do it.
He's quite possibly the best left tackle prospect since Jake Long and he'll keep Ponder (or whoever else) protected for years.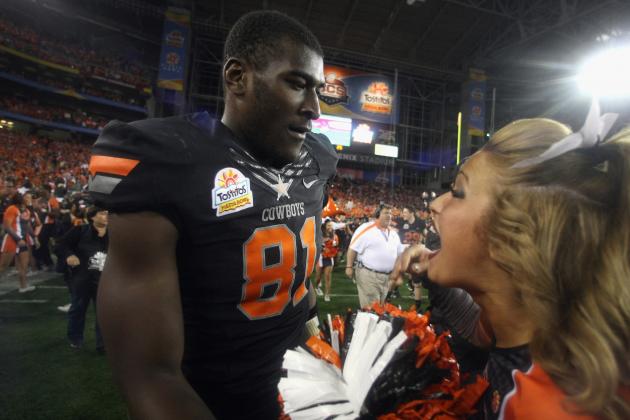 Donald Miralle/Getty Images

At the No. 2 overall spot, the Rams would be looking at two players: Matt Kalil and Justin Blackmon.
Matt Kalil, as a franchise left tackle, is more valuable.
But Blackmon is someone they'd love to settle for (especially when they get additional picks for it).
Sam Bradford was plagued by dropped passes this past season. Blackmon has been catching the bullets that Brandon Weeden throws for years, so he ought to have no problem with Bradford's passes.
With a legitimate weapon on the field, Bradford ought to return to form and get the Rams out of the basement.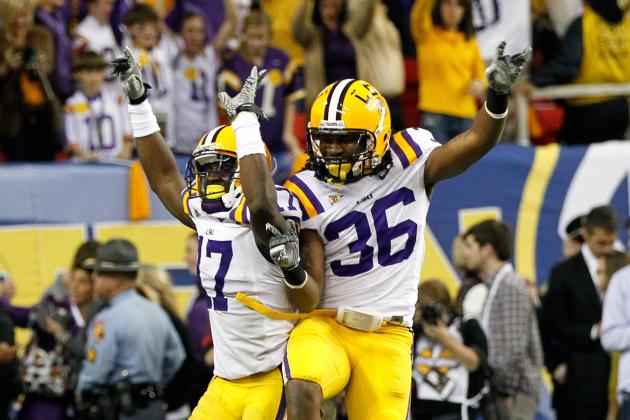 Kevin C. Cox/Getty Images

This is a no-brainer pick. Because of trades, the top player at a position of big need falls to the Buccaneers, who will not hesitate to take him.
While No.'s 2-4 are debatable, Morris Claiborne is without a doubt the No. 1 corner in this year's class. He's been a game changer for LSU all season and would be even more hyped if he wasn't teammates with the Honey Badger.
He's also a pretty good kick returner and an excellent all-around special teams player. He'll be a big upgrade over either Aqib Talib or Ronde Barber.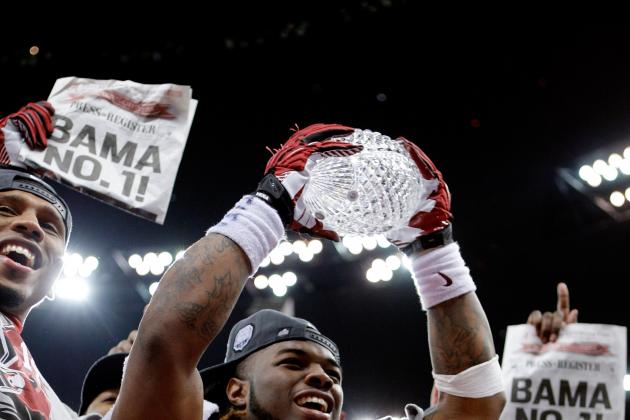 Andy Lyons/Getty Images

The Redskins are looking at some iffy prospects considering their need and will want to trade down. The Bengals did great this year and a playmaking running back could make them a real force to be reckoned with in the future.
Think about it: Andy Dalton, A.J. Green and Trent Richardson with a solid offensive line and a stingy defense. That is something to fear.
Plus, the Bengals have a lot of ammo to move up. They surrender both first rounders, but snag the Redskins' second round selection in this scenario.
Personally, I would never take a running back this high. But for a team on the brink, an instant impact maker like Trent Richardson could be worth it.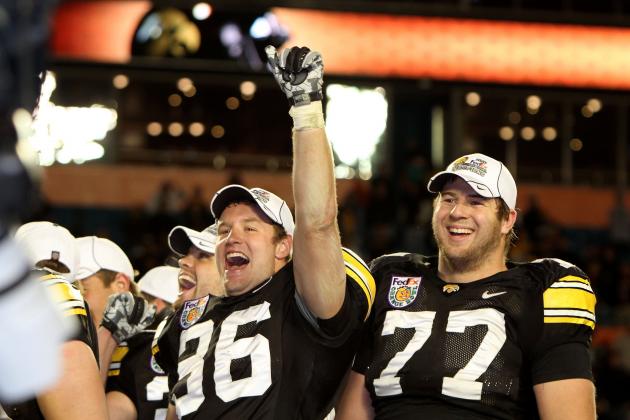 Doug Benc/Getty Images

The Jaguars could take Whitney Mercilus here, but that's too high for me to mock him before he blows up the Combine.
Instead, I have Jacksonville addressing their offensive line.
Like the Vikings, the Jaguars are stuck with Blaine Gabbert for the time being, bust or not, so they may as well grab him some better protection. If he isn't being pressured as often, maybe he'll man-up and stop being so intimidated.
Riley Reiff is a great tackle and has done nothing but improve his stock since the season began. He'll end up bolstering the Jaguars' shaky offensive line for years to come and Maurice Jones-Drew will appreciate better run blocking as well.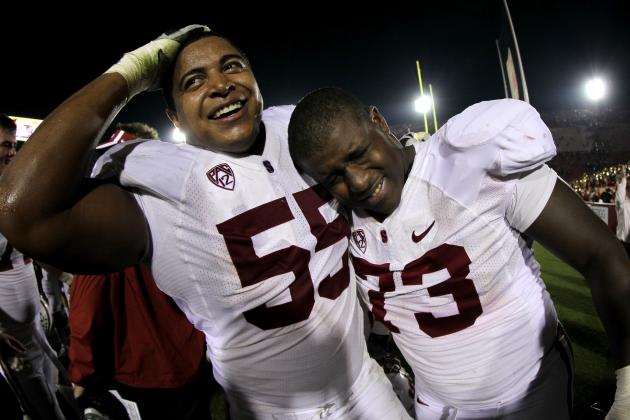 Stephen Dunn/Getty Images

The Dolphins have a franchise left tackle in Jake Long. But they need some help on the right side, which is what they get with Jonathan Martin.
While Jonathan Martin is completely capable of playing left tackle, he'll do fine on the right side as well. Whether they have Matt Flynn or Matt Moore under center, having a pair of stud tackles and a great center ought to give him all the time in the world to deliver the ball.
With the emergence of Reggie Bush, a great run-blocker like Martin will help him out as well. He's a fit, pure and simple.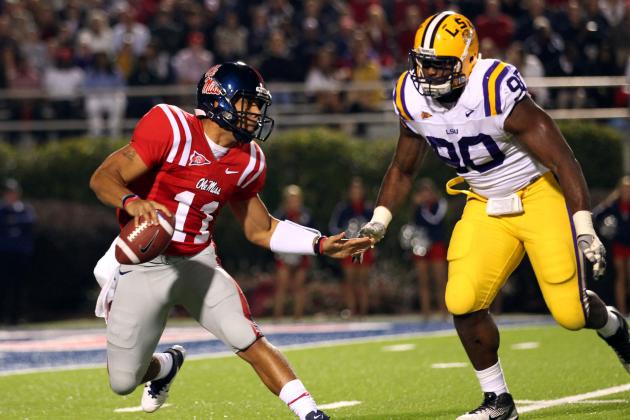 Joe Murphy/Getty Images

While Todd McShay mocking Marcell Dareus to the Panthers last season was ridiculous, they do have a big need at defensive tackle.
They drafted both Sione Fua and Terrell McClain in the thrid round of 2011's draft. But McClain was awful and Fua was unimpressive, so they won't hesitate to grab Brockers here.
Despite moving from linebacker, Brockers bulked up quickly and was outstanding all season for LSU.
How good was he? LSU's defensive coordinator, John Chavis, said he wouldn't trade Brockers and fellow LSU tackle Benny Logan for Jon Henderson and Albert Haynesworth, the defensive tackles Chavis had at Tennessee. Both were first round picks and Pro Bowlers.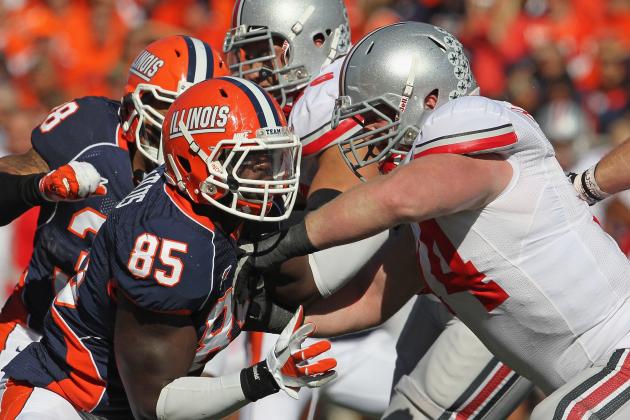 Jonathan Daniel/Getty Images

The Bills need to upgrade their pass rush and that's what they get with the nine-finger wonder.
Whitney Mercilus is the right size to play either 4-3 defensive end or 3-4 rush linebacker (and even though the Bills have said they're switching to the 4-3, I'm willing to bet they'll still play a little of the 3-4).
He also led the country in sacks, has a high-motor and was outstanding every time he was on the field this year.
He'll be the pass rush specialist that the Bills defense so desperately needs. Maybe with a decent defense, they'll start to look like they did at the beginning of 2011 instead of what they looked like at the end.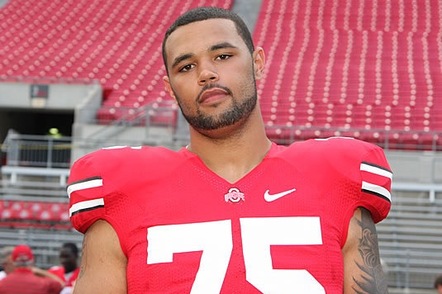 Yeah, I have a lot of tackles going high in this mock, but a lot of teams need help there this season
Plus I've already predicted that Mike Adams would be a top 15 pick.
Mike Adams absolutely blew up the Senior Bowl. No one could get past him, it seemed.
Given that he was already considered a late first/early second round selection before that awesome performance, he's solidified himself as a top tackle.
Furthermore, the Chiefs need help at the position so he fills a big need.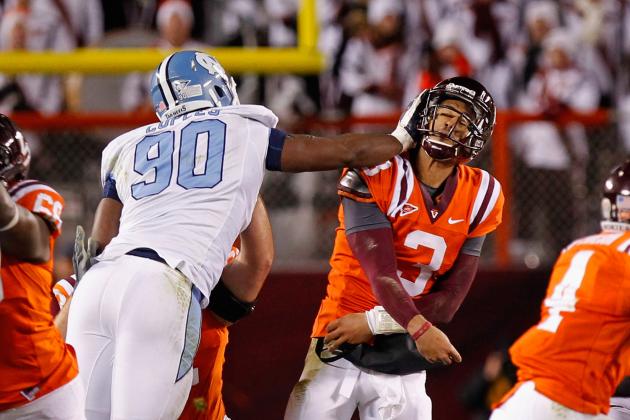 Geoff Burke/Getty Images

Quinton Coples is a prototypical 4-3 defensive end in the mold of Julius Peppers and Mario Williams. He stands at 6'6" tall and weighs in at over 280 lbs.
Defensive end isn't the biggest need for the Seahawks, but they can't pass up on a player as talented as Coples. He looked unstoppable in the Senior Bowl.
Pete Carroll has already put together a tough defense in Seattle; picking a super-talented player like Coples will make it that much better.
There are rumors that Coples is a little on the lazy side, but if anyone will believe that they can coach that out of him, it'll be Pete Carroll.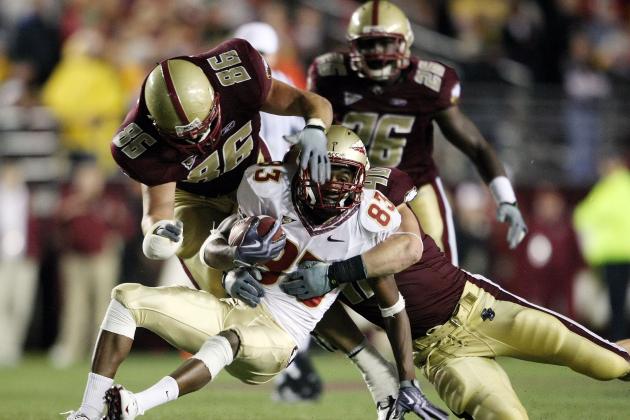 Elsa/Getty Images

The Cardinals stick with the best defensive player available that makes sense for them and that happens to be Luke Kuechley.
The Cardinals' biggest need is offensive tackle and if Mike Adams were available, they'd take him in a heartbeat. However, he isn't, so they upgrade their run defense instead.
Even better, Kuechley seems to be the kind of leader a team like Arizona really needs on its defense. With Kuechley captaining the defense, the Cardinals defense will improve dramatically.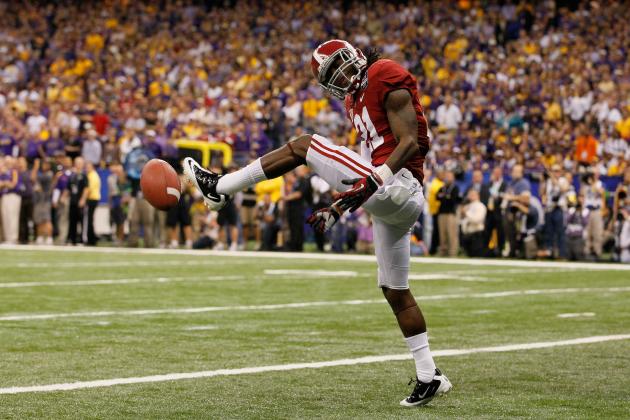 Kevin C. Cox/Getty Images

Victor Cruz blew up the Dallas Cowboys in their last game against the Giants, even when they had him double covered.
They needed a cornerback already, but this season, and that game in particular, showed how desperate that need really is.
Dre Kirkpatrick was recently arrested for possession of marijuana, but Jerry Jones won't care. He's the second most-talented cornerback in a very strong class and he's a steal at the 14th overall selection.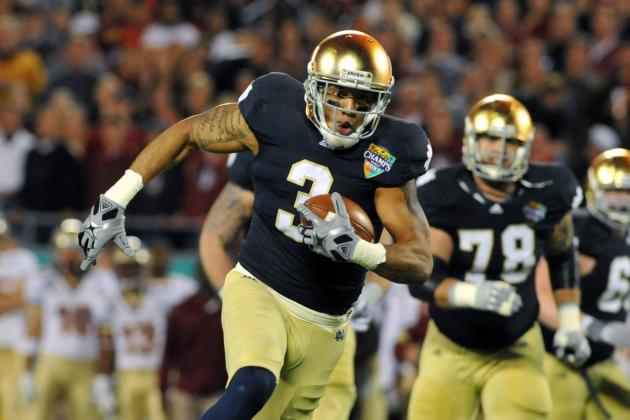 Al Messerschmidt/Getty Images

DeSean Jackson will likely be with another team next season, so the Eagles will need a replacement. Michael Floyd will give them that and then some.
Next to Justin Blackmon, no receiver has been as impressive on the field as Michael Floyd. He got in a trouble for drinking and driving in the offseason before 2011, but he's since stayed out of trouble.
He'll pair with Jeremy Maclin to keep the Eagles high-flying pass offense dangerous. He's a very different player than Jackson was, but he's talented enough that it won't matter to Andy Reid and company.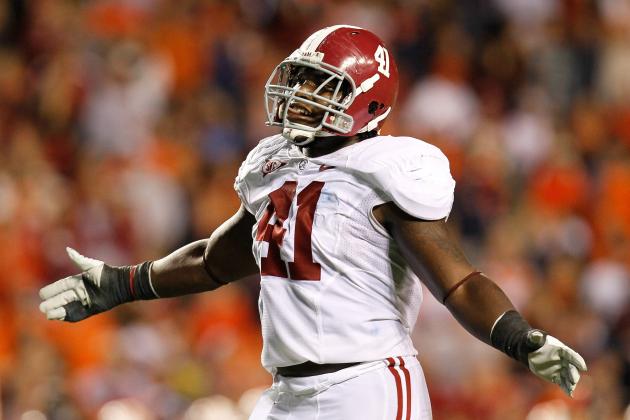 Kevin C. Cox/Getty Images

The Jets defense was a little softer this year than usual, and since the quarterback position would be tough to upgrade here, I think they'll go with the best defensive player available—Courtney Upshaw.
While the Jets could also use an upgrade at wide receiver, this is a little high to take Alshon Jeffery or Kendall Wright, so instead they'll get back to their roots.
Courtney Upshaw hurt his draft stock by measuring in at the Senior Bowl at just under 6'2" tall, but he recovered a good bit of it by looking like an unstoppable force out on the field.
He's been a phenomenal player all season, and Rex Ryan will make sure to get the most out of him as a 3-4 linebacker.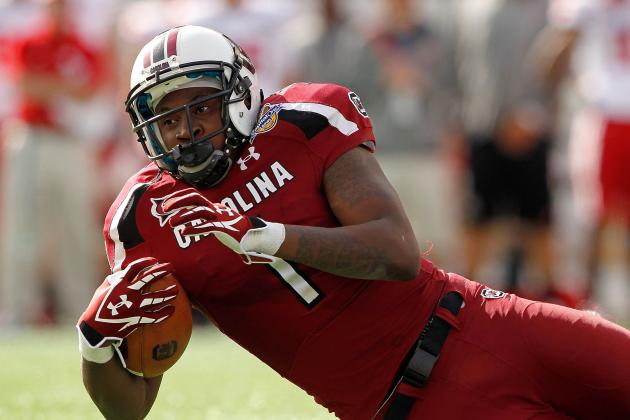 Mike Ehrmann/Getty Images

This is the pick that the Redskins got from the Bengals, who got it from the Raiders in the Carson Palmer tarde.
The Redskins have a lot of needs—one is a better right tackle, but no one is worth taking here. The same can be said of quarterbacks, so instead, they grab an offensive weapon in Alshon Jeffery.
Jeffery started the season out as the top ranked wide receiver prospect. But he had a very disappointing season and fell out of favor. In South Carolina's bowl victory over Nebraska, he looked great, but one game won't get him back in the top 10.
Still, taking him at No. 17 isn't that much of a reach and no one else makes much sense for the Redskins, so they take him anyway.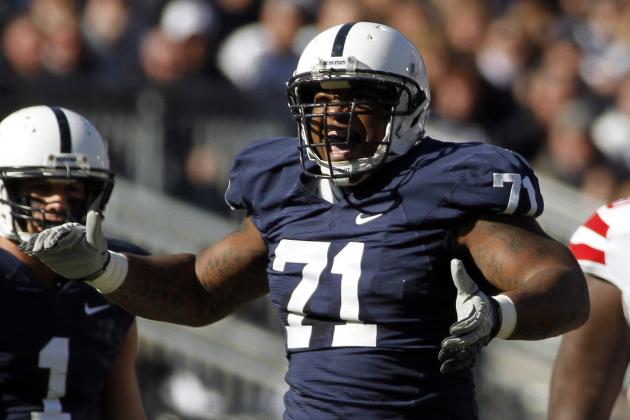 Justin K. Aller/Getty Images

Despite how well their defense played this season, the Broncos could still use help at defensive tackle.
Devon Still won't fall much farther, so they trade up to take him.
Every single 2011 mock draft until the week of the draft had the Broncos taking Alabama tackle Marcell Dareus with the second overall pick, but instead, they went with Von Miller. Now, they take Devon to fix the hole that's Still there (get it?).
Still was a force for the Nittany Lions through a rough season. He was constantly double teamed, but still provided results.
Having Still alongside Elvis Dumervil, Robert Ayers and Von Miller will bring the Broncos defense back to its Orange Crush days.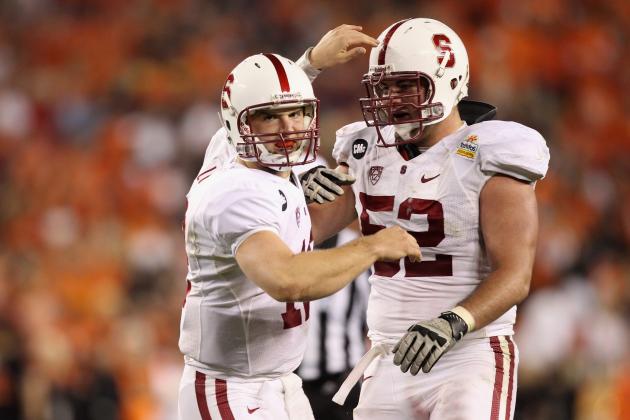 Christian Petersen/Getty Images

The Bears have an even bigger need in their offensive front than the Lions, so they won't waste a second taking the best player that makes sense, which happens to be David DeCastro.
The Bears lost both Matt Forte and Jay Cutler to injuries this season, ruining what would have been an almost-guaranteed shot at a deep playoff run.
They cannot afford to ignore their offensive line any longer and whomever it may be, they will take the best offensive lineman available in the draft. They ought to keep it up for the next two rounds as well.
DeCastro also happens to be the best guard prospect to come along in years, so there's that too.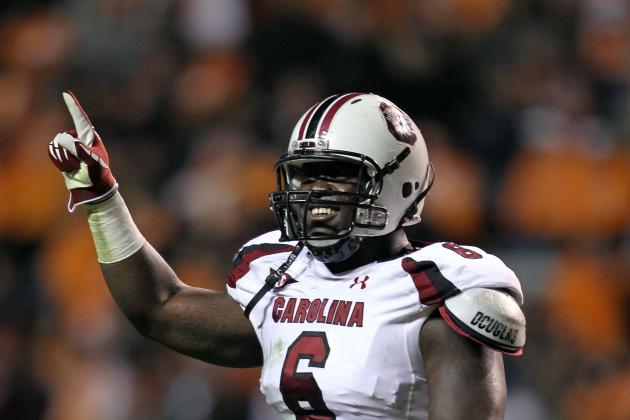 Andy Lyons/Getty Images

The Titans will have a tough choice to make here as there are three players they'll be looking at hard: Peter Konz, Vinny Curry and Melvin Ingram.
I have them taking Melvin Ingram because they'll love his high motor and that's the kind of player that the Titans have started targeting lately. They also tend to not select offensive linemen in the first round.
Melvin Ingram's measurements weren't great. But he's been a consistent stud on the field in the regular and postseason, so that won't deter the Titans.
He also fits a pretty big need and will complete a defense that's becoming very, very good.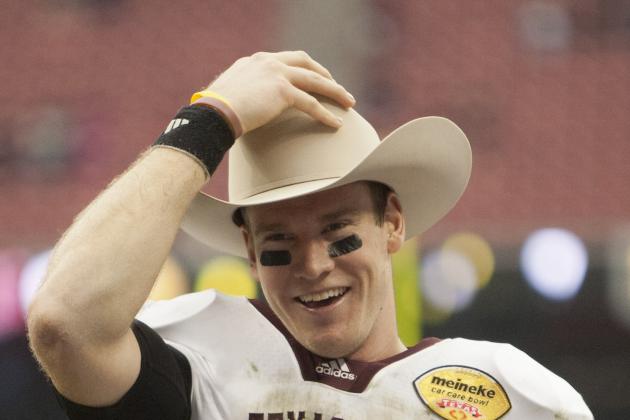 Bob Levey/Getty Images

Mike Shanahan is apparently very interested in Russell Wilson, but he likes to keep people guessing as to what he wants from his quarterbacks.
So I wouldn't be surprised if, in this scenario, he takes Ryan Tannehill.
Ryan Tannehill is a converted wide receiver and as such, he's a raw prospect,. But he's also very fast on his feet; he rushed for four touchdowns this season.
If Christian Ponder, Blaine Gabbert and Jake Locker can all be taken in the first round, you don't need me to tell you that the same can happen for Tannehill, especially this late into the first.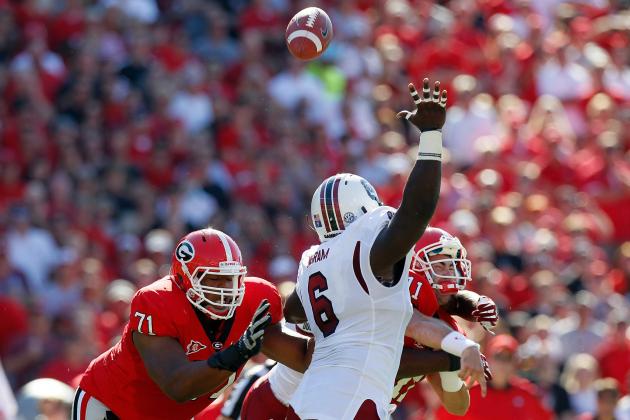 Kevin C. Cox/Getty Images

The Rams need help all over their offensive line and Cordy Glenn, who played left tackle in college, could be versatile enough to fit either of the Rams needs at left guard or right tackle.
Glenn got manhandled by Boise State's offensive line in the season opener,. But after that, he's been great, even against the tough defensive fronts in the SEC.
He faltered a little bit in the Senior Bowl, but his good tape far outweighs his bad so he isn't as big a risk as he might seem. His monstrous size will help teams get over their worries too.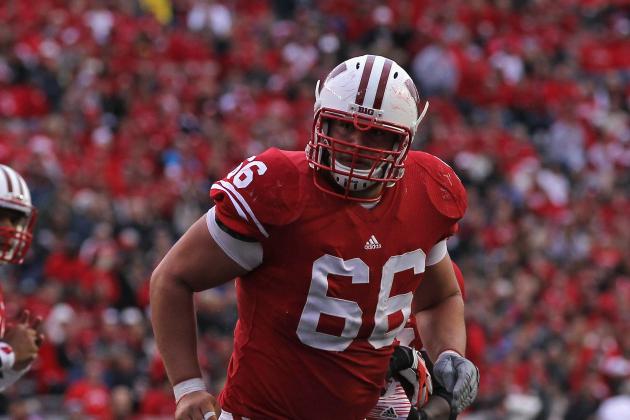 Jonathan Daniel/Getty Images

The Lions fill their biggest need with the best player available. What are the chances? Pretty good, apparently.
The Lions, like the Bears (and Vikings . . . pretty much the entire NFC North) need help with their offensive line. Had they not had both starting running backs injured, they might have made a deeper playoff run.
Peter Konz will help them out there; he was great run blocker at Wisconsin this season.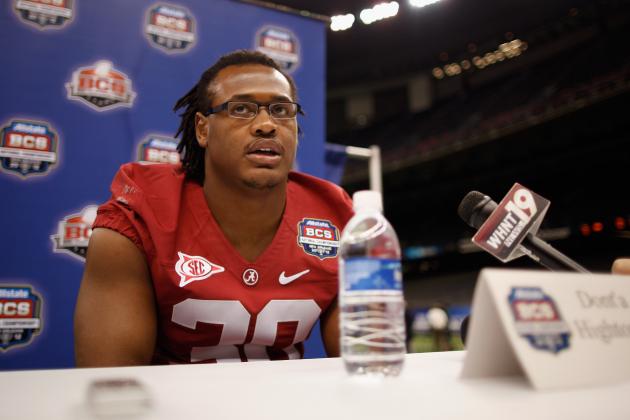 Chris Graythen/Getty Images

It wouldn't be right if the Steelers didn't spend a high pick on a linebacker.
Their interior linebackers are getting old anyway and Dont'a Hightower just happens to be one of the best players available, so the pick makes sense.
If Cordy Glenn falls this far, then the Steelers will be hard pressed not to take him. Big Ben takes a lot of punishment, and because of his size, he can, but he would really benefit from better protection. But, it's the Steelers; they don't believe in offense.
In all seriousness, the Steelers would probably take an offensive lineman if there was one worth taking here. That isn't the case, so they take Hightower instead.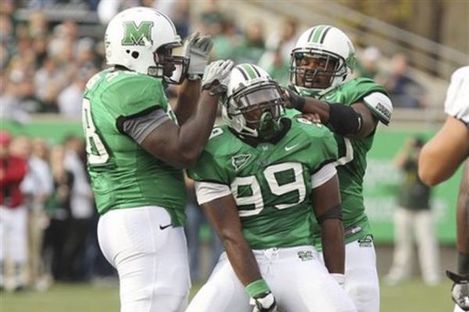 The Chargers needed a pass-rusher and even though they traded down, they land a great one in Vinny Curry.
Vinny Curry dominated the small-school competition he faced for the last two years at Marshall. At the Senior Bowl, he held his own against top competitors proving he's every bit as good as advertised.
With 23 sacks and 40 tackles for loss over the last two years, Curry will be a pass-rush specialist that the Chargers have lacked for some time.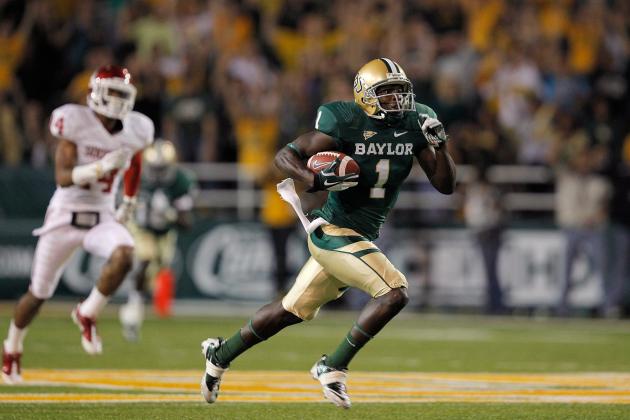 Sarah Glenn/Getty Images

It's hard to imagine Kendall Wright being available here. But that's how it worked out in this mock, so here he goes to the Texans.
The Texans don't have many holes, but Andre Johnson isn't getting any younger and they could use some depth at wide receiver. Kendall Wright could be a legitimate No. 1 receiver if they needed him to be, so with him and Johnson on the field, the Texans will be lethal.
Furthermore, Wright is an excellent kick returner, which is great because Jacoby Ford just has no business returning the Texans' kicks and punts.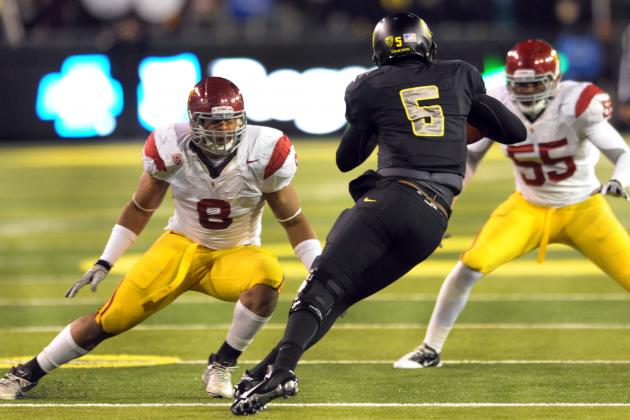 Steve Dykes/Getty Images

The Patriots pass rush was pathetic. Had they been able to get any pressure on Eli Manning, the outcome of the Super Bowl might've been different.
Nick Perry ought to fix that at least a little bit. He was an outstanding pass rusher for the Trojans, even beating Jonathan Martin a few times when USC played Stanford.
The Patriots are switching back to the 3-4 defense and Perry is definitely a rush linebacker if ever there was one.
Certainly the Patriots could look to another defensive back. But they've spent a lot of high picks on defensive backs recently already, so I think they'll just develop their pass-rush instead and hope that Ras-I Dowling and Devin McCourty step up.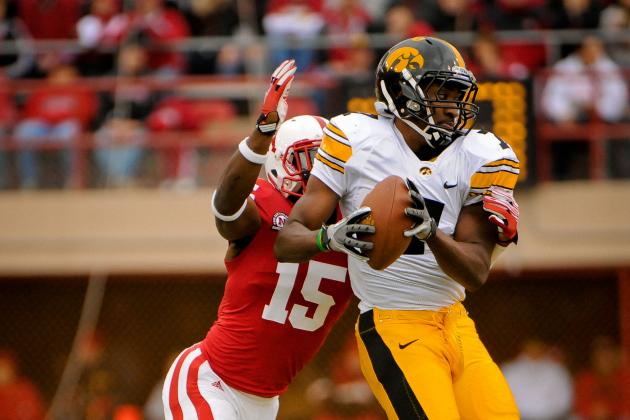 Eric Francis/Getty Images

His fall stops here. The Packers defense gave up a ton of points this season, and their inability to slow down the Giants' passing attack cost them. Charles Woodson isn't getting any younger either, so they may as well get his replacement.
Some would take Janoris Jenkins over Alfonzo Dennard. But with his off-the-field problems, the Packers will stay clear of Jenkins.
Dennard had great tape all season, but looked stiff in the hips in the week leading up to the Senior Bowl. He sustained a hip injury during the actual game, so he may have just been injured the whole time.
If it comes out that he was injured, then teams will ignore the Senior Bowl and he'll be gone way before the Packers pick.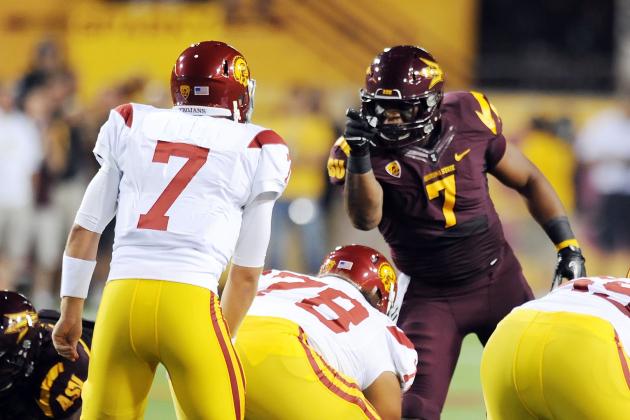 Norm Hall/Getty Images

Ray Lewis's replacement: Vontaze Burfict.
The Ravens are probably getting a HUGE steal here. For a large part of the season, Burfict looked like the best defensive player in college football.
Then he just fell off a cliff for some reason.
Despite that, he still had a pretty good season and is incredibly gifted physically. If Ray Lewis isn't ready to retire this season, then he'd have a great opportunity to teach Burfict a thing or two about playing inside linebacker in the NFL.
In the preseason, Burfict was called "the next Ray Lewis." Giving him to the Ravens here just makes too much sense.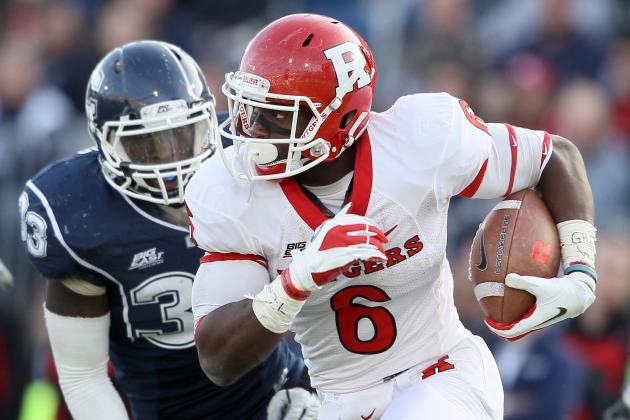 Elsa/Getty Images

Alex Smith has earned the starting job for the next year or two at least.
Its time to give him a deep threat.
Mohamed Sanu is the best wide receiver and one of the best players still on the board, so he makes sense here. Sanu is a tall, physical receiver with great hands. He ought to give the 49ers an offense that can finally match their defense.
With Sanu out deep, Vernon Davis available for short passes and Frank Gore available for dumpoffs, if Alex Smith falls short in 2012, it'll be all on him.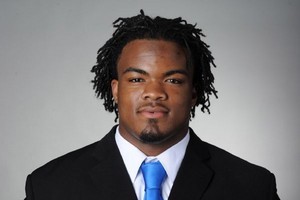 He won't make it to the second round and the Patriots love trading away their picks. Having the Saints trade up into the first round with the Patriots two years in a row is almost too much to resist anyway.
For most of the season, the Saints defense was ranked 31st overall. To make things worse for them, Drew Brees's big new contract will make them unable to retain a lot of the players they have—like nose tackles Shaun Rogers and Aubrayo Franklin.
Dontari Poe would give them a cheaper option at nose tackle, but they'll have to trade up to get him.
Poe would be the centerpiece of their defense, the way that Rogers was in 2011, and would let them focus on picking up outside linebackers in the later rounds of the draft.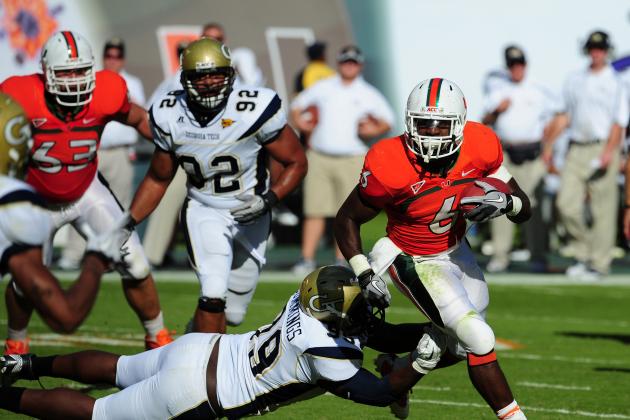 Scott Cunningham/Getty Images

The Giants have been rumored to be seeking a new running back for some time now. Lucky for them, the second best one in this draft class (in my opinion) is available.
Lamar Miller has been great all season for Miami and as a player that's still young, he hasn't reached his peak yet. Since the Giants still have Ahmad Bradshaw and Brandon Jacobs on their roster for a little while longer, they can ease him into the starting spot.
The Giants don't really have many needs. They have great receivers, an alright offensive line and a great defensive line.
Their defensive backs are suspect, but they just used a first round pick last season on Prince Amukamara, so they'll give him more time to develop. They need a new middle linebacker, but there isn't one worth taking with this pick.
Taking a running back just makes the most sense for them.