UFC 143 Results: Did Renan Barao Do Enough to Earn a Title Shot?
February 5, 2012

Renan Barao was able to beat on Scott Jorgensen for three rounds and get the last needed win for him to earn a title shot.
Barao has an impressive streak going that not only runs through the tenure of his time in the UFC, but the WEC and every other fight he has had before. In fact, the last time Barao lost was in his pro debut.
Since then, he has only been victorious. If that isn't enough to earn a title shot then he may just need to move up in weight.
Barao has torn through every challenge set before him and last night he proved he was as dangerous on his feet as he is on the ground when he picked apart his opponent.
Barao also has two other things going for him. There really isn't any other standout bantamweight right now. Everyone who could get a title shot has. Any other marketable fight that could be made for current bantamweight champion Dominick Cruz already has happened.
If the UFC wants to sell their audience a fight at that weight, they are going to need someone like Barao to do it.
The final part of the puzzle is the creation of the flyweight division. Since the UFC made a division at 125 pounds, several bantamweights have made the switch to the lower weight class. As the smaller division gains more momentum, a few more 135-pound fighters might make the drop.
Between a lack of challengers and the fact that Barao has dominated all of his opponents every time he has stepped into the cage, it only makes sense to have him challenge for UFC gold.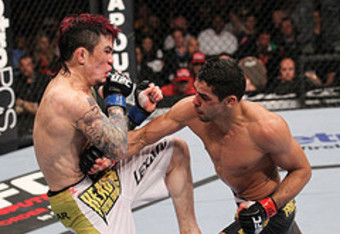 The only way that Barao could have made a better argument for a shot at the title is if he had submitted Jorgensen or even knocked him out, but Jorgensen hasn't been stopped yet in his professional career and it doesn't look like it ever might happen.
Barao has showed that he can keep fighting at a fast pace and holds nothing back. He has been on the main card of enough UFC events that fans should know who he is by now.
Unless the UFC can sign a new fighter who has something extra that Barao is missing, the outcome of Saturday's fight is obvious.
Barao is headed for a chance at being the champ.
Matthew Hemphill writes for the MMA and professional wrestling portion of Bleacher Report.  He also hosts a blog elbaexiled.blogspot.com that focuses on books, music, comic books, video games, film and generally anything that could be related to the realms of nerdom.