NBA Trade Rumors: Why the Chicago Bulls Need to Make a Move
February 5, 2012

Rob Carr/Getty Images
We have seen the Bulls lose to the Heat and 76ers in a span of a week and some troubling things have been exposed—the Bulls are still one player short. While many have focused their sights on bringing Dwight Howard to play alongside Derrick Rose, that idea is a wonderful one, but for the moment it remains a long-shot at best.
The Bulls have been hit hard by the injury bug like no other team in my opinion, including injuries to Luol Deng, Richard Hamilton and Rose—among others—yet they still remain at the top of the eastern conference. What is alarming is not their 20-6 overall record but the fact that four of their losses are against eastern conference foes whom they might meet in the playoffs. Their losses to the Hawks, Heat, Pacers and 76ers are by a combined 38 points or a 9.5 average.
Three of those games were played without Deng, but even at full-strength, the Bulls may struggle.
Seldom in games this year have the Bulls played at full-strength, but instead of being comfortable with the idea that they will be just fine once they have a full-compliment of players, it is time for them to become proactive.
The two most glaring weaknesses for the Bulls are a defensive-minded frontcourt player who can rebound and block shots (i.e. Joel Przybilla) and a scorer to come off of the bench and create his own shot.  
To make any of these moves possible they must make some tough decisions on whether or not they should disrupt the chemistry of the team. I believe that at this point the Bulls must make a move or two in order to not only stay on par with the Heat, but to hold off improving teams like the Pacers and 76ers.
According to several reports, the Bulls have offered a contract to Przybilla and are awaiting his decision. If he indeed does sign with the Bulls, this gives them a true shot-blocker on defense in the post, something that they do not have with a possible exception of Omer Asik.
This also prevents them for having to use one of their many trade assets too soon. Przybilla on the roster would give the team flexibility to use one of their young frontcourt players in a trade if it helps their championships chances.
As for potential players for the Bulls, I like:
Charlotte's D.J. Augustin: A smallish point guard who can create his own shot as well as create for others. He is quick with and without the ball and since Kemba Walker is the point guard of the future for the Bobcats, they might be looking to get something for him. The Bulls can offer C.J. Watson or give back the draft pick of Charlotte's from their trade of Tyrus Thomas in '09.
Memphis' O.J. Mayo: Mayo is more of a combo guard who needs the ball in his hands a lot. For the Bulls second unit he would fit right in as long as he plays defense. Not too many are as high on him as they once were, but his 12.5 points a game could help a team that struggles at times to score. While I would not trade anyone on the current roster for him, I would see if the Grizzlies will soften their stance of trading with the Bulls and accept a first-round pick.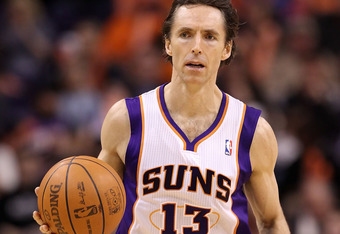 Christian Petersen/Getty Images
Phoenix's Steve Nash: I understand that Nash is a point guard and he has been a starter most of his career, but wouldn't he look nice coming off of the bench for the Bulls while playing 22 minutes a game, giving Derrick Rose a rest early on in games?
Also, imagine the two playing together in a lineup that would feature the two of them in the backcourt with Deng, Rip Hamilton, and Joakim Noah in the frontcourt giving teams fits. This would be a move that may not make a lot of sense to people, but if Przybilla is aboard this trade might be one that would interest you. Bulls get: Nash and the bad contract of Josh Childress while sending Carlos Boozer, C.J. Watson and a first-round draft pick to the Suns.
This trade works for both teams because the get versatility with the addition of Nash and send Boozer back west where he has enjoyed his best seasons, while the Suns get something of value for Nash and a very capable point guard in Watson. The move would also give the Bulls some cap relief. It is inevitable that they will need to cut salary during the offseason to offset some of Rose's five-year, $94 million contract.
Again, these deals only help the Bulls win the title and they must be considered if the Bulls want to stand out head and shoulders over the NBA..