Ranking Every Super Bowl MVP of the Last 11 Years
Ezra Shaw/Getty Images

With Super Bowl XLVI coming to an end with the New York Giants edging the New England Patriots yet again, this time by a 21-17 score, another player was honored as Super Bowl MVP—and that man was Eli Manning.
In that spirit, let's take a look at how Manning stacks up with the Super Bowl MVP winners over the course of the last 10 seasons.
Was his epic performance in Super Bowl XLVI good enough to place him at No. 1?
Begin Slideshow

»
Doug Pensinger/Getty Images

In Super Bowl XXXVII, Oakland Raiders quarterback Rich Gannon threw a total of five interceptions, with two of those going into the hands of Tampa Bay Buccaneers safety Dexter Jackson.
Jackson's two interceptions came in the first half as he led Tampa Bay's defense in a dominating 48-21 victory over the Raiders.
Jackson is only the third defensive back to ever be named Super Bowl MVP.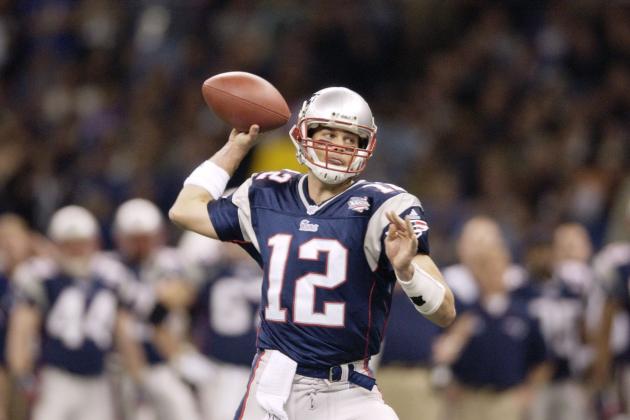 Ezra Shaw/Getty Images

Tom Brady certainly was far from an elite quarterback back in Super Bowl XXXVI against the St. Louis Rams, but he was still as clutch as ever.
Brady threw for only 145 yards and completed 16 of his 27 passes and tossed one touchdown, but he was the man that marched the New England Patriots down the field late in the fourth quarter to put kicker Adam Vinatieri into field-goal range—and the rest is history.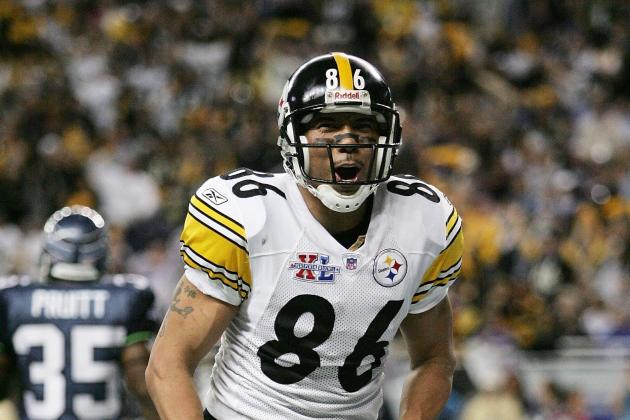 Harry How/Getty Images

In one of the most non-entertaining Super Bowls in recent memory, Pittsburgh Steelers wide receiver Hines Ward was a star.
Ward reeled in five passes for 123 yards and one touchdown as his Steelers knocked off the Seattle Seahawks 21-10 in Super Bowl XL.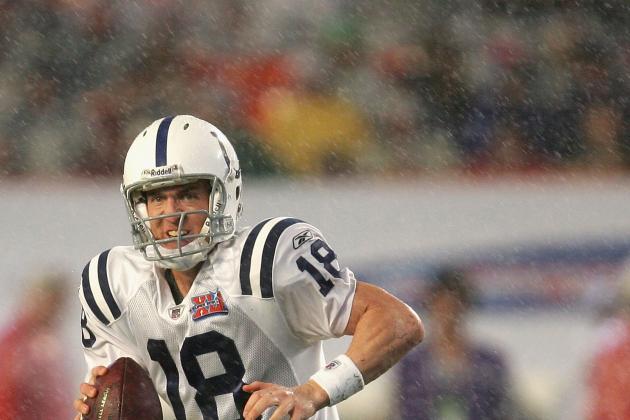 Jonathan Daniel/Getty Images

Peyton Manning finally won himself a Super Bowl as he threw for 247 yards and one touchdown on 25-of-38 passing.
Manning was named Super Bowl MVP in Super Bowl XLI as he was by far the game's most dominant player in such poor, rainy conditions in Miami.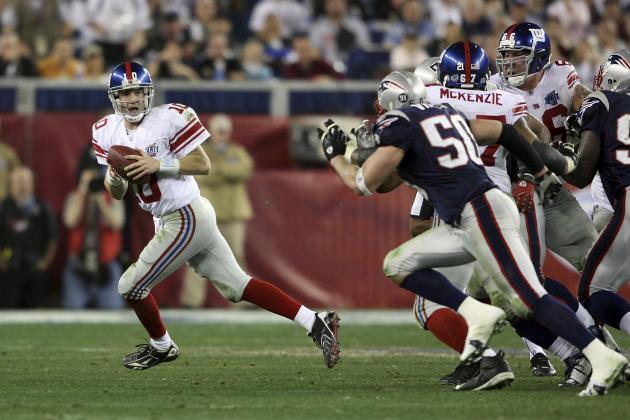 Andy Lyons/Getty Images

I think we all remember how Eli Manning put his team on his back as he escaped sack after sack and ultimately threw the ball up for grabs, with David Tyree coming down with the ball pinned to his helmet in what is arguably the greatest play in Super Bowl history.
Manning was well worthy of winning Super Bowl XLII MVP, as he completed 19 of his 34 passes for 255 yards and two touchdowns.
Ronald Martinez/Getty Images

A Super Bowl that was won for the city of New Orleans, there was no one more deserving of Super Bowl MVP than Drew Brees.
Brees completed 32 of his 39 passes for 288 yards and two touchdowns in New Orleans' Super Bowl XLIV victory over the Indianapolis Colts.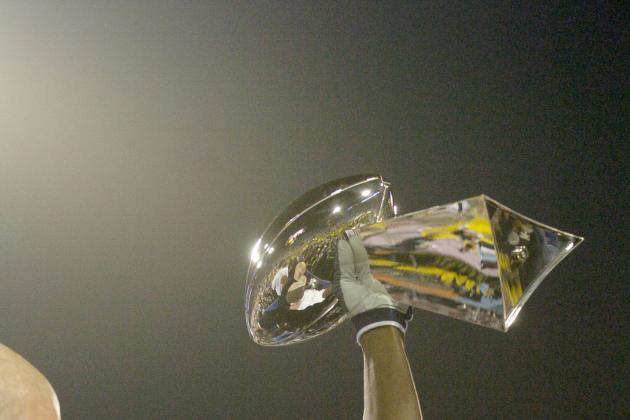 A. Messerschmidt/Getty Images

New England Patriots wide receiver Deion Branch tied an NFL record for most receptions in a Super Bowl as he caught 11 passes for 133 yards in New England's 24-21 victory over the Philadelphia Eagles in Super Bowl XXXIX.
Branch could not be stopped in this one as he was Tom Brady's go-to man.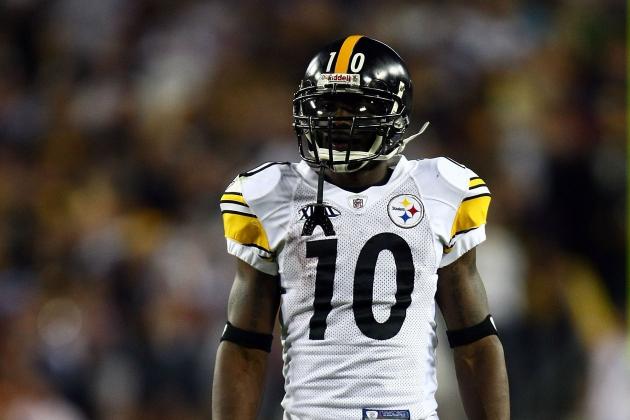 Chris McGrath/Getty Images

In Super Bowl XLII, Santonio Holmes made one of the most incredible receptions that I have ever seen as he caught the game-winning touchdown in the back corner of the endzone with just 35 seconds left in the game.
Holmes caught nine passes for 131 yards and one touchdown as he was a complete beast for the Pittsburgh Steelers against the Arizona Cardinals.
Jamie Squire/Getty Images

There is no question that Aaron Rodgers was the best player on the field in Super Bowl XLV as he lit up the Pittsburgh Steelers defense.
Rodgers completed 24 of his 39 passes for 304 yards while throwing three touchdown strikes in the Green Bay Packers' 31-25 victory.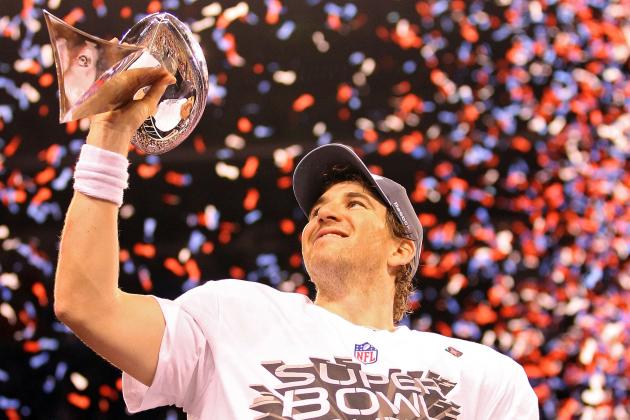 Ezra Shaw/Getty Images

Super Bowl XLVI was Eli Manning's coming-out party, as he has now silenced the critics and proved to the world that he is an elite quarterback.
In the New York Giants' 21-17 victory over the New England Patriots, Manning completed an incredible 30 of his 40 passes for 296 yards and tossed one touchdown.
Manning simply could not be stopped.
Brian Bahr/Getty Images

Tom Brady was a man on a mission in Super Bowl XXXVIII—he set a Super Bowl record for most passes completed as he completed 32 of his 48 passes.
To go along with his 32 completions, Brady racked up 354 yards while throwing three touchdowns for the New England Patriots against the Carolina Panthers in their 32-29 victory.
Brady's performance in Super Bowl XXXVIII will forever be remembered as one of the greatest performances ever.