NHL Trade Rumors: Toronto Maple Leafs Shouldn't Be Hasty to Trade
February 5, 2012

Bruce Bennett/Getty Images
The temptation to tinker one's NHL roster grows with each passing day at this time of year, but there are many reasons Brian Burke should not tamper too much with this lineup.
The Toronto Maple Leafs are winning, coming out on top in five of the last six games. They are climbing the standings and looking very good while they do it.
This may well be a result of the fact that the Leafs are completely healthy for the first time this year. And you know, looking up and down their lineup, the Leafs stack up pretty good in the East. A little small up front, yes. Still lacking that big-time first line center, yes. But overall, pretty well balanced.
Impressive, actually.
The chemistry is hard to miss. The defense—the Leafs' Achilles' heel this year—is finally gelling. It's mobile. It's cutting down on costly gaffes that were a dime a dozen only two months ago. Getting Liles back has been huge.
Breaking up the resurgent Grabovski-Kulemin-MacArthur line could be a huge mistake. They once again look like the best second line in the league. Yet, there's a lot of talk about trading Grabovski these days.
To that speculation I say "Don't do it, Burke!" He loves playing in Toronto, and his ethic and energy are irreplaceable.  He's an ideal second line centre. Keep him and pay him $4 million next year.
The penalty kill is fixed. While still second-to-last in the NHL (they've climbed over Columbus. I originally had written that they were still last. Nod to Josh for that correction), what matters is what has happened lately and the Leafs have not allowed a power-play goal this year.  What more do you want?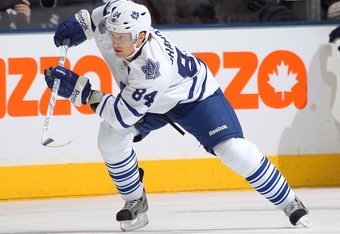 Claus Andersen/Getty Images
The goalie tandem is working. James Reimer is back to the stellar form he was in at the end of last season. In fact, he looks unbeatable. Jonas Gustavsson seems to have finally realized the potential he showed in the Swedish Elite League.  They have a healthy battle going. They have the right attitude toward the platoon. Don't break them up. Don't bring in anyone new.
So let's suppose the Leafs stand relatively pat, adding maybe a minor rather than a major player.  How would they fare in the postseason?
Well, I wouldn't be surprised if this group made some noise, knocking off a couple of teams.
Then again, I wouldn't be surprised if they got beat by a team like the Bruins in the first round. 
But even if they added a major player, even the big, skilled first line centre of our dreams, would these expectations and results really change? I don't think so.
That big, skilled first line centre isn't going to suddenly put the Leafs in the same category as the Canucks and Bruins.
Moreover, that big, skilled first line centre won't come cheap. We'd have to give up a lot of what is working now, and the shakeup may cause more harm than good. 
"If it ain't broke, don't fix it." That's what I say. The team is firing on all cylinders, and there's a lot to be said about building a team from within.
Look at the Rangers. That should be the Leafs' model right now. Grow from within and woo a Zach Parise or his equivalent in the offseason.
But for now, let's have some confidence in these boys and see what they can do.