Giants vs. Patriots: David Bass vs. Vince Wilfork Is Super Bowl Matchup to Watch
February 5, 2012

Nick Laham/Getty Images
Most of the publicity leading up to Super Bowl XLVI has focused on New England Patriots tight end Rob Gronkowski's ankle, New York Giants quarterback Eli Manning's brother and the odds that Katy Perry is intent on defiling Tim Tebow.
OK, I may have just made that up after seeing Katy leer at him at the NFL Honors show.
However, there's one important matchup that's not getting a lot run from the media this week.
It's a matchup that could be pivotal in determining who hoists the Lombardi Trophy as world champions on Sunday night.
The matchup of Giants center David Baas against New England defensive tackle Vince Wilfork is the one to watch.
Baas is a seven-year veteran from Michigan who spent the first six seasons of his career with the San Francisco 49ers, and while the 6'4", 312-lb Baas is a capable player he has had some struggles with big defensive linemen, and Vince Wilfork is a rather, um, large fella.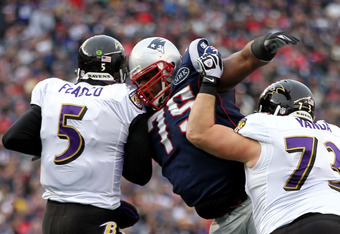 Jim Rogash/Getty Images
The 6'2" 325-lb (what he's listed at anyway, although I'm, uh, skeptical) defensive tackle has been a monster in the playoffs, notching nine tackles and 2.5 sacks in two games and constantly disrupting the backfields of the Denver Broncos and Baltimore Ravens.
Meanwhile, Baas and the New York offensive line allowed quite a bit of pressure on Eli Manning in the NFC championship game against the San Francisco 49ers, and if they're going to reverse that trend in the Super Bowl, it's going to likely begin and end with keeping No. 75 of the New England Patriots from rolling up the middle.
Baas missed the first meeting between the two teams earlier this season (a 24-20 win by New York in Week 9), which adds an air of mystery to this vital matchup, although it's worth noting that Wilfork had only a so-so outing in that game, logging four stops.
Odds are the Giants will try to get Baas help, either from a guard or running back, and if they can keep Wilfork and the New England pass rush in check, Eli Manning and a talented Giants wide receiver corps will likely be able to move the ball with relative ease, forcing the Patriots to try to do the same.
However, if Wilfork is allowed to continually disrupt the middle of the line, then both the Giants running game and aerial attack could sputter and force New York into the sorts of risks that can lead to turnovers.
It may not be the "sexiest" matchup on the field in Indianapolis, but the one between a pair of "big uglies" right over the ball could well be the one that decides the day when all is said and done.