Tiquan Underwood: The Man the New England Patriots Cut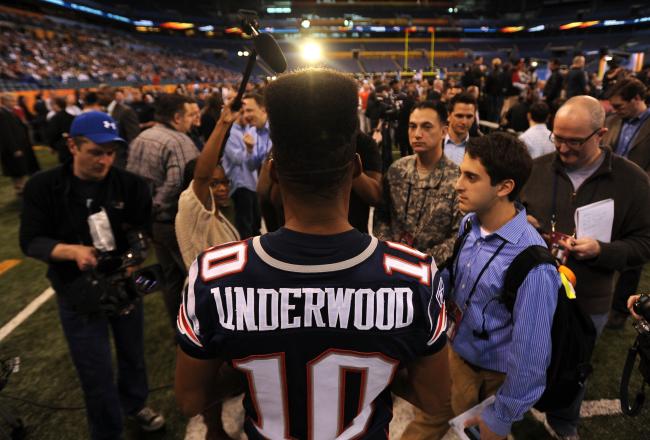 Michael Heiman/Getty Images
Less than 24 hours before the Super Bowl kickoff, the New England Patriots' brass released wide receiver Tiquan Underwood and signed defensive lineman Alex Silvestro from the practice squad.
The move is a stunning one, especially given the fact that the Patriots provided no reason for the decision.
Underwood's agent, Ethan Lock, stated that the Patriots failed to give him an explanation for cutting Underwood, according to Patriots beat reporter Jeff Howe.
There are two schools of thought at play with this move. First, there is a sense of Underwood having broken some rule and he's being disciplined for his actions. Or alternatively, Bill Belichick is one of the coldest men alive for cutting a player before the pinnacle game of his young career.
The former possibility—Underwood being a rule-breaker—is an unlikely one.
After his senior season at Rutgers University, Underwood was the recipient of the Loyal Knight Award. He earned this award by distinguishing "himself by sacrificing personal goals for the team," and because his "character and dedication...proved resilient in his pursuit of excellence," according to the Scarlet Knights' website.
Only one football player at Rutgers earns the Loyal Knight Award each year.
Awards are one thing; a person's actions are another. They say that what you do in public establishes your reputation, but what you do in private determines your character. Well, they got it right.
Andy Lyons/Getty Images
And so does Underwood.
Moments after the news broke that he was released hours before the Super Bowl, Underwood cemented the foundation of his strong character.
Underwood took to Twitter to express himself about the situation. Typically, athletes who have used Twitter to let their thoughts be known have tweeted statements that they have to apologize for later.
Not Underwood.
First, he let it be known that he was going to use the unfortunate circumstance as motivation. Then, his character came racing out.
His second tweet after learning the news was, "I Been Thru A LOT...But There Are Ppl In This World w/ More Serious Problems So I Cant Hang The Head....Thank You Lord #Blessed."
Underwood's ability to put his situation into such a deep perspective at a time when the entire country—and many all around the world—is focused on the football game that he was, just minutes ago, going to be a part of is instructive as to why Rutgers bestowed the Loyal Knight Award upon him.
Underwood took it even further, however.
Three minutes after letting his unparalleled perspective be known, he tweeted "Good Luck To The New England Organization, The Coaches, & All My Teammates... #PatsNation."
A true gentleman. It doesn't appear everyone is in the Patriots' organization.
Perhaps Belichick is moving pawns around the night before the game to throw the New York Giants off. If so, Belichick needs to learn that he's playing with real lives and not chess pieces.
Because otherwise, the move shows a terrible lack of judgement and planning on the part of the Patriots coaches. They had two weeks to prepare for the Super Bowl and the night before the game they just realize they need another defensive lineman.
As time passes, a back-story may come to light about the reasoning for Underwood's release. Perhaps a defensive lineman took ill and the Patriots were forced to make this move. From the looks of things now, however, this was simply a cruel move by the organization.
And while Underwood probably would've gone unnoticed at the Super Bowl, he's now destined to be the topic of many discussions before and during the game.
This article is
What is the duplicate article?
Why is this article offensive?
Where is this article plagiarized from?
Why is this article poorly edited?

New England Patriots: Like this team?