Alabama Football Recruiting: Grading Every Commitment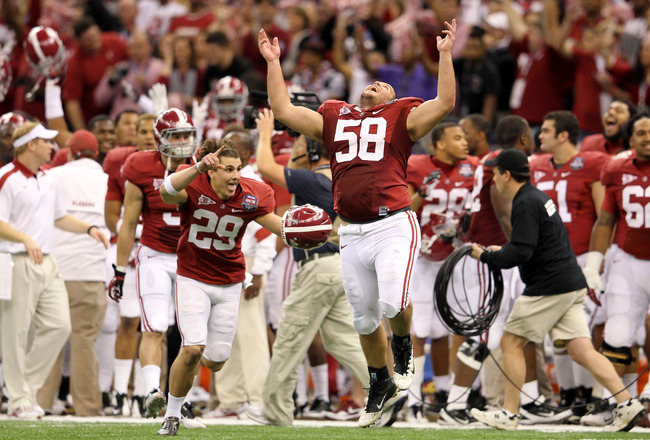 Andy Lyons/Getty Images
National signing day is in the rear-view mirror, and it was a productive day for the Crimson Tide. The Tide landed an immense class of potential that, in theory, will carry Alabama to BCS bowls for quite a few years.
As for the contribution each recruit will make, that remains to be seen. Potential, however, is easily seen in their video highlights.
*For the absent highlight videos, check out rolltide.com
*Unless otherwise noted or linked, stats are from rolltide.com

Landon Collins, DB
Landon Collins is the headliner of the 2012 Tide recruiting class. Rated the top safety in the nation by ESPN and the unanimous top player in Louisiana, Collins is easily awarded an "A."
The maturity he displayed during the drama (via al.com) his mother caused throughout the month of January earns him a "plus" to go with that "A."
Landon Collins: A+
Brandon Greene, OL
It's hard not to give any kind of "A" to a player that makes the ESPN Top 150.
He's a beast at sealing the edge, giving the running backs a path to the outside. He's a beast at giving the quarterback time to throw the deep balls.
His ceiling is high, and he's a welcome addition for Tide fans. He will be sorely needed at the beginning of the 2013 season.
Brandon Greene: A
Cyrus Jones, ATH
Jones is listed as an ATH on rolltide.com.
He's a valuable asset, and being an athlete is a mark in his favor. He will be plugged in wherever he fits best. Considering 'Bama's lack of receivers, I agree with Tim Watts. Jones will line up first as a slot receiver.
It doesn't get much better than showing up ready to play anywhere on a team that has such varying positional needs.
Cyrus Jones: A
Darren Lake, DL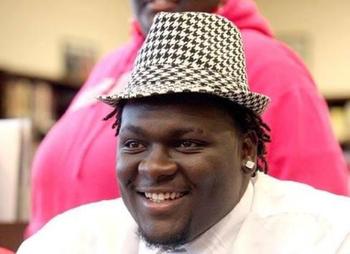 Photo from scout.com
Listed at 6'3" and 315 pounds, Lake has the size to contribute right away.
Ultimately, he will need to sit through some coaching first. If he responds well to the coaching, look for him at the nose guard position generally being the brick wall that frustrates the opposing rushing attack.
Offensive goal-line packages could be in his future as well.
Darren Lake: B
Dalvin Tomlinson, DL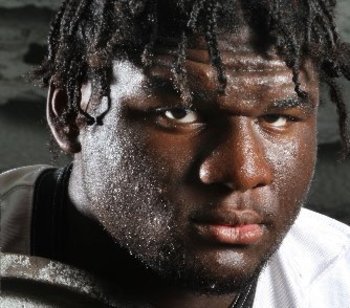 Tomlinson will be an excellent lineman for the Tide, and he's got the pass-rushing capability to be a major factor in the future.
If he responds well to coaching, he will end up forcing his way into the backfield more often than not. In the backfield, he will destroy the opponents' rushing attacks and throw the quarterbacks' timing off frequently.
Dalvin Tomlinson: B
Adam Griffith, PK

Field goal progression from 247sports. (Senior year.)

Adam Griffith is quite possibly the best pickup for the Tide in 2012. The competition he will bring to the Tide's practices is much-needed.
Jeremy Shelley stepped up big-time in the national championship game, but competition breeds excellence. Shelley now has a major competitor for his position on the field.
Griffith's leg is huge, and if he had the same level of skill for another position, he'd be a 5-star recruit for sure.
Adam Griffith: A+

Kurt Freitag, TE
Freitag is an excellent fit for the Tide. As a receiver, he's great. When he's not the target, he keeps himself busy blowing up defenders to create running lanes for the rest of the offense.
He looks to bring a level of excitement to the Capstone that will follow the likes of Brad Smelley very well. At 6'4" and 240 pounds, he may see action sooner rather than later. Especially with 'Bama using two tight ends quite frequently.
If he'll get his receiving skills on par with the rest of his package, it will be tough to find fault with him.
Kurt Freitag: B

Caleb Gulledge, OL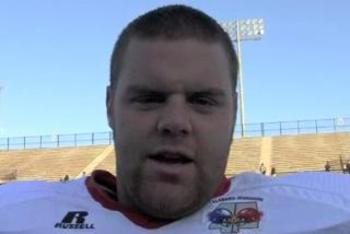 Photo from al.com
Gulledge was an offensive lineman for the 6A State Champion Prattville High Lions in 2011. He is an excellent talent with some work to do.
At 6'4" and 280 pounds, he is not too far away from contributing. He's a 4-star cleverly disguised as a 3-star, and he'll fit right into the offense when his time comes.
Caleb Gulledge: B
Reggie Ragland, LB
Ragland finds the backfield, grabs hold of the ball-carrier, and doesn't let go. He seems fundamentally sound, without a lot of habits to be "uncoached."
With a 40-yard time of 4.6, he has the speed to catch many of the outside rushers in the league.
Reggie Ragland: A
Denzel Devall, LB
Devall is another Louisiana pickup for coach Nick Saban. Until Les Miles can enforce the state line as a barrier, Landon Collins and Denzel Devall pickups are likely to be repeated.
Devall's highlight reel features him in the opposing backfield a LOT. Here's hoping that the coaches can help him continue that trend.
Denzel Devall: A
Kenyan Drake, RB
Kenyan Drake comes to the Capstone in the same class as T.J. Yeldon. These two are the future Richardson/Lacy combo, with Drake projecting into the Lacy role.
With Yeldon available to share carries, Drake will be a joy to watch in the future.
Alabama's offense will always feature running backs, and this is yet another year with great pickups at the position.
Kenyan Drake: B
Dakota Ball, DL
Dakota Ball is yet another Alabama recruit that played in the Under Armour All-America Game.
Ball will be just fine lined up on defense, and he brings 300-plus pounds of "influence" with him. This recruiting class features a heavy dose of defense, and Ball is just that: a heavy dose of defense.
As a 3-star, he's going to exceed expectations.
Dakota Ball: B
Eddie Williams, WR
Williams unquestionably bring a load of talent to the Capstone. Williams is tabbed as one of the many wide receivers in the 2012 class.
No matter where this ATH ends up, he will strike fear into the opponent. Look for him to line up alongside Amari Cooper, Chris Black and Duron Carter sometime in 2012.
Side note: scout.com has him listed as the No. 3 safety in the country. That's just food for thought.
Eddie WIlliams: A
Geno Smith, DB
Smith has a good feel for routes, as you can see from the highlight video. He also has a good ability to get off blocks to make plays when they come to his side of the field.
As the second-best CB in the nation, he will make a lethal team along with Landon Collins in the secondary.
Geno Smith: A
Alec Morris, QB
Alec Morris is yet another cost-effective Tide pickup. He brings decent footwork, great accuracy and a good pocket presence to the table.
With the coaching staff at UA, the only other thing you need to be a QB is a strong work ethic. If he is driven, then this 3-star will make you forget he only had three when he signed.
If he improves his footwork before he starts, this "B" will be a distant memory.
Alec Morris: B
Korren Kirven, DL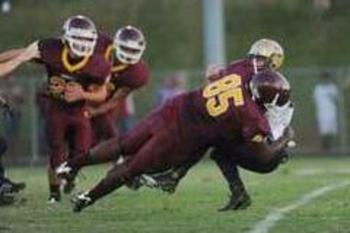 Kirven was a huge snag for the Tide on national signing day. He was featured in the UA All-American Game and in the ESPN Top 150.
At 6'5" and 292 pounds, Kirven has the size to be an immediate contributor. Give him some time to learn Saban's packages, and fans will be loving him in no time.
Korren Kirven: A
Ryan Anderson, LB
Anderson doesn't let the ball carrier (or QB) get by him very often. He registered 12 sacks in his senior season as part of his 105 total tackles.
With LB's being needed at UA, expect him to contribute sooner rather than later. He terrorizes the backfield and as soon as he gets his head around the schemes, he'll be a terror on the college field as well.
Ryan Anderson: A
Deion Belue, DB
Belue is a JUCO transfer, and will likely make an immediate impact on the Crimson Tide. The highlights of his returning prowess should make fans very excited for the 2012 special teams department.
He's got the speed to catch up to college-level athletes. He's got game experience, and that will help soften the blow of the departures from the Tide defense. (It also gives him a "plus" to go with his grade.)
Deion Belue: A+
Chris Black, WR
Black comes to the Capstone sporting a 5'11" frame with 180 pound of muscle to go with it. His hit box is huge, and he will make an impact in 2012.
He also comes in as the No. 2 WR prospect according to ESPN, behind only Dorial Green-Beckham.
McCarron is getting a LOT of help from this class in the WR department, and Black is one of the best.
Chris Black: A
Amari Cooper, WR
Cooper is a little bigger than Chris Black, standing at 6'1" and weighing in at 185 pounds. He will likely line up on the outside before Black will because of his size.
Overall, the WR position is being filled quite nicely at UA.
Amari Cooper: A
Travell Dixon, DB
At 6'2" and weighing in at 200 pounds, his 4.4 second 40-yard time is pretty impressive. Alabama's secondary is losing three starters, and this JUCO transfer should fit right in.
Dixon will see heavy playing time in 2012, and likely as soon as the Michigan season opener. As you can see from the highlight video, receivers don't get a whole lot of YAC against Dixon.
It's scary to think about what this guy can become at the hands of Kirby Smart and Co.
Travell Dixon: A+
Dillon Lee, LB
Dillon Lee is a game-changer. The majority of his highlights are behind the opponent's line of scrimmage.
While he did play the TE position for his high school, don't expect to see him there for the Tide. He's a beast on defense, and they'll likely keep him there.
He had 17 tackles for a loss, nine sacks and five interceptions in 2010. (His junior year.)
Dillon Lee: A
Alphonse Taylor, DL
This "kid" enters college at 6'5" and an astonishing 340 pounds. That has "defensive line" written all over it.
In the video, you can see that he moves his 340 pounds around just about as well as all the toothpicks around him. That's plenty of raw agility for the Crimson Tide staff to work with.
Taylor is a giant addition to the Tide, and I'm going to go ahead and call "NFL" for this kid.
Alphonse Taylor: A

T.J. Yeldon, RB
As I mentioned in the Kenyan Drake slide, Yeldon is part of the Richardson/Lacy combo of the future. He's the Richardson portion, and his highlights attest to that fact.
His balance is absolutely top-notch, and the coaching staff will do nothing to hinder that. They will build on his abilities to make him into the headlining RB in the future.
With the corps of RBs currently at the Capstone, it's just a shame that we may have to wait to see him in real action. (Of course, fans have been waiting to see what the Lacy/Fowler combo can do for quite a while...)
T.J. Yeldon: A+
Tyler Hayes, LB
Hayes is heading to the LB area of the field for the Tide, but his highlight video is over 50 percent RB action.
It will be a joy to watch him develop at Alabama, and he brings gobs of talent for the staff to work with.
Scout.com has him listed as the no. 11 OLB in the class of 2012.
Tyler Hayes: A

Brandon Hill, OL
Hill is going to fill holes left at the end of the 2012 season, and that's an understatement. He comes in at 6'6" and 355 pounds.
As soon as the strength and conditioning coaches get their mitts on him, he's going to be a gigantic factor in pass protection.
For now, though, he needs a bit of work. If he works hard, the NFL could be in his future. Alabama is certainly the right place if that's his dream.
Brandon Hill: C
Keep Reading

Alabama Crimson Tide Football: Like this team?