Super Bowl Prop Bets: 3 Most Intriguing Prop Bets on Super Bowl Sunday
February 4, 2012

Win McNamee/Getty Images
The Super Bowl is upon us, as Sunday will be a sequel between the New York Giants and New England Patriots.
Yet more equally as enticing has to be the Super Bowl prop bets, as fans of the game worldwide anticipate some of the more unique bets that take place on Super Bowl Sunday.
Will TE Rob Gronkowski get the first touchdown of the game with ease? Will there be a safety in this contest by either team?
These are the three most interesting, intriguing Super Bowl Prop Bets in the 2012 game.
How long will Kelly Clarkson hold the word "brave" in the National Anthem?
Over 5.5 seconds
Under 5.5 seconds
Talk about a ridiculous prop.
Based on her classic "Already Gone" that she came out with in 2009, you have to believe it will be over 5.5 seconds for this prop.
Clarkson is known for her ability to hold her notes, and she will be sure to do so under some of the biggest lights an artist can sing under.
What will be higher: Tom Brady's TD passes or Ray Allen 3-point shots made against Memphis?
This prop bet is one of the more comical ones in this year's Super Bowl, as Allen has no chance to out-do Brady in this prop.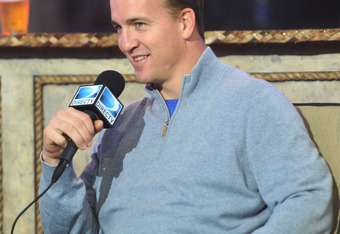 Michael Buckner/Getty Images
Ray Allen goes up against one of the better, more athletic defenses in the NBA, while Brady plays in the game of his life that would give him four Super Bowls and a new-found place in NFL history.
Allen will hit no more than two three-pointers in the game against Memphis, as Brady will easily take this prop based on his play this season. With 39 touchdown passes on the season, it can be assumed Brady has what it takes to deliver at least two touchdown passes in this one.
Peyton Manning cutaways
Over 3.5
Under 3.5
This is easily one of the more interesting and telling bets of the Super Bowl, as Peyton Manning has been the biggest spectacle throughout Super Bowl week in spite of not being an actual participant.
With all the hype surrounding him and Indianapolis Colts owner Jim Irsay, as far as where the team's next move will be with Manning, there is no question that they show Manning at least four times.
Add in to the mix that brother Eli will be the starting QB for the Giants in this contest, and it makes it all the more obvious of a threat.
One of the more telling Super Bowl prop bets in 2012, Manning is sure to be shown more than four times. Manning fans—you are in luck.