Super Bowl 2012: Why Chad Ochocinco Will Have a Big Impact on the Big Game
February 4, 2012

Jim Rogash/Getty Images
With the Super Bowl coming up the New England Patriots have to look for depth against a stable Giants defense. But as almost any football fan knows, the New England Patriots' Chad Ochocinco has been completely awful this season. 
Ochocinco trying to learn the Patriot way is almost as bad as me trying to learn Spanish. No es bueno.
Watching him play this year has been worse then watching the Jersey Shore. Seattle is where receivers go to die, not New England. If anything, the Patriots are a home for receivers who want to resurrect their respective careers.
I have been very critical of Ochocinco this year, which makes what I am going to write that much harder to say. But the man formally known as Chad Johnson will be a big factor in the Super Bowl.
The reason for that bold prediction is because on Sunday, No. 85 won't be playing for a Super Bowl ring like everyone else. He won't be playing for himself or his legacy. He won't be playing for Tom Brady or New England.
No, Chad Ochocinco will be playing for his late father who passed away January 16, 2012.
Sam Brown lost his fight to cancer and his son was unable to play in the AFC Championship game because of his father's funeral. The Super Bowl will be Ochocinco's first game without his dad.
The life of Ochocinco reminded me of a story I heard a while ago.
It goes like this: "The star of a football team has a blind dad who always comes to his games, even though he can't see him play. One day, the dad gets sick and dies before the night of his son's big game. The team is expecting him to slack off as he is mourning the death of his father.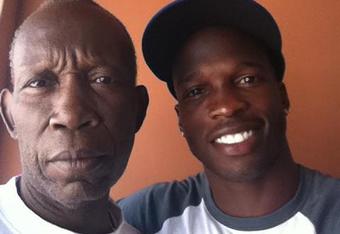 But he played the best game he ever had, making the winning touchdown as well as many amazing plays. The coach, amazed, asked, 'How did you play so well even after your father has passed?' The boy stares right at him, and says, 'This is the first time he has ever seen me play.'"
Of course, that story is inspirational but I think that Chad will feel the same effect that the boy in the story felt when his father died. In the biggest game of his career, Ochocinco will put on a show.
But this time the show won't be for the fans. No, this time the show will be for his father.
There are also other, more logical reasons why Ochocinco could blow up against New York.
The Patriots have a Chex Mix assortment of potent receivers in Wes Welker, Deion Branch, Aaron Hernandez and Rob Gronkowski. Without Ochocinco playing well, the Giants defense will have its hands full.
Now throw in a viable target in Chad Ochocinco, and New York's secondary might as well take the day off like Ferris Bueller.
Someone is going to have to be open, and I think that Ochocinco can sneak under the noses of New York. Everyone in the Big Apple will expect Welker, Branch, Hernandez or Gronk to share the receptions. Those are the players Big Blue will have to focus on.
That is where the dormant Ochocinco comes into play.
With the defense focusing on those receivers, he quietly catches a few balls here and there and turns in a big game en route to a New England victory.
This is a man who always goofed around. He was the epitome of touchdown celebrations in the NFL. But, somehow, New England has quieted him. He can feel that he is part of something big.
On Sunday he will show that he is a major part of that "something." Maybe it is his father's passing or the hype of the Super Bowl, but Ochocinco will straighten up and turn in a great game.
Chad Ochocinco is like a volcano. He has been dormant all year—but when the time is right he will blow up.