Super Bowl 2012: Why Matt Light Will Be the Difference Maker for Patriots
February 4, 2012
Jim Rogash/Getty Images
The Patriots have an incredible roster full of offensive weapons.
Welker, Gronk, Hernandez, Branch, and yes, even Chad Ochocinco scare defensive coordinators with mismatches and perfectly executed play-calling.
The ringer of this offence, Tom Brady, is one game away from his fourth Super Bowl title. Surprisingly enough, the most critical player for the Patriots this Sunday is not any of the above listed superstars.
Matt Light, the 6'4", 305lb offensive tackle for the Patriots, will be the difference maker in the Super Bowl. Memories still haunt Patriots fans from 2008, when they had to endure their 50-touchdown golden boy play victim to a ferocious pass rush.
The real MVPs of Super Bowl XLII were the defensive line of the New York Giants. They boasted the record-setting offense and ran up embarrassing scores against solid competition all season.
In the Super Bowl, New York owned the line of scrimmage and created havoc for Brady all game. In the end, the Giants held New England to just 14 points. For those who watched the game and remember the Patriot's offensive possessions, Tom Brady was under constant pressure from both blitzes and four-man fronts. He did not enjoy nearly the same lengthy pocket time he was used to.
In order for New England to break their two-game streak of losing low-scoring battles with the Giants, Matt Light must produce, as well as lead his fellow offensive linemen, to their best 60-minute game of the season. Protecting Brady will be the most important factor in this game.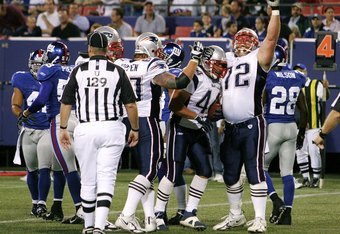 Jim McIsaac/Getty Images
Their defence seems to be coming together at the right time; albeit defeating Tim Tebow and Joe Flacco. They did allow Flacco to have a solid game in the pocket but were able to step up big in the fourth quarter when it mattered most.
I'm sure many Patriots fans are worried about how their defense will perform against the likes of Eli Manning, Victor Cruz and Hakim Nicks, and it will be interesting to see if they will resemble the less-than-impressive unit that was criticized all season, or the new group which has stepped up their game in the postseason.
While the defence is certainly a legitimate concern for New England, their ability to put up points and sustain long offensive drives is what will give them the best chance to win.
They have won 15 games thus far in 2011/12, not from playing sound defence, but from utilizing their marvellous offensive weapons and scoring in the 30-point range on a consistent basis.
Tom Brady threw for an unthinkable 5,235 yards this season, and this output must be recognized as a product of Matt Light's stellar play. His ability, to not only give Brady time and room in the pocket, but also keep Brady off the turf, was instrumental to New England's success all season.
There were two games in particular from this season when New England was unable to contain the opposing defensive pass rush, and both of those resulted in losses. In Week 8 vs. the Pittsburgh Steelers, Tom Brady threw for a season-low 195 yards and was harassed all game. He was also sacked three times and never felt comfortable in the pocket. His most reliable weapon, Wes Welker, was held to just 39 yards receiving.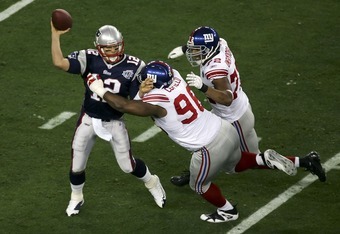 Jim McIsaac/Getty Images
One week later, when New England hosted the New York Giants, many were saying that the game against the Steelers was just a road bump. Rarely does Belichick suffer consecutive defeats. Unfortunately for Patriots fans, Brady would be stunted for a second week in a row. He threw for a respectable 342 yards but only put up 20 points after going in to the locker room at halftime in a 0-0 deadlock.  He was also sacked twice and threw two interceptions.
After losing those two games, the Patriots have gone on an impressive offensive run but have not witnessed the same intense level of defensive pressure since Week 9. The Superbowl will be the test of Matt Light's ability to learn from recent letdowns and put together an amazing performance. If he's unable to contain the Giant's pass rush, Brady will have a recurring nightmare of his last Super Bowl appearance. And when Brady is not able to play his game the way we have all come to expect, the Patriots will struggle all day.
Jason Pierre Paul, Osi Umenyiora and Justin Tuck have reason to be optimistic. They have been walking around Indianapolis this week with great confidence and coolness. They believe they are in Brady's head and look forward to seeing him on his back this Sunday.
Matt Light is the man who can prevent this. He has the experience, the attitude and the ability to provide Tom Brady with the necessary pocket comfort to spread the ball around to his receivers and tight ends.
We have witnessed the brilliance of Gronkowski, Hernandez and Welker all season. When these players have great games and rack up the touchdowns, Brady gets attributed with the credit of orchestrating the offence—and with good reason. Nonetheless, Matt Light's ability to slow the dangerous pass rush of the surging New York Giants makes him the difference maker in Super Bowl XLVI.