UFC 143: Final Predictions for Fight Night Bonuses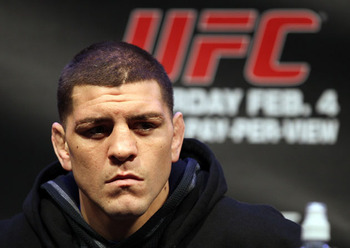 Nick Diaz; photo cred: Sports.Yahoo.com
Just a few hours from now, UFC 143 will finally commence.
Though a welterweight clash between Nick Diaz and Carlos Condit is garnering most of the focus, there still exist many battles that should be paid close attention to
Both Condit and Diaz are considered by many to be two of the most exciting fighters in the sport, thanks to their fan-friendly style of fighting.
However, with a talent-laden pay-per-view event such as this, there could be many surprises in story with many men leaving with a little bit more scratch for their efforts.
Submission of the Night: Ed Herman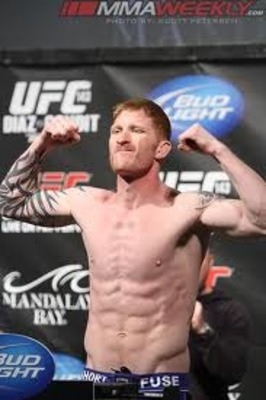 Photo courtesy of MMA Weekly
In his last outing against then budding contender Kyle Noke, Ed Herman showed that he has a wide range of submission skills at his disposal.
Seamlessly switching from ompalatas to armbars to triangles—Herman put on a clinch against Noke, a product of the Greg Jackson crew.
In the end, "Short Fuse" settled for the heel hook whilst turning in arguably the most impressive performance of his career. Later tonight, Herman will face off against Clifford Starks—who made a lackluster UFC debut last October with a decision win over the unheralded Dustin Jacoby.
A wrestler by nature, Starks may be able to get Herman to the mat, but it will only be just a matter of time before the inexperienced fighter gets tangled in the intricate web of The Ultimate Fighter vet.
Knockout of the Night: Josh Koscheck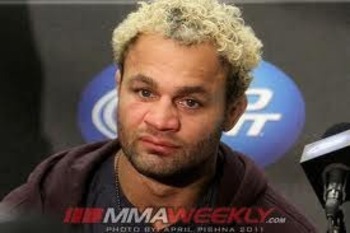 Photo courtesy of MMA Weekly
Mike Pierce is a wrestler with pop to his punches.
However, against Josh Koscheck, Pierce finds an adversary who has a similar set of skills, though the AKA product is just a better and more experienced version of the mild mannered Team Quest fighter.
Given Koscheck's height and reach advantage over Pierce, he will be able to keep him at bay with long punches. Should Pierce dive in for the takedown, Koscheck will be able to evade with ease.
Eventually, that booming right will find its mark, and Koscheck will score the knockout well before the final bell.
Fight of the Night: Nick Diaz vs. Carlos Condit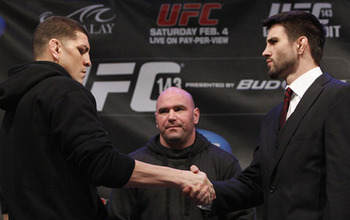 Nick Diaz (left) with opponent Carlos Condit; photo cred: Esther Lin of MMAFighting.com
There's a reason why there's so much buzz surrounding this welterweight tilt between Carlos Condit and Nick Diaz.
Both men are regarded as two of the most exciting fighters not just in the 170-pound division, but in the world.
Thankfully, the two are slated for the organization's interim title. Now that the stakes are high, and this bout will be contested for five rounds, both men will leave everything they got inside the Octagon, where this could easily become not just the "Fight of the Night," but an early candidate for "Fight of the Year."
Keep Reading