Georgia Tech Football: Top 5 Quarterbacks in School History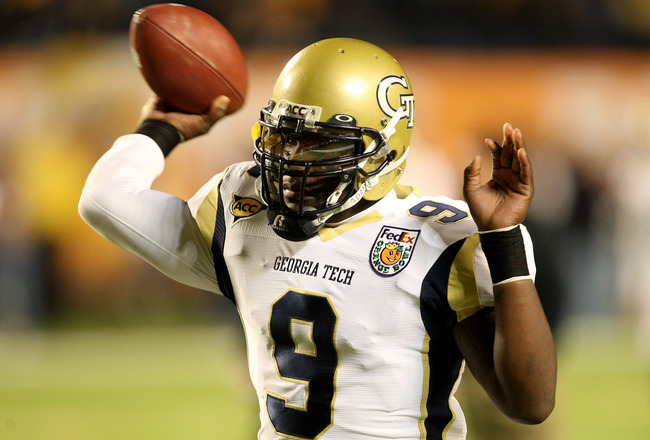 Streeter Lecka/Getty Images
Georgia Tech has had some great quarterbacks in its storied history, especially over the past quarter century. When thinking in terms of the best all time, many names come to mind but a handful stick out more than others.
The Yellow Jackets have run many different offenses over the years, but regardless, the style a trustworthy quarterback is a must have. Every so often, a special talent comes along who fits perfectly into the scheme and makes his coach very happy.
Though not every one will agree with the order of this list, most of the names are hard to argue off of anyone's short list.
Enjoy, and feel free to comment, as always.
5. Billy Lothridge (1961-1963)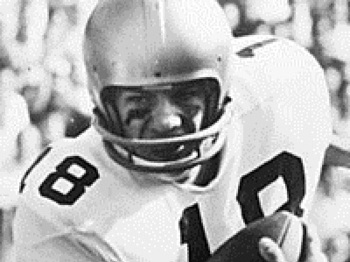 Photo Source: http://img.fanbase.com/media.fanbase.com/8/21098/a890ccf2ef990f61215f0188d3cf2ae34819f76e.jpg?x=200&y=267&sig=919f1285e46bb4a2f446610d9d69db20
Billy Lothridge may very well have been legendary Coach Bobby Dodd's greatest quarterback.
Lothridge teamed up with teammate Billy Martin to create a potent passing/rushing attack.
Billy would receive Hiesman votes in both his junior and senior seasons, including a second-place finish in 1963 to Navy great Roger Staubach.
Not only was Lothridge an award-winning quarterback for Georgia Tech, but he also handled kicking for the Yellow Jackets.
Passing:185 Cmp, 372 Att, 2,394 Yds, 18 TD
Rushing: 298 Att, 746 Yds, TD (unavailable)
Kicking: 51 XP, 21 FG
First Team All-American (AP, FWAA); 1963
Second-Team All-American (UPI); 1963
Third-Team All-American (UPI); 1962
Eighth in Heisman Trophy Voting; 1962
Heisman Runner-Up; 1963
SEC Back of the Year; 1963
First-Team All-SEC (AP, UPI); 1962, 1963
Senior Bowl; 1964
Georgia Tech Hall of Fame; 1969
Georgia Tech All-Time Team; 1991
4. Josh Nesbitt (2007-2010)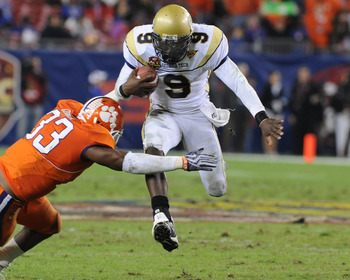 Al Messerschmidt/Getty Images
Joshua Nesbitt went to Georgia Tech in 2007 to play for Chan Gailey in a pro-style offense, but a year later, he would be at the helm of Paul Johnson's option attack.
In an offense that Nesbitt had never played in before, he thrived. Josh build himself a legendary career on the Flats and became a fan favorite almost instantly.
Had he not broken his arm on an interception tackle attempt in Blacksburg midway through the 2010 season, Nesbitt's career numbers would have been even more impressive. If you ever had a chance to see Josh Nesbitt live, or on television, you're aware that it's not just his stats that made an impression but his grit and determination.
Coach Paul Johnson will be forever indebted to number 9 for a rebuilding period that never really looked like one.
Passing: 173 Cmp, 403 Att, 3,273 Yds, 20 TD
Rushing: 653 Att, 2,806 Yds, 35 TD
ACC Championship; 2009
First Team All-ACC; 2009
Preseason First-Team All-ACC (Blue Ribbon); 2010
Preseason Offensive Player of the Year (Blue Ribbon); 2010
1,000-1,000 Club; 2009
Most Career Rush Yds in ACC History by Quarterback; 2,806
GT Most Career Rushing Yds by Quarterback; 2,806
GT Most Rushing Yds in Season by Quarterback; 1,037 in 2009
3. Shawn Jones (1989-1992)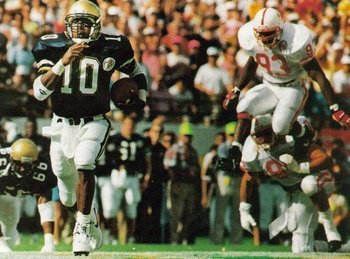 Photo Source: http://img.fanbase.com/media.fanbase.com/8/15326/691bd2b17d834013e93ae40c65ad186f6c16eade.jpg?x=502&y=371&sig=53d5d4b040d23640ccf7c1fc1a792a3f
Perhaps, one of the most forgotten all-time great quarterbacks in college football history, Shawn Jones has held firm as one of the best in Georgia Tech history for over two decades.
Under head coach Bobby Ross, and offensive coordinator Ralph Friedgen, Jones flourished into one of the best running quarterbacks in college football in the 1990s. In only his sophomore season, he led the Yellow Jackets to a Citrus Bowl victory and a share of the 1990 National Championship with a top ranking in the Coaches Poll.
Eventually overshadowed by the gaudy numbers put up by legendary Joe Hamilton, Shawn Jones still ranks second behind him in most every quarterback record in Georgia Tech history.
Passing: 668 Cmp, 1,240 Att, 8,718 Yds, 53 TD
Rushing: 403 Att, 896 Yds, 20 TD
National Championship; 1990
ACC Player of the Year; 1989
Second-Team All-ACC; 1990, 1991
Citrus Bowl MVP; 1991
Johnny Unitas Award Finalist; 1992
Davey O'Brien Award Finalist; 1992
Blue-Gray Game; 1992
Georgia Tech Hall of Fame; 2003
GT Most Plays in a Career; 1,609
GT Rushing TD's in a Game; four vs. UGA 1990; vs. Maryland 1989
2. George Godsey (1998-2001)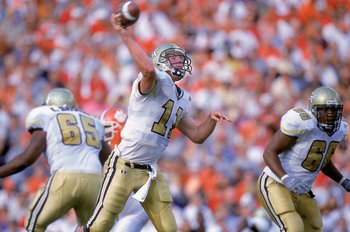 Craig Jones/Getty Images
George "The Goose" Godsey had the monumental task of replacing the greatest quarterback in the history of Georgia Tech Football, and he nailed it.
Nobody was going to forget Joe Hamilton's career, but Godsey made it an easy transition when he took control of the offense for the Jackets.
His mentor's numbers were monumental, but Godsey was no slouch either. In his debut starting season as a junior, Godsey threw for nearly 3,000 yards and 23 touchdowns. His senior campaign he would earn himself All-ACC and All-American honors throwing for 3,085 yards.
Keep in mind as you look at Godsey's numbers that he only started two seasons, yet racked up a career's worth of statistics.
Passing: 484 Cmp, 765 Att, 6,137 Yds, 41 TD
Rushing: 75 Att, -12 Yds, 6 TD
First Team All-American (PFW); 2000
Second Team All-ACC; 2000
First Team All-ACC (FN); 2001
Honorable Mention All-ACC; 2001
Academic All-ACC; 2001
All-Star Gridiron Classic; 2001
East-West Shrine Game; 2001
Seattle Bowl MVP; 2001
GT Record Single Game Total Offense; 2001 vs. Virginia
GT Record Most Pass Attempts Season; 384 in 2001
1. Joe Hamilton (1996-1999)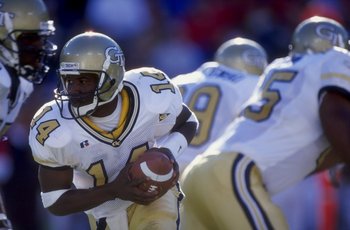 Doug Pensinger/Getty Images
Every college football program has at least one name at quarterback that fans use as the measuring tape for all players that come after him. At Georgia Tech that name is Joe Hamilton.
Under coach George O'Leary, Hamilton had one of the most consistently successful four-year careers the Yellow Jackets have ever seen.
From his freshman season of 1996, until his Heisman runner-up campaign four years later, No. 14 left an impression on the Flats that will be tough to overshadow.
Let's not waste time mulling over the details. Just take a look at the resulting statistics and accolades which more than speak for themselves.
Passing: 629 Cmp, 1,020 Att, 8,882 Yds, 65 TD
Rushing: 501 Att, 1,758 Yds, 18 TD
Davey O'Brien Award; 1999
NCAA QB of the Year (TCC); 1999
Consensus First-Team All-American- 1999
Heisman Trophy Runner-Up; 1999
Maxwell Award Finalist; 1999
Johnny Unitas Award Finalist; 1999
ACC Player of the Year; 1999
First-Team All-ACC; 1998, 1999
McKevlin Award; 2000
Southeast Area Back of the Year (TCA); 1999
Carquest Bowl MVP; 1997
Gator Bowl MVP; 1999, 2000
ACC 50th Anniversary Football Team; 2002
Georgia Tech Hall of Fame; 2009
ACC Record Yds per Pass Attempt; 10.03 in 1999
ACC Record Passing Efficiency; 175.00 in 1999
GT Record Career Total Offense; 10,640 Yds
GT Record Single-Season Total Offense; 3,794 Yds 1999
GT Record Career Passing; 8,882 Yds
GT Record Total TD Passes; 65
Honorable Mentions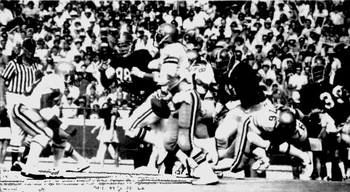 Photo Source: http://assets.sbnation.com/assets/307054/mikekelley.PNG
Eddie Prokop
John Dewberry
Mike Kelley
Eddie McAshan
Reggie Ball
Keep Reading

Georgia Tech Football: Like this team?