Peyton Manning: Most Likely Destinations for Veteran Quarterback
February 4, 2012

Andy Lyons/Getty Images
Only Peyton Manning could cast a shadow large enough to cover Super Bowl XLVI. 
Three neck surgeries later, the quarterback is rumored to be medically cleared to resume football activity.
But for which team? That's the million dollar question, with the final answer looming. 
The Indianapolis Colts, owners of the number one draft pick, appear ready to part ways with Manning and select Stanford quarterback Andrew Luck. Luck is the highest-rated quarterback prospect since, well, Manning himself back in 1998. 
A sure thing in a sport with so many question marks. 
Speaking of sure things, have you even seen the movie, A Sure Thing?
I'll admit, I have. 
It's about a college freshman who goes across the country to meet a girl, a supposed sure thing (if you know what I mean). He ends up stuck traveling with another girl on her way to visit her boyfriend. It begins as a road trip from hell, but the two cultivate feelings for each other along the way. The boy eventually ditches out on the sure thing in order to pursue the other one. 
In this real-life situation, the Colts are the main character about to go after a sure thing in Andrew Luck. Manning remains an attractive option for the team, but will likely be left searching for a new home.
No worries, there will be a high volume of suitors.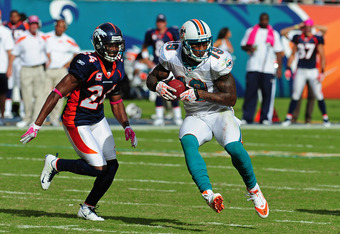 Scott Cunningham/Getty Images
Rex Grossman and John Beck combined for 4,009 yards, 18 touchdowns and 24 interceptions as the back-and-forth starters. Consistent quarterback play tops the offseason list of priorities for the underachieving Redskins. Signing Manning and selecting receiver Justin Blackmon in the draft could quickly turn this team into a contender.
Likelihood: fairly likely 
Manning, in a recent wish list, has shown interest in playing for Miami. Makes sense. He would be surrounded with legitimate weapons, including star receiver Brandon Marshall and the always dangerous Reggie Bush. The Dolphins would finally land their quarterback, who, if truly healthy, could bring them back to the playoffs. 
Likelihood: highly likely
Despite Alex Smith's impressive season, critics doubt his ability to take San Francisco all the way to the promised land. Manning, a Super Bowl winner and future Hall of Famer, is generally viewed as an upgrade over Smith. However, the 49ers' most pressing needs are outside the quarterback position.
Likelihood: not very likely
The Colt McCoy experiment is not working out as planned. The former Longhorn experienced a sophomore slump, throwing for 2,733 yards, 14 touchdowns and 11 interceptions. The Browns defense is good enough to keep them in games and adding Manning would lead to a higher number in the win column. 
Likelihood: not very likely
Despite a 1-6 start to the season, the team rebounded to win seven of their final nine games. Current quarterback Kevin Kolb has proven very little as an NFL starter, other than being injury prone. Manning, on the other hand, is a proven winner capable of getting the best out of his receivers. Imagine teaming him up with Larry Fitzgerald. That's a scary thought for the rest of the league. 
Likelihood: fairly likely