UFC 143 Fight Card: Will Fabrico Werdum Be a Heavyweight Title Threat?
Use your ← → (arrow) keys to browse more stories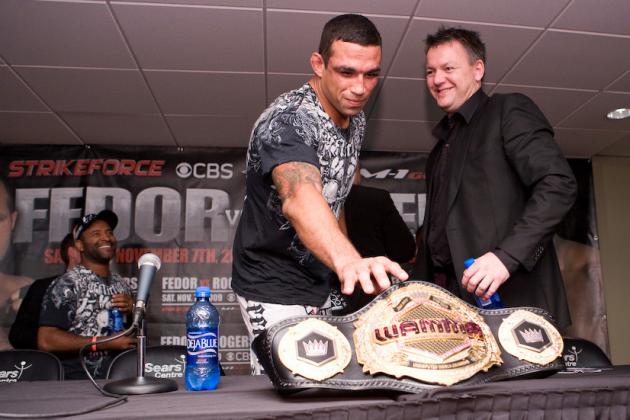 Fabricio Werdum (middle); photo cred: Strikeforce
Strikeforce transplant Fabricio Werdum will be making his anticipated return to the Octagon later tonight, as the Brazilian will take on Roy Nelson in the co-main event for UFC 143.
Cutting his teeth under the now defunct Pride organization, Werdum bested many formidable opponents based solely upon his world renowned jiu-jitsu skills.
A black belt under Master Sylvio Behring, Werdum notched victories over Tom Erickson, Jon-Olav Einemo, Alexander Emelianenko and Alistair Overeem—who recently became the No. 1 contender for the UFC heavyweight title with a first round knockout of Brock Lesnar.
His submission acumen is cause for concern. However, Werdum has now enlisted the aid of the famed Rafael Cordeiro—the former head coach of the Chute Boxe Academy which has produced fighters such as Mauricio "Shogun" Rua, Wanderlei Silva and pound-for-pound great Anderson Silva.
Under the watchful eye of Cordeiro—who now runs Kings MMA out of Huntington Beach, California—Werdum's striking has improved by leaps and bounds which was visible even in his loss to the aforementioned Overeem. Overeem is a revered kickboxer who earned the prestigious K-1 World Grand Prix title in 2010.
Werdum's initial run in the UFC was cut short thanks to Junior dos Santos, who knocked out his fellow countryman in the first round with a powerful uppercut. The "Vai Cavalo" we saw then would barely be able to hold a candle to the man that he has evolved into today.
Continuing to plug away in his striking skills whilst keeping his submission skills sharp, Werdum could very well ascend the heavyweight ranks and finally make a run for the belt. "Big Country" is his first test towards reaching the top of the division.