Super Bowl Predictions 2012: Players with Best Shots at Breaking Game's Records
February 4, 2012

Jim Rogash/Getty Images
One of the great things about the Super Bowl is that the vagaries of a single game with so much on the line can make heroes out of total unknowns. Players like Timmy Smith (who's coming up on the 25th anniversary of his 204-yard rushing performance for the Redskins) or Dwight Smith (two INTs returned for scores for Tampa Bay) can grab their turn in the spotlight.
Then again, sometimes the players who put up the biggest numbers in the Super Bowl are exactly the ones who'd be expected to shine:
QB Tom Brady, Patriots
Brady has already thrown and completed more passes than any QB in Super Bowl history, but his yardage totals haven't yet reached such stratospheric levels. His career high for the game (in four appearances) is "only" 354 yards.
Kurt Warner owns the single-game yardage record in a big way—the former Cardinal and Ram has the top three passing totals, headlined by his 414-yard effort in winning Super Bowl XXXIV for St. Louis. Facing a Giants secondary that's gotten torched for large stretches of 2011, Brady will have a chance to challenge that mark with a monster day.
DE Jason Pierre-Paul, Giants
Both offenses in this matchup rely overwhelmingly on passers, which will put the pass-rushers in the spotlight on the other side of the ball. The best of the lot on either club is New York's Jason Pierre-Paul, he of the 16.5 sacks on the season.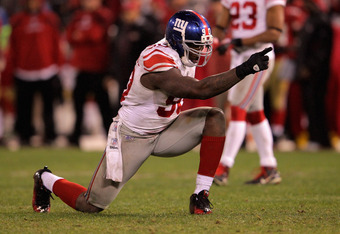 Doug Pensinger/Getty Images
It's only been three years since Darnell Dockett tied a record set by the great Reggie White with three sacks in a single Super Bowl. With Pierre-Paul facing an overachieving but not impregnable line, he shouldn't be written off as a contender to match or exceed that total.
WR Victor Cruz, Giants
With all the absurd passing numbers these two teams have put up, no receiver has matched Cruz for big-play ability. New York's breakout star averaged 18.7 yards a catch while breaking off a 99-yard score among his nine TDs.
That explosiveness makes Cruz the player with the most potential to challenge Jerry Rice's 23-year-old record of 215 receiving yards. If this game devolves into a shootout, it wouldn't be a shock to see Cruz exploit the vulnerable Patriots secondary for enough yards to challenge that mark.