Karl Malone: Jazz Legend Must End Feud with Greg Miller Before Things Turn Ugly
February 4, 2012

Jed Jacobsohn/Getty Images
Utah Jazz owner Greg Miller and team legend Karl Malone are in the midst of a public verbal battle that includes several topics, one of which is the controversial resignation of long-time Jazz head coach Jerry Sloan in February of last year.
Malone recently commented on a number of topics regarding the Jazz in a column from the Salt Lake Tribune, which Miller was none too happy with.
If he was smart, Malone should end this feud with Miller before their relationship really goes south, but I don't think that will happen.
What's Being Said?
Malone and former teammate John Stockton enjoyed great success with Sloan for well over a decade in Utah, making the NBA Finals in 1997 and 1998. It's no secret that Malone has a ton of respect for Sloan, and when the coach's relationship with star point guard Deron Williams became an issue last season, Malone thinks the organization did a poor job resolving the situation.
"On the whole handling of that, I would have to give (them) a D or F, and I would lean more toward an F," Malone said in the radio interview, according to the Salt Lake Tribune.

"That defining moment when (management and ownership) should have stood up for Jerry Sloan, they chose Deron Williams," Malone said. "And Coach Sloan, being the coach I know and love, said, 'You know what? We should part ways.' And he said what he said. And once Coach Sloan says something, it's history."
Miller responded to Malone's comments from the radio interview and the Salt Lake Tribune column from last week, and he wasn't shy about letting his strong feelings known.
I have always believed in taking the high road and addressing my grievances in private. I have always remained silent relative to the media on those types of issues for that reason. However, when Karl Malone recently made comments about how he was treated by the Utah Jazz when he attended a Utah Jazz game last season, he crossed a line. He put me in a position where I have to defend the Utah Jazz and set the record straight. I can no longer afford to sit back and let Karl make comments that are factually inaccurate without defending the franchise and our family.
Further down in Miller's blog post, he wrote:
The fact is Karl is still as high-maintenance as he ever was, but now he has nothing to offer to offset the grief and aggravation that comes with him. Some would argue that he could coach our big men. I would love to have Karl inspire them and teach him how to be warriors like he was. That can't happen. Karl is too unreliable and too unstable. Let me explain.
The part about Malone saying how he was treated by the Jazz are from a ticket issue following Sloan's exit. 
What happened to Sloan had festered inside Malone for long enough. In the immediate aftermath, he came to Utah to express concern, buying his own ticket to the next game at EnergySolutions Arena via a scalper because the Jazz had told him there were no tickets available for him, and spoke to reporters.
Miller responded to this situation by posting the following tweet on Friday.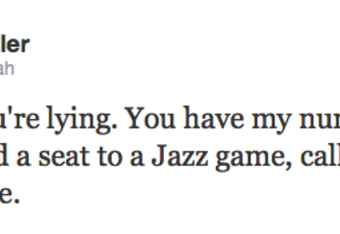 I encourage you to read Miller's blog post in its entirety. There's some interesting information about the relationship between the Jazz and Malone.
Assessing the Situation
There are a few things that stand out from this war of words.
One is that Malone is absolutely right in his opinion of Sloan's exit. The team chose the player over the coach, and you don't do that when the coach is someone as successful and talented as Sloan.
When Williams and Sloan's relationship began to deteriorate last year, one thing that elevated the frustration was when Williams refused to run certain plays.
In that fateful game against Chicago at ESA, Williams busted out of a number of plays called by Sloan—something Malone said he and John Stockton would never do—and the coach was infuriated. He wanted Williams disciplined and believed management, including O'Connor, didn't sufficiently back him. So he quit. A half-hour meeting with Jazz brass after the game left Sloan unsatisfied.
When a player does something as unprofessional as not following the play calls from the head coach, severe action needs to be taken. That garbage is uncalled for in the NBA. The Jazz were wrong for not punishing Williams.
The Jazz ended up trading Williams before the trading deadline anyway. So if management thought there was a chance Williams wasn't going to return this summer when he can become a free agent, then they should have traded him before allowing Sloan to leave.
Sloan has made the Jazz franchise what it is today. When he took over the team for the 1987-88 season, Sloan led Utah to 17 straight playoff appearances, a remarkable run of success rarely seen in professional sports. To have Sloan exit in the way he did was really unfortunate and unfair to him given all the success the team had enjoyed thanks to his hard work.
As for Malone not having a ticket to a Jazz game following Sloan's exit, I find it hard that Karl, someone who is a legend in Utah, would likely not have to resort to scalping tickets to see the team play. I believe Miller when he says Malone can have his seat. At worst, Malone could have sat in the press box.
What to Make of This Whole Ordeal
Sloan's resigning was a real dark moment for the franchise and for someone like Malone, who knows how good of a coach Sloan is, it's understandable he feels strongly about the direction the Jazz went in.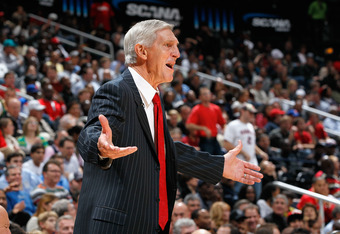 Kevin C. Cox/Getty Images
However, nothing good or productive can come from publicly complaining about how Sloan's future was decided. Malone needed to express his feeling privately with ownership, not through the local newspapers and radio stations.
I cannot see the relationship between Malone and the Jazz getting better anytime soon, because by reading Miller's blog post, this clearly isn't the first time Malone has caused a headache or two for the team.
But despite his recent war of words with Miller, Malone will still be a hero to Jazz fans in Utah and I'm sure he will continue to support the team.
Malone should keep his mouth closed about matters such as Sloan's exit, but given his strong opinions and willingness to share them, this feud with Miller isn't going to end soon.
Nicholas Goss is an NBA Featured Columnist at Bleacher Report