UFC 143 Predictions: 5 Reasons a Nick Diaz Win Must Happen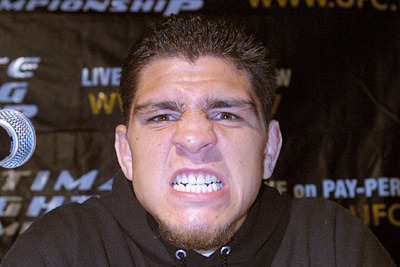 Nick Diaz; photo cred: Sherdog.com
Later tonight, Nick Diaz will meet Carlos Condit in the main event for UFC 143.
The event takes place at the Mandalay Bay Events Center in Las Vegas, where both Diaz and Condit will vie for the organization's interim welterweight crown, where the winner will likely meet champion Georges St-Pierre in an effort to unify the titles.
"The Natural Born Killer" is regarded as one of Diaz's toughest opponents he's ever faced and should the Stockton native pull out the win, the victory will be detrimental, both to Diaz's career and in the interest of the UFC.
Begin Slideshow

»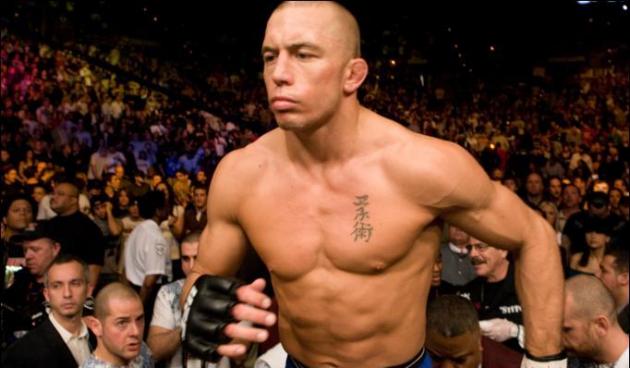 Georges St-Pierre; photo cred: MMAValor.com
It's no secret that everyone is banking on Diaz to win for selfish reasons.
For the fans, it would mean that Georges St-Pierre may actually be in a half-exciting fight against an aggressive and dominant force in Diaz.
For the UFC, this budding grudge match could culminate in a huge payday for all parties involved, as it's become a battle that his recently gained lots of interest thanks to the verbal jabs traded by both Diaz and St-Pierre in the media.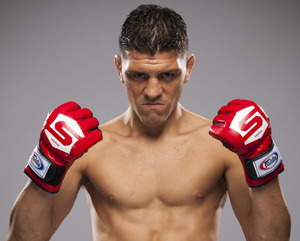 Nick Diaz; photo cred: Strikeforce
After a dominant decision win over BJ Penn last October, Diaz's stock rose like never before. The Californian battered and bruised the Hawaiian for three rounds of action, courtesy of his boxing acumen. This earned him not only the decision win, but "Fight of the Night" honors for his performance as well.
Now Diaz is widely recognized as the No. 2 fighter in the division. With a victory over Condit, Diaz will only help solidify his claim in the standings among the best in his class and possibly move into the pound-for-pound rankings.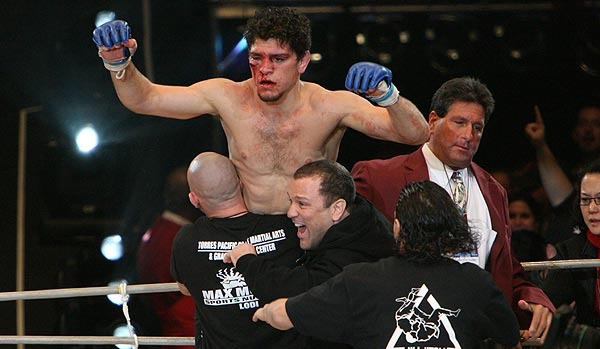 Nick Diaz; photo cred: Sherdog.com
Diaz has a reputation for turning in fan-friendly performances. It's become the calling card for the Cesar Gracie protege, who has been endeared by the public thanks to his enigmatic demeanor and skills.
Against an opponent like Condit, who is equally as game, Diaz is all but guaranteed to be a part of an early "Fight of the Year" candidate, further solidifying his legacy as one of the most exciting fighters to ever grace a ring or cage.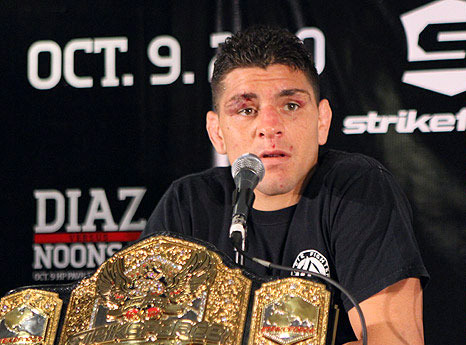 Nick Diaz; photo cred: MMAWeekly.com
After earning the Strikeforce welterweight crown and defending the strap three times, Diaz will now have the opportunity to add another belt to his mantle.
Granted, it's the interim belt, but Diaz will have become the first fighter from the Strikeforce banner to have earned UFC gold—a feat that will set him apart from the rest of the pack at 170 pounds.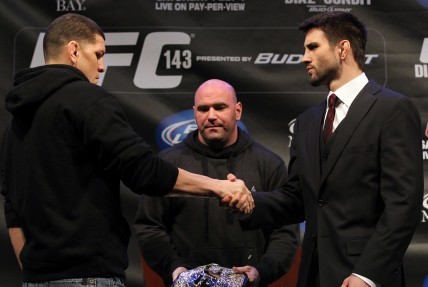 Nick Diaz (left) with opponent Carlos Condit; photo cred: blogs.telegraph.co.uk
We're all used to seeing the controversial Diaz mean mug his opponents and throw a wild array of verbal obscenities their way; however, we haven't seen any of that this time around.
Instead, Diaz finds himself matched up against an opponent he knows is dangerous and because of that, the Strikeforce transplant respects the world-renowned Condit.
A victory for Diaz here is especially personal and pivotal not for purposes of ranking, but for himself, to know that he defeated an opponent that is on a level that he admires.