Super Bowl 46: Predicting a Close Match-Up in Indy
February 4, 2012

Donald Miralle/Getty Images
In the NFL's Conference Championships two weeks ago, true experience won the day.  
Baltimore's daunting defense has some years behind it, but they hadn't been to a Super Bowl since winning it in 2000 while the Patriots have won it three times this past decade and came out with the win.
The San Francisco 49ers were lead by Jim Harbaugh, who finished his first year at the helm of an NFL team, and quarterback Alex Smith was on his first playoff run. The victorious Giants' Tom Coughlin has been a part of 15 playoff games as a head coach and Eli Manning boosted his playoff record to 7-4 with the win.
All that matters now is that Super Bowl XLVI is a rematch. In Super Bowl XLII, Manning and New York bested the Tom Brady-led Patriots in a match that came down to the wire four years ago.
Brady and Manning are both back for another piece of each other. Manning could become the Manning with the most Super Bowl rings in the family, and Brady could tie a record by winning his fourth Super Bowl.
Now, let's be honest. Facts are facts. The sky is blue, we all die someday, hardly anyone will watch Madonna's halftime show and this game is simply a toss up. Call me a Brett Favre flip-flopper all you want, but the truth is, these teams are similar in style and of the same caliber so the only outcome that will raise my eyebrows is a blowout.
Before we dive into the offenses, which I would venture to say everyone wants to, let's take a look at defense. "Defense wins championships," as they say, and the championship is on the line Sunday so defense will be important.
Statistically, both of these defenses aren't that good. But, you have to go back to Week 5 in the NFL to find a game where the Patriots didn't force a turnover. Also, the Giants were second during the regular season and are first during this unfinished postseason, in sacks.
New England's defense forces opposing offenses to be on their toes at all times by jumping on every opportunity they get. New York makes quarterbacks' lives hard with a deadly pass rush.
For the most part, we may see the ball moved up and down the field a lot, but this game most likely won't come down to that. How New York and Manning's offense, which has turned the ball over only twice in the last five games, takes care of the ball against New England's opportunistic defense will be the deciding factor in how much New York's side of the scoreboard lights up.
Equally, the Patriots' offensive line, which has allowed one sack during the playoffs, will be a key in New England's ability to score against the aforementioned defensive front (granted New England's line faced only two opponents in the postseason, but those two were Denver, led by the stellar rookie linebacker Von Miller, and Baltimore, who I don't need to explain).
When Brady's on the field, I'll be watching Jason Pierre-Paul and Co. get after him. When Manning is on the field, I'll be looking for Rob Ninkovich and the Patriots defense to swing the momentum with takeaways. We also should note how New York has forced six turnovers in the playoffs and how Ninkovich and fellow linebacker Jerod Mayo can be pretty good edge-rushers, too.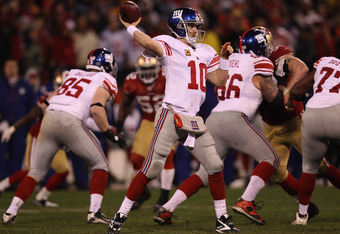 Ezra Shaw/Getty Images
The offenses, and specifically the quarterback duel, is where most everyone's eyes will be.
Manning certainly has been statistically more efficient of the two passers, but Manning faced Atlanta, Green Bay and San Francisco—teams that don't exactly play the ball well in the air. Brady also looked a little slowed down by a nasty pass rush from the Ravens two weeks ago.
Both of these quarterbacks are on the same level talent-wise, so how each makes their reads from play to play will be important. Brady will most likely go to the no-huddle to tire out New York's defensive line, and Manning will simply try to make good decisions and keep the ball in the hands of guys with blue helmets.
In the NFC Championship Game, New York's Victor Cruz had an incredible first half, but in the second half, he was shut down. His consistency will be imperative for Manning's ability to sling it as Cruz's athleticism leads him to be found everywhere on the field.
The pivotal x-factor that would be heresy not to mention is Patriots' star tight end Rob Gronkowski.
He's the monkey-wrench that kills defenses. If he can get open, as per usual, he can give New York problems. That's easier said than done, though, as he has been slowed down all throughout Super Bowl Week after suffering a high ankle sprain two weeks ago.
He is officially listed as questionable for Sunday's game. Gronk has taken some walloping hits and is as tough as anyone you can name in the NFL. There is no doubt "Yo Soy Fiesta" (Spanish for "I'm the party") will play in the Super Bowl. He has been making progress and barring any setbacks, Gronkowski will play. The only question is how much and how well.
The running game is something we have yet to mention and it isn't something I am going to go too far into. The Patriots simply don't go to the ground to win games. Four years ago, they only ran it 16 times because of the front they were up against.
The Giants have had some success with their duo of Ahmad Bradshaw and Brandon Jacobs this year, but they only eclipsed 100 yards once this postseason, and that was a month ago. New England's linebackers, as mentioned, will come from the edge on some plays so New York will have to run inside where a big, 6'2", 325-lb Vince Wilfork will be waiting. Don't be surprised if the ball is in the air a lot.
Needless to say, each of these teams stack up evenly against one another. Each has a true veteran at the quarterback position, unique skill players and head coaches who will be opposing each other in a very important bout of head-games.
Football, though, is no science nor is it a math equation. "On any given Sunday, you're either gonna win or you're gonna lose" as the saying goes and Super Bowl XLVI will be a close one.
I won't bore you, though, with how good both these teams are.
Each of these teams has been in this spot and won before, but only one team has managed to do it thrice.
A lot of us forget how great a defensive mind New England's Bill Belichick is, and this could be the difference.
He was the defensive coordinator for New York in their 20-19 win in Super Bowl XXV against Buffalo. We may see a lot of defensive stunts from New York, but we will also some interesting things from New England.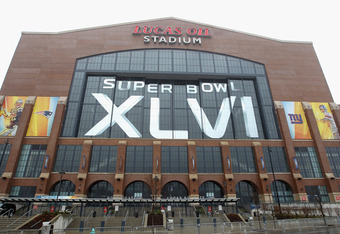 Ezra Shaw/Getty Images
One of the most eye-catching of those things is a 5'11" utility player. 
Julian Edelman is one tough little guy. He plays slot receiver as a Wes Welker type, and it can be hard to keep up with his quickness. He also plays defensive back, usually as the nickel, guarding opposing slot receivers so he knows what they're thinking even before they do. When he goes in is decided arbitrarily by Belichick which will keep Eli Manning guessing. He's also tough, and receivers may have trouble getting off the line if he's on them. Edelman could be a screwball who can throw off Tom Coughlin's game plan.
Belichick will also be pulling out all the stops, on defense and on offense, for this game. Not that Couglin disappoints, but I'll take Belichick's surprises, some of which no one will see coming, in the Super Bowl over Coughlin.
As I said, this one could go either way. The Northeastern United States probably has a lot of pride right now, but everyone will be watching Sunday to see if the Giants can take down the NFL's most consistent juggernaut.
Eli Manning and Tom Brady will go at it to crown the world champions, each backed up by their defense with its own unique recipe for success. 
Sunday in Lucas Oil Stadium, in Super Bowl XLVI, Tom Brady will be joining a select few (Terry Bradshaw of the Pittsburgh Steelers and Joe Montana of the San Francisco 49ers)—quarterbacks who've won four Super Bowls in their career.