UFC 143 Predictions: Fabricio Werdum Will Submit Roy Nelson
February 4, 2012

While Nelson has slimmed himself down after years of being overweight it won't help him tonight at UFC 143 when Fabricio Werdum makes him tap out.
Nelson is the more well-rounded fighter, but, after years of allowing his body to be out of shape, he is less well-rounded physically.
At UFC 137, Nelson hid his physique before the fight only to appear in the cage in the best shape of his life. Seeing a healthier Nelson was a shock, but it came as no surprise that he was able to dispatch Mirko Cro Cop.
Cro Cop had long since lost his ability to test fighters the same way he had to in Pride, but that didn't take much away from the win and the fact that Nelson was finally taking his career as a martial artist seriously.
Now he faces Fabricio Werdum tonight, and if he can keep the fight standing he will once again walk away victorious.
The problem is he won't.
This statement would have had more potency before June 2011 when Werdum lost a decision to Alistair Overeem. Before the loss Werdum was riding a three-fight win streak with wins over Mike Kyle, Antonio Silva and, of course, Fedor Emelianenko.
But the losses Werdum has acquired are only to top talent.
He has lost to Alistair Overeem and Junior Dos Santos in the last two years. While Nelson has better stand up then Werdum, it isn't to the level where he can emulate the kind of damage that Overeem or Dos Santos inflicted on the Brazilian Jiu-Jitsu expert.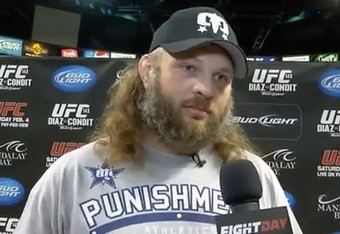 So the fight will end up going to the ground where Nelson and Werdum are both experts.
Nelson received his black belt in Brazilian Jiu-Jitsu from Renzo Gracie.
But Werdum has something that Nelson doesn't. Before he started fighting in MMA, he was a teacher of Brazilian Jiu-Jitsu.
Teaching someone else the basics over and over again gives the teacher an appreciation for the smallest details and shows them thing they didn't know while they were learning.
Werdum even has his own school now.
This means that even when he isn't training for a fight he is practicing his BJJ and is learning by teaching. He goes over the basics every day because he has to.
The fact that Nelson has to get in shape for his fights means that he takes time off.
A teacher doesn't have that luxury. Students need to be taught every day, and so there is not time off for someone like Werdum.
When the fight hits the ground that difference will show itself, and Nelson will learn too late that it takes more than getting in shape to win fights.
As for Werdum, after the fight it will be back to teaching as usual.
Matthew Hemphill writes for the MMA and professional wrestling portion of Bleacher Report.  He also hosts a blog elbaexiled.blogspot.com that focuses on books, music, comic books, video games, film and generally anything that could be related to the realms of nerdom.