Super Bowl 2012: 4 Reasons 2012 Game Will Be More Entertaining Than 2008 Classic
Win McNamee/Getty Images
The Patriots and Giants 2007 Super Bowl matchup proved to be a thriller, going down to the wire and ending as an instant classic. The victory went in favor of the Giants, 17-14, but both teams carried plenty of excitement.
The most famous highlight of the game came on a Giant 3rd-and-5 with 1:15 remaining in the game. Wide receiver David Tyree made an incredible one-handed catch, pinning the ball to his helmet and holding on to get the first down, which prolonged the drive. The Giants then went on to score what would be the winning touchdown.
The closeness of the game paired with Tyree's play—which will go down as one of the best in Super Bowl history—will be hard to top excitement-wise, but that's not to say this year's game doesn't have the potential.
Brady vs. Manning Again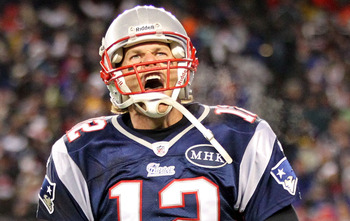 Jim Rogash/Getty Images
Last time Tom Brady and Eli Manning faced off in the Super Bowl, it was more of a David vs. Goliath matchup.
Brady was the veteran quarterback with multiple Super Bowl rings on the hunt for another, leading his undefeated team to the championship.
Manning, on the other hand, was playing in his third postseason ever and had managed together three straight wins, despite having never won a playoff game before.
Manning overcame Goliath, defeating New England and garnering MVP honors.
This time, though, the playing field is much more even. Experts' choices regarding the winner have gone nearly 50-50.
Manning is widely considered the hottest quarterback right now, and Brady is the guy playing with something to prove.
Sure, Brady has already solidified his spot in history, but he still has a Super Bowl loss he would like to avenge.
This game could be another down-to-the-wire battle, between two quarterbacks building legacies.
Madonna vs. Tom Petty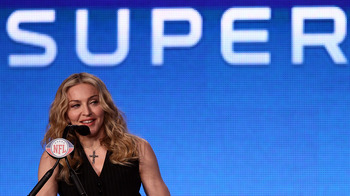 Win McNamee/Getty Images
Sure, the halftime show is not part of the actual game, but in terms of entertainment, it doesn't get much better than Madonna.
For goodness sakes, it's Madonna!
Nothing against 2007's halftime performer Tom Petty, but it's hard to compete with the Queen of Pop.
What will she wear? Which of her hits will she play? Who will she bring out with her? What crazy stunts will she pull?
These are all exciting questions to ponder about one of the most anticipated halftime shows in Super Bowl history.
Madonna said herself that she has a few big surprises up her sleeve for the crowd and that she intends to "knock people of their seats."
With or Without the Gronk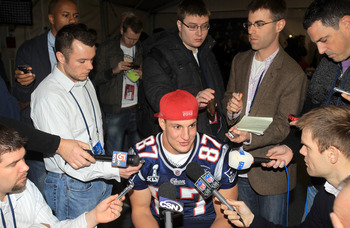 Scott Halleran/Getty Images
As of right now, Tom Brady's top receiving target, Rob Gronkowski, is still out nursing an ankle injury and his game status is questionable.
If Gronk is good to go, the question is how much he will play.
Without Gronk, the tables are set up perfectly for the next David Tyree.
Will Ochocinco's career reemerge and fill in the void for the Patriots, or will two-way player Julian Edelman step in and be the game hero?
These are all exciting possibilities if Brady is without his favorite receiver.
Battle of the Lines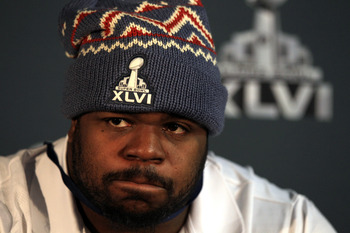 Scott Halleran/Getty Images
The Giants offensive line verse the Patriots defensive line, and vice versa, are going to be exciting up-front battles to watch all game long.
The Giants offensive line has struggled as of late, especially last game. They allowed six sacks and 12 hits on Eli Manning verse the 49ers.
How will they handle big bad Vince Wilfork?
On the other hand, the Patriots offensive line has been pretty solid, but the Giants have one of best corps of defensive ends in the game.
If you can remember back to 2007, New York's line got the best of New England's, sacking Brady a whopping six times.
Will New England be better prepared for the Giants' rushing onslaught this time around?
Also, keep your eyes peeled for some chippy play, as these units have gotten into their fair share of scuffles.
Keep Reading