Arsenal vs. Blackburn: Gunners Lay Siege to Paul Robinson's Net, Win 7-1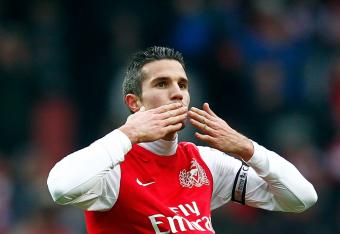 Paul Gilham/Getty Images
Facing embattled Blackburn, Arsenal sought to reestablish their winning ways at the Emirates and deflect the harsh cries of the critics for not bringing in a major signing during the January transfer window.
Mission accomplished.
On a freezing day where the home fans failed to fill every seat in the Emirates Stadium, the Gunners rediscovered their offensive touch and provided their supporters with a goal-scoring feast that they haven't enjoyed since hosting Slavia Prague in the Champions League in 2007 (7 - Nil).
It was a day of rejoicing as Robin van Persie netted a hat trick, Alex Oxlade-Chamberlain scored his first two goals in the Premier League, Mikel Arteta slotted home his fourth of the campaign and Thierry Henry added No. 228 to his total Arsenal tally.
It all started early as Theo Walcott placed a perfect cross to RvP for the opening goal within 80 seconds and the stadium was rocking. The Gunners would dominate possession (68 percent), but a slight gaffe gave the Rovers a brief respite. Morten Pedersen scored a sublimely placed free kick into the upper left corner of Szczesny's net to bring Blackburn even.
Then Arsenal took back control.
The score remained 1 - 1 until the 38th minute when RvP netted his second. The Ox scored his first-ever Barclays Premier League goal less than two minutes later. The rout would reach full tilt in the 43rd minute when Gael Givet was sent off with a straight red card for a two-footed challenge on van Persie.
It doesn't take a genius to realize the plight of the Rovers, who were down to ten men and trailing 3 -1 going into halftime. It then didn't take long for the Gunners to take aim and put Blackburn down for good.
Goals from Arteta, Ox and RvP in the 51st, 54th and 62nd minutes laid to rest any doubts that the Gunners wouldn't prevail and saw the substitutions of Sagna, Henry and Benayoun onto the pitch.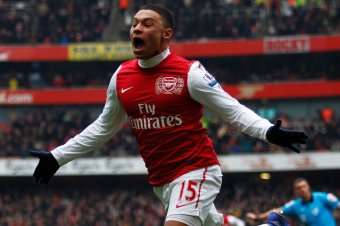 Paul Gilham/Getty Images
It what could be described as a training ground exposition, Arsenal continued to dominate possession with Rovers rarely touching the ball.
Their few touches finally ended in disaster as Grant Hanley stumbled on the ball, and Henry pounced, dispossessing him and surging forward. A deft pass to RvP was gifted back, and Thierry Henry placed the cherry on the sundae with his 228th goal for Arsenal seconds before the final whistle sounded.
All told, it was a glorious day for the Gunners, as they notched their first win of the season and finally utilized their unique talents to the fullest.
Theo Walcott and Ox were terrifying on the wings, blowing past the fullbacks and providing excellent service into the center of the pitch.
The accuracy that eluded the Gunners mid-week was found once more as the Gunners scored on 87.5 percent of their shots on goal (seven goals on eight shots). They were tantalizingly close with a number of other attempts, including a Vermaelen volley that struck the left goalpost and a Mertesacker header that was nicked over at the last by a defender.
This is the Arsenal that everyone wishes to see, displaying a fluid attack that can unlock a defense (not that Blackburn's defense is particularly solid) and run the opposition ragged.
The Arsenal players also showed remarkable conviction in nearly every move, moving away from the stagnant side-to-side passing displays they have shown much of the year in favor of a passing attack that continuously moved the ball forward on the pitch.
While there was some stumbling at the back, we also saw from Mertesacker what we wished when he showed up over the summer.
He used his head to win the ball in both offense and, more importantly, defense! While one of the headers was a bit nervy for Szczesny, the rest were good, directed passes or clearances from the box as well as a possible scoring chance from one of Arsenal's corners. The big German definitely showed that he is continuing to find his legs in the EPL.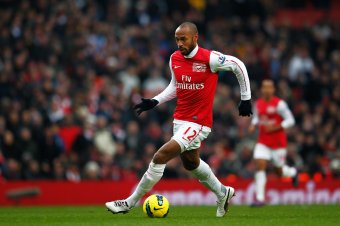 Paul Gilham/Getty Images
While this will hardly silence the critics, it is days like these that give testament to the firepower that Arsenal can bring to bear. When they play as they played today, there are few teams that can touch them and even fewer who can defeat them. If they can continue with this sort of consistency, fourth is certainly attainable.
Now if only the Gunners can sustain this kind of performance at Sunderland next week!
Gooner for Life!
Game Notes:
-Robin van Persie's hat trick moved him past Dennis Bergkamp for sole possession of 10th place on Arsenal's all-time goal scorer's list. He now sits at 123 goals, one shy of tying David Jack for 9th and two short of Joe Hulme's 125. The Flying Dutchman has continued his rich vein of form that began with his return last year and now has 22 goals on the season.
-Alex Oxlade-Chamberlain made a memorable third Barclays Premier League start today, notching not only his first goal in the EPL but also his second. Both goals showed the youngster's prowess, as he deftly rounded keeper Paul Robinson for his first and utilized his quick feet to switch the ball to his right away from the defender and strike home his second.
It is little wonder that Arsenal fans (this one included) have been clamoring for his regular inclusion in the side. He is already a much more refined product than fellow Southhampton Academy prodigy Theo Walcott. If his performances are glimpses into the future in North London, then the future looks bright indeed!
-Thierry Henry was subbed onto the pitch in the 68th minute and showed a bit of rust, while also showing his impressive control of the ball. A small display of these skills was shown as he collected a pass in the center of the pitch and juggled the ball around Anthony Modeste before the Blackburn player pulled his arm for the foul.
His predatory instincts were on display, however, as he seized his chance in stoppage time, taking advantage of Hanley's miscue to set up his first EPL goal in five years. Chalk up Arsenal goal No. 228 and EPL goal No. 175.
-This win nullifies the horrible goal-difference incurred by the Gunners in the Mauling at Manchester, affording them an extra buffer against Newcastle, Liverpool and Sunderland should the teams be level on points. It also draws Arsenal within three goals of the Blues, as they seek to take back that vital Champions League position.
This article is
What is the duplicate article?
Why is this article offensive?
Where is this article plagiarized from?
Why is this article poorly edited?

Arsenal: Like this team?