2012 NFL Mock Draft: Jaguars Need Jonathan Martin More Than a WR in 1st Round
February 4, 2012

Kevin C. Cox/Getty Images
Jacksonville Jaguars quarterback Blaine Gabbert will never be able to prove his worth in the NFL unless the team takes his protection seriously, which is why they need to take Jonathan Martin in the first round of the 2012 NFL draft.
Many mock drafts these days have the Jaguars taking a wide receiver with the seventh overall pick of this year's draft. While I'm aware of their desperate need for help at that position, I've observed that talented receivers don't reach their full potential when their quarterback is laying on the ground in the fetal position.
Unless you're the Indianapolis Colts and you have Peyton Manning as your quarterback (pre-injury, that is), winning starts in the trenches. 
I personally like Martin more than I like Matt Kalil. I know that this is a contrarian view, but Martin seems to have more leverage in pass protection, and his run blocking is far superior. Kalil gets beat on powerful inside moves, and in the NFL he's going up against much stronger, quicker men than he faced in college.
So, if the Jaguars do take Martin, I believe that they would have gotten the best offensive tackle in the draft. Plus, after Justin Blackmon, the remaining receivers are far from locks to succeed in the NFL. 
The Jaguars will still be able to find some receiving help in the draft, and free agency in 2012 is chock-full of talented wide-outs. 
In this year's draft, Reuben Randle (LSU), Nick Toon (Wisconsin) and Juron Criner look like solid options in the second round. After that, I like the two receivers from Arkansas, Joe Adams and Jarius Wright, a couple of speedsters.
The bottom line is that the Jaguars need to provide some security for their young quarterback, both in pass protection and on the receiving end of the passing game.
Pass protection is far more pressing a need for the Jaguars, and Martin is a better prospect than Alshon Jeffery, Michael Floyd and the rest of the receivers in the first round.
Check out my latest mock draft and let me know what you think in the comments section below.
1. Indianapolis Colts: Andrew Luck, Quarterback, Stanford
2. Cleveland Browns (Trade with St. Louis Rams): Robert Griffin III
3. Minnesota Vikings: Matt Kalil, Left Tackle, USC
4. St. Louis Rams (Trade with Cleveland Browns): Justin Blackmon, Wide Receiver, Oklahoma State
5. Tampa Bay Buccaneers: Morris Claiborne, Cornerback, LSU
6. Cincinnati Bengals (Trade with Washington Redskins): Trent Richardson, Running Back, Alabama
7. Jacksonville Jaguars: Jonathan Martin, Left Tackle, Stanford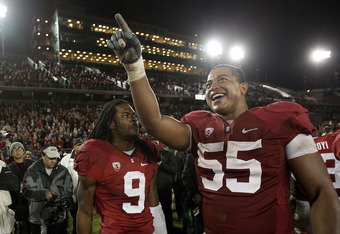 Ezra Shaw/Getty Images
8. Miami Dolphins: Courtney Upshaw, Outside Linebacker, Alabama
9. Carolina Panthers: Quinton Coples, Defensive End, North Carolina
10. Buffalo Bills: Riley Reiff, Left Tackle, Iowa
11. Kansas City Chiefs: Dont'a Hightower, Inside Linebacker, Alabama
12. Seattle Seahawks: David DeCastro, Offensive Guard, Stanford
13. Arizona Cardinals: Alshon Jeffery, Wide Receiver, South Carolina
14. Dallas Cowboys: Janoris Jenkins, Cornerback, North Alabama
15. Philadelphia Eagles: Michael Brockers, Defensive Tackle, LSU
16. New York Jets: Nick Perry, Defensive End/Outside Linebacker, USC
17. Washington Redskins (Trade with Cincinnati Bengals): Luke Kuechly, Middle Linebacker, Boston College
18. San Diego Chargers: Whitney Mercilus, Defensive End/Outside Linebacker, Illinois
19. Chicago Bears: Michael Floyd, Wide Receiver, Notre Dame
20. Tennessee Titans: Peter Konz, Center, Wisconsin
21. Washington Redskins (Trade with Cincinnati Bengals): Ryan Tannehill, Quarterback, Texas A&M
22. Cleveland Browns (From Atlanta): Kendall Wright, Wide Receiver, Baylor
23. Detroit Lions: Dre Kirkpatrick, Cornerback, Alabama
24. Pittsburgh Steelers: Mike Adams, Offensive Tackle, Ohio State
25. Denver Broncos: Devon Still, Defensive Tackle, Penn State
26. Houston Texans: Dontari Poe, Defensive Tackle, Memphis
27. New England Patriots (From New Orleans): Mark Barron, Strong Safety, Alabama
28. Green Bay Packers: Melvin Ingram, Defensive End/Outside Linebacker, South Carolina
29. Baltimore Ravens: Vontaze Burfict, Inside Linebacker, Arizona State
30. San Francisco 49ers: Alfonzo Dennard, Cornerback, Nebraska
31. New York Giants: Lamar Miller, Running Back, Miami
32. New England Patriots: Chase Minnifield, Cornerback, Virginia