Fabricio Werdum Talks Roy Nelson, Grudge Match with Overeem, and More
February 4, 2012

Ethan Miller/Getty Images
Some individuals simply love to fight. The feel of their fist connecting with another man's chin gives them chills up and down their body.
And as far as the rest go? Well, some men just need to eat.
Fabricio Werdum (14-5-1) was one of those men.
"I was broke," UFC star Werdum told Bleacher Report.
"To be completely honest, I had no money and at the time, that was the only thing I knew to do for an income," laughed Werdum. "
No longer broke, Werdum is now fighting at the highest stage of MMA where he will square off with Roy "Big Country" Nelson (16-6) in the co-main event at UFC 143.
Werdum made one thing clear—he doesn't want to judges' scorecards to play any result in the outcome of his bout.
"I want to finish Nelson as soon as possible. The last thing I want to do is go to a decision. I don't want to take it to the judges," stated Werdum. "My goal is to end the fight in the first or second round if at all possible."
As far as advantages go, Werdum believes that is long gone in today's version of MMA.
"Roy is a great fighter with a really strong right hand. He's also dangerous because he has a good ground game," shared Werdum. " I think the fight will be really amazing and something for the fans to truly enjoy."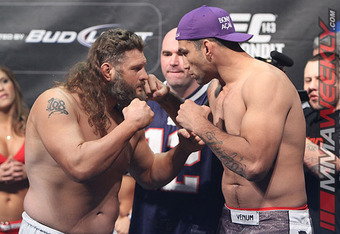 "As far as advantages go, I don't think they exist in mixed martial arts anymore. There are no more easy fights especially with the way the heavyweight division has recently evolved," said Werdum.
While Werdum has certainly become a global name in the world of MMA, he is often brought back to how he first encountered the sport years ago.
"It was guys like Wanderlei Silva and Minotauro Nogueira who influenced me into trying the sport. As a result, I'm a world champion in jiu-jitsu," stated Werdum. "I always loved watching those guys fight in PRIDE, and I still watch the replays even today."
Werdum's dominance has allowed him to capture three wins in his last four outings, including a stunning submission victory over Fedor Emelianenko, putting an end to his historical 10-year winning streak.
"Vai Cavalo" also recognized as "Go Horse" shared how his dream of returning to the Octagon was fulfilled by one simple phone call.
"I actually found out when Joe Silva called me on the phone. He told me that I had the opportunity to return to the UFC. It's a recognition of all of my hard work and determination," said Werdum. "This was what I always wanted since I left the UFC the first time."
While Werdum's focus is primarily on Nelson and the task at hand, he often envisions a grudge match against UFC's newest rising star in Alistair Overeem.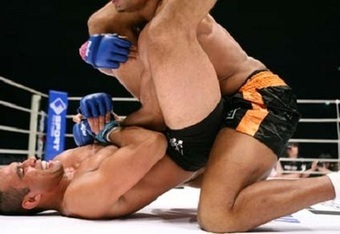 Werdum, one of the few martial artists to have Overeem's number, was able to defeat him by submission in 2006 and fall in a close decision just a few months ago.
The newly acquired heavyweight weighed in on a potential showdown with "The Reem."
"I for sure have some unfinished business to take care of with Alistair. But, as I said before, right now I'm just thinking of and focusing on Roy," stated Werdum.
Not only does Werdum want to defeat Nelson and eventually move on to Overeem but he wants to capture the UFC's heavyweight title.
When asked if a win over Nelson would be enough to earn himself a title shot, Werdum stated,
"When it really comes down to it, that's Dana's decision to make. I want it to be a step-by-step process," shared Werdum. "I want the UFC belt badly and I will get it."
Every time Werdum enters the Octagon, not only is he representing himself and his home country of Brazil, but those who've helped him along the way.
Werdum expressed a significant amount of thanksgiving for all the support he's received over the years.
"Kings MMA and Werdum Combat Team have helped me prepare for this fight against Roy," said Werdum. "I also need to thank my Shiatsu therapist, Guto Orelha."
"And, of course my family, my wife Karine and my daughter Julia."
For additional information, follow Garrett Derr on Twitter.