Super Bowl 2012: Final Thoughts for Patriots Fans Before Game Day
February 4, 2012

So here we are.  
Word on the street is the New York Giants are going to win. At least, that's what I've been told by every single person I've spoken to in the last few days. If you've turned on the radio or the television or spoken to anyone recently, my guess is you've heard similar things.
So where do you stand, Patriot Nation? Do you believe the media hysteria surrounding the Giants, or do you still believe in your New England Patriots? It all comes down to which philosophy you adhere to: Do you go with the team that's hot, or do you go with the team that's consistent?
It's tough winning 10 games or more in a season—since 2001, the Giants have done it five times. By comparison, the Patriots have done it 10 times. Consistency matters.
In 2001, the Patriots won 11 games without their starting quarterback. They did it again in 2008. Consistency matters.
Tom Brady won three Super Bowls before he turned 28. Later on, he won two MVP awards. Last season, he was the first player in history to win it unanimously. Consistency matters.
Bill Belichick won two Super Bowls with the Giants, then three more with the Patriots. Last season, he won his third Coach of the Year award. Consistency matters.  
We take Eli Manning's elite status for granted now, but how quickly we forget: Up until the Giants dismantled the New York Jets in Week 16, the critics were undecided about the scope of Manning's talent. Tom Coughlin's job was up in the air, New Yorkers were angry with Perry Fewell and the Giants had a knack for losing to inferior teams. Inconsistency matters.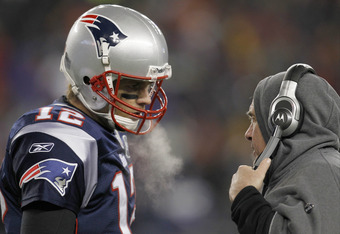 Manning and Coughlin may stamp their tickets to the Hall of Fame with a win on Sunday, but a Giants loss would put them both back at square one. On the flip side, Brady's and Belichick's tickets are stamped regardless of the outcome. Inconsistency and consistency matter.
Now, here's where the Giants find their consistency: They were the more physically aggressive team heading into Super Bowl XLII, and the same was true earlier this season when they stormed into Gillette Stadium like a pack of hungry dogs. Against the Patriots, the Giants consistently play excellent football. Again, consistency matters.
But let's analyze those two Giants victories. Both games required Manning to spearhead game-winning drives. The physically superior Giants won by a hair both times. On top of that, both game-winning drives required unbelievable throws that were followed by unbelievable catches.
In both games, Tom Brady combined for almost as many interceptions as touchdowns (two picks, three bull's-eyes). Wes Welker combined for zero touchdowns. The Patriots combined for just 34 points. Even when they had the lead, the Patriots were never in control of either game.
Does that information affect your perspective on the Giants' consistency? Does it even matter? You make the call.  
In both games, the Patriots were mediocre and the Giants were fantastic. It's difficult to imagine the Patriots can play any worse on Sunday than they did in their last two battles with the Giants. Chances are they will not sink that low three times in a row. Therefore, reason has it that they can only play better. Knowing Tom Brady as we do, it will likely be far better.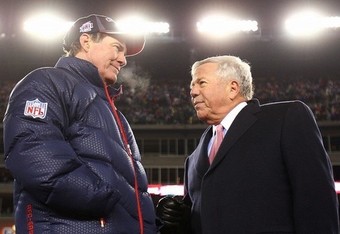 Conversely, it's difficult to imagine the Giants can play any better against a motivated Patriots team currently playing their best football in years. My guess is New York will perform with the usual excellence they reserve for New England. But will they play better than that? You make the call.
How will New England play? Will the Patriots suck three times against the same team? Possibly, but unlikely. Will Tom Brady have three flat games against the same team? Possibly, but unlikely. Are two losses to the same team and two weeks of preparation enough for Bill Belichick to craft a great game plan? Highly likely.
For many Patriots fans, the memory of Super Bowl XLII still stings. Consistency breeds expectation, but even destiny isn't guaranteed. These are the lessons that Patriots fans learned the hard way.
So here we are again, and the road to victory goes through a familiar fire. Best of luck, Patriot Nation. This one's for all the marbles. If you get a little nervous, just remember that Tom Brady, Bill Belichick and MHK are on your side.