2012 Green Bay Packers: A Die-Hard Fan's Lament
February 4, 2012

Having been born in Wisconsin on the same day, October 11, as Lambeau Field broke ground, I have certain impenetrable allegiances.
1. I believe cheese is the most satisfying snack food of all time.
2. I always choose Miller Lite over any other light beer because it's Milwaukee-based.
3. I am a Green Bay Packers fan.
My bond with the Packers is stronger than marriage. Divorcing my Green Bay Packers is not an option. I'm so loyal that I cannot even consider running off with some new, young tart franchise like the Carolina Panthers or Jacksonville Jaguars.
No, my band of green and gold binds me to the Packers, for better or for worse, in poor seasons and in successful ones, until death do we part.
As the Super Bowl approaches, I get pangs of sorrow and deep disappointment at what should've been for my Packers: a repeat Super Bowl championship.
We were favored at the beginning of the season. Our 15-1 season affirmed that potential. But one stupid, inexplicable, lousy playoff game and we're once again on the outside, looking in at the Super Bowl party, as we have for all but three years of my life.
Misery loves company, and I have plenty of company. Most NFL fans are loyal, but Green Bay fans are uniquely so.
We own our team. We have sold out every seat in the stadium since 1960. That statistic means the Packers have filled their stadium for 52 seasons. Seventeen, or one-third, of those seasons were losing ones.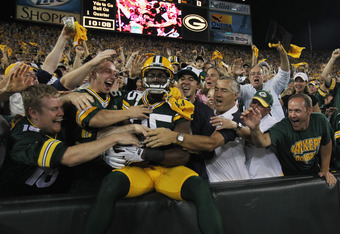 Jonathan Daniel/Getty Images
And this week, I'm asked: "Who do you want to win the Super Bowl? The Patriots or the Giants?"
I wistfully reply: "The Green Bay Packers."
It's times like these that I envy the passive NFL observer or fan.  They don't get too high or too low with any particular team's record. "Oh, I enjoy watching good games," they say. 
I'm amazed by those who like several different teams. I'm sorry, but I don't care how any other team does unless it affects my Packers.
To a true fan, each win feels like a kiss from a pretty girl. A Super Bowl feels like an all-expenses paid vacation with the pretty girl. And each loss feels like a speeding ticket. A losing season feels like a jail sentence.
But not getting to be a Packers fan would feel like death. I guess that's why they call me a die-hard. I was born a Packers fan and I will be one until death do I part.
So, next year and every year until I go: Go, Pack, go!