North Carolina vs. Maryland: TV Schedule, Live Stream, Spread Info and More
February 4, 2012

Streeter Lecka/Getty Images
The Maryland Terrapins hope for their biggest win of the season tomorrow afternoon as they host the No. 6 North Carolina Tar Heels. The Terps have lost four of five, dropping to 3-4 in ACC play and three games behind the co-leaders from Chapel Hill.
Where
Comcast Center (College Park)
When
Saturday at 4:00 p.m. ET.
Watch
ESPN, or live stream at ESPN3.com
Listen
North Carolina: 1360 WCHL-AM
Maryland: 105.7 WJZ-FM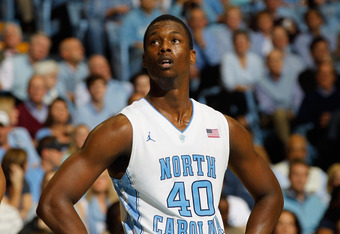 Streeter Lecka/Getty Images
Betting Line
Tar Heels -13, according to docsports.com. With Harrison Barnes unlikely to be 100 percent, the Tar Heels are a poor pick to cover such a large spread on the road.
Key Injuries
North Carolina SG Dexter Strickland (knee), out for season according to cbssports.com
North Carolina SF Harrison Barnes (ankle), "in doubt" for Saturday vs. Maryland as reported by the Charlotte Observer.
What's At Stake?
Maryland is all but out of the running for the NCAA Tournament, but a win here would certainly help its NIT appeal. The Tar Heels, who already suffered one humiliating road upset at Florida State, must avoid another conference loss to stay in a first-place tie heading into Wednesday's showdown with archrival Duke.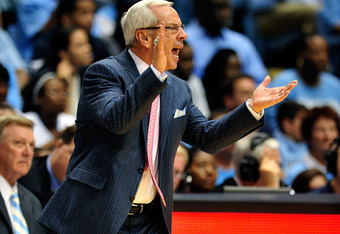 Grant Halverson/Getty Images
What They're Saying
North Carolina coach Roy Williams saw a silver lining in his team's awful shooting performance against Wake Forest on Tuesday. "It was an ugly game," he told ESPN, "and sometimes you have to win ugly if you're going to have a great year."
Maryland's head man, Mark Turgeon, is facing the coach under whom he served as an assistant at Kansas, but he knows he has bigger problems tomorrow. As he told the Washington Post, "I'm not worried about coaching against Coach Williams. It's more about Harrison Barnes and all those studs they run out there on the floor."
North Carolina Player to Watch
SF Harrison Barnes is battling an ankle injury for the second time this season. Considering that the last time he was questionable for a start—back on November 30—he scored 20 points on the vaunted Wisconsin defense, Barnes could be in for another big showing.
Maryland Player to Watch
SG Terrell Stoglin has put the team on his back this season, averaging an ACC-high 21.8 points per game. If the Terps are to have any chance at scoring the upset here, Stoglin must light up a Tar Heel team that's without its best perimeter defender in Dexter Strickland.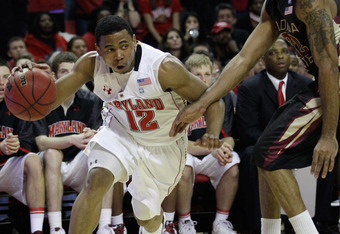 Rob Carr/Getty Images
Key Matchup
North Carolina C Tyler Zeller vs. Maryland C Alex Len. Even if he comes off the bench as he's been doing lately, the 7'1" Len will be Maryland's best weapon against the 7'0" Zeller and his 15 points per game.
Prediction
Maryland couldn't put up much of a fight against Duke on this floor, and North Carolina won't be any easier a foe. Stoglin and backcourt mate Pe'Shon Howard will put up a fight, but the Terps don't have enough weapons to run with the high-scoring Tar Heels.