5 College Basketball Teams Falling Apart at the Wrong Time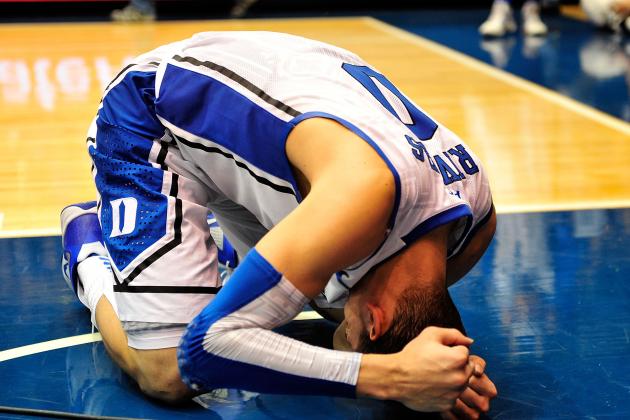 Grant Halverson/Getty Images

Since the beginning of the sport, programs have been plagued year after year with the curse of coming up short late in the season. We've all seen it happen, and although it's hilarious when it's your rivals who fall, it can be extremely depressing when it's your own squad taking the hit.
This season is no different than all the ones that came before it, and as March Madness approaches, we take a look at the top five teams that are hurting their seed in the big dance with their late conference play.
Whether it is a sudden lack of production on the court, injuries or even stunning upsets at the hands of unranked squads, these five programs lit it up in the first half of the year only to now be threatening themselves with either a lower or even no seed in the NCAA tournament.
Begin Slideshow

»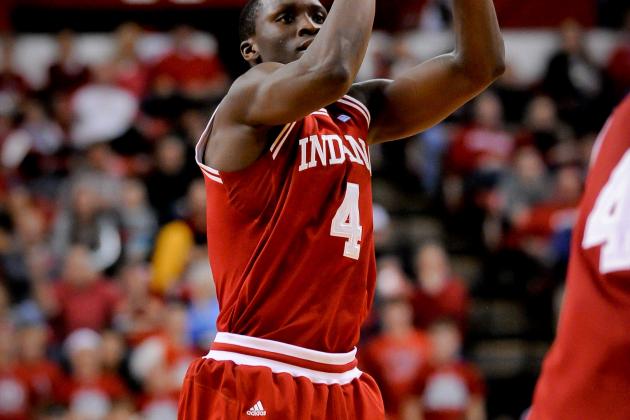 Eric Francis/Getty Images

The Hoosiers are the only squad in the country to have taken down the No. 1-ranked Wildcats, beating Kentucky at home with a stunning three-pointer at the buzzer. Now, however, Indiana is struggling to stay afloat in a very tough Big Ten.
IU looked unstoppable until its loss at East Lansing, dropping the Hoosiers from the ranks of the unbeaten. Since then, they have fallen in five conference games, including two to unranked squads Nebraska and Minnesota.
Their most recent has come to surprise Big Ten player Michigan up in Ann Arbor. To get back on track for the big dance, Indiana has to win out and take down big-shot Michigan State in Bloomington.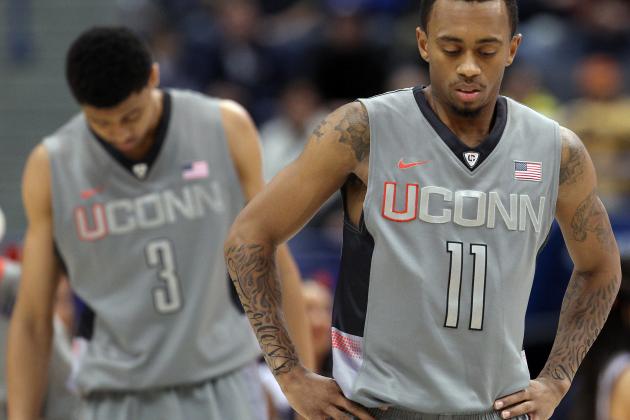 Elsa/Getty Images

As the defending champs of the big dance, it is expected for the Huskies to return in style. At first, Jeremy Lamb and UConn were looking extremely solid, only owning one loss heading into conference play.
Then, the Big East struck back with a vengeance. Falling first to Seton Hall and Rutgers, the Huskies dropped four in a row, including losses to Georgetown and Notre Dame. As of just yesterday, UConn took on another loss on account of the Cardinals down in Louisville.
With Jim Calhoun taking leave due to medical issues, the Huskies are seriously out of luck. I can't see them going very far in the tourney if they even make it. Honestly, however, the Huskies' only shot at a comeback would be playing for Calhoun in what would have to be an admirable performance.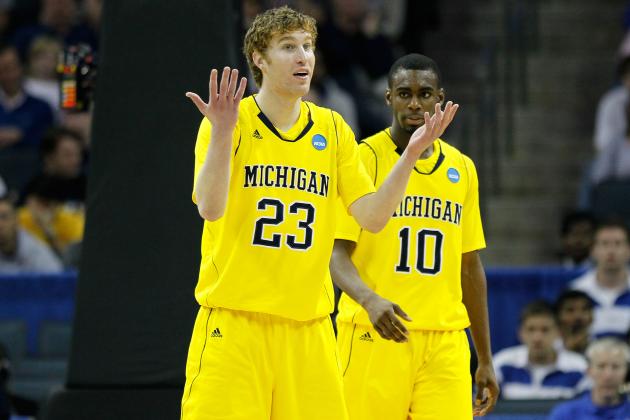 Kevin C. Cox/Getty Images

Really coming into their own this season, the Wolverines have shown up in a brilliant Big Ten. Taking down powerhouses Indiana, Michigan State and Wisconsin so far, their only shot at stealing the conference title would be to win out—including Big Ten leader Ohio State.
Unfortunately, that possibility got a lot slimmer with their loss to the Spartans back on Super Bowl Sunday. Facing an upset-minded Illinois team twice in the remaining conference play also doesn't assist the Wolverines.
With an underrated Nebraska, the powerful Ohio State and Illinois over the next three games coming off the MSU loss, I can't see Michigan rallying back to secure a solid seed in the big dance. Looking as low as coming in as a No. 12 position (depending on the Big Ten Tournament), the Wolverines don't have the luxury to play like they did at East Lansing again.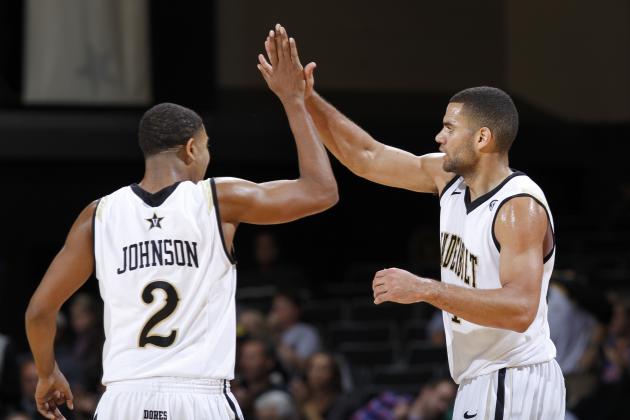 Joe Robbins/Getty Images

During the beginning of the season, Vanderbilt impressed against tough teams. Their OT losses to Xavier and Louisville were rough, but wins over Marquette and Alabama made up for those setbacks.
As the Commodores entered conference play, they went strong until another OT loss to Mississippi State. Since then, things have been less than ideal, as back-to-back losses at Arkansas and Florida plague Vandy.
Furthermore, things shouldn't be looking up for a while now, as home games against No. 1-ranked Kentucky and an upset-minded LSU approach quickly. Taking down the Wildcats would be the way to grab everyone's attention, but the more I watch the Commodores, the less confidence I have in that prospect coming true.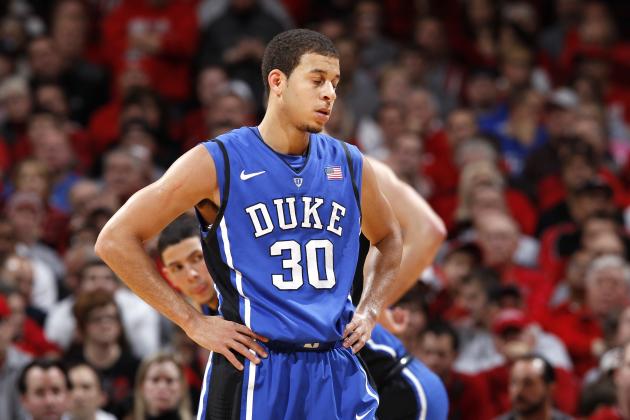 Joe Robbins/Getty Images

It is hard to say the Blue Devils are "falling apart" due to the fact they only have four losses on the year, the most recent coming in OT to Miami. However, falling to weaker squads such as Temple and Florida State is what makes me have doubt in Duke's performance for the rest of the regular season.
I wouldn't be surprised if UNC took them down in both games this year. Facing off against the Tar Heels tomorrow, the Blue Devils seemingly have no shot after their despicable play at home against the Hurricanes.
With both matchups remaining against North Carolina as well as a game against Florida State in Tallahassee, Duke has a tough conference finale coming up. Retaining the possibility of the Blue Devils securing a one seed is highly unlikely considering, but leave it to the winningest coach in college basketball to pull off a miracle.