Miami Dolphins: 5 Offseason Adjustments Team Needs to Make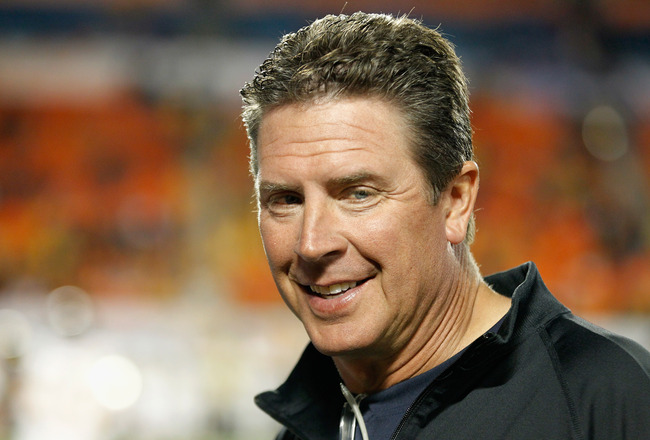 Streeter Lecka/Getty Images
After a surprisingly strong finish to the 2011 season, and with the hiring of Joe Philbin, the Dolphins are primed to make some noise in the increasingly weak AFC in 2012.
If Miami's wild-card competition is Denver, Cincinnati and the Jets, then playoffs should become a reality.
Here are five changes they can make to finally break out of mediocrity.
1. Find a Legitimate Franchise QB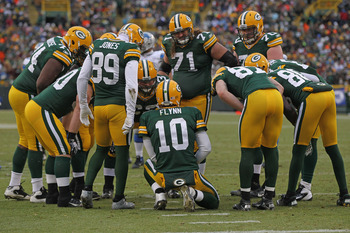 Jonathan Daniel/Getty Images
If I had written this article for the past ten years, this would have been the first slide every time. Now is as good chance as the Dolphins have ever had at finding the answer at this oh so crucial position.
With Matt Barkley staying in SoCal, and Miami picking at 8 or 9, the Dolphins will not be drafting a quarterback this year. This initially seemed like a disaster for them, but there are some nice (and seemingly realistic) options in free agency.
The Dolphins have been named, according to The Sun Sentinel, as one of the suitors for Peyton Manning upon his release from the Colts, which seems extremely likely to happen. I'd say the Dolphins would be one the leading candidates for the hall of famer's services once he hits the market.
Owner Stephen Ross will do and spend whatever it takes to get him, the Dolphins have a pretty good roster, he'd get to play Tom Brady twice a year, and I'm sure Peyton wouldn't mind living in Miami.
But is this the right move?
I personally believe going all in on Manning is too risky. Yes, if he is 100% healthy and firing on all cylinders then the Dolphins are Super Bowl contenders for the next three or so years. But that is extremely far from being a guarantee.
He's going to be 36. How much does he have left in the tank? How much will he resemble the Peyton Manning of old? Can he still take NFL hits on a week in week out basis?
More importantly, what if Miami pursues him with all their might, lose out, and then all the other options have signed with other teams? Now that's a real disaster.
The Dolphins should play it safe and just get Matt Flynn. It's a slam-dunk. Miami was considered a leading candidate for him BEFORE Flynn's O-coordinator became the head coach of the Dolphins.
Yes he has only played two NFL games but all signs point to him being the real deal and certainly an upgrade to Matt Moore (no disrespect to Moore who did everything you could've asked him to this season).
Matt Flynn is only 26. Sure the rewards with a healthy Manning are potentially great but we'd be going through this again three or four years from now. Flynn seems like a legitimate long-term solution to this decade old problem. And the Dolphins could get him in their sleep.
2. Find a Running Back Complement to Reggie Bush
Joel Auerbach/Getty Images
Reggie Bush is an explosive, unique talent. And this year, he proved he could be useful in plays that weren't specifically designed for him.
But he's still not an every-down back. The Dolphins need to find a bruiser to run between the tackles and pick up 3rd-and-shorts. If they can, they'll have a balanced, potent running game.
The best-case scenario is that the answer comes from in house, and Daniel Thomas makes a leap and becomes that guy. But the Dolphins will have to consider taking a back in the draft at some point and maybe signing one in free agency.
3. Find a Deep Threat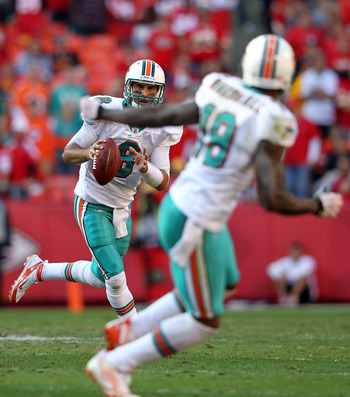 Jamie Squire/Getty Images
Between Brandon Marshall, Davone Bess and Brian Hartline, the Dolphins have a pretty good receiving corp.
But none of these guys really stretch the field vertically. With the right quarterback, Marshall becomes a downfield option to an extent.
But Miami needs someone who can just blow the lid off the defense. Someone who needs to be accounted for every time he steps onto the field.
If defenses have to account for that, then the considerable talents of Marshall and Bess will just become more magnified.
4. Upgrade the Safety Position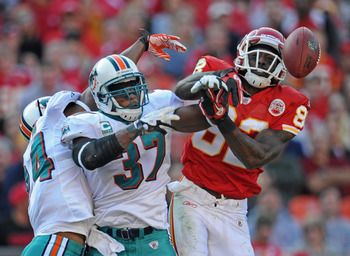 Peter Aiken/Getty Images
Adding another pass-rusher is also a need for the defense, but I see issues in the secondary as more pressing, especially the safety position.
The Dolphins seemed to get burned on deep throws pretty frequently.
Yeremiah Bell is old and slow, and he and Reshad Jones had a combined two interceptions, though Jones has shown promise.
Accomplishing this will be tricky, as drafting a safety in the early first round goes against conventional wisdom, and this year's crop of free agents for that position is not particularly enticing.
Tyvon Branch from the Raiders could be a name to look out for.
5. Draft Riley Reiff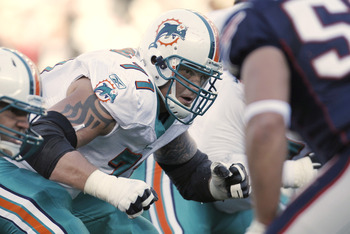 Winslow Townson/Getty Images
Adding a pass-rusher could also be a good move here, especially considering the Dolphins are switching to a 4-3.
But if they take Reiff, Miami's line will be set for years to come.
The NFL has never been more about offense, and it all starts in the trenches. The Dolphins would have a great foundation with Jake Long, Reiff and Mike Pouncey.
If they take Reiff and find an answer at quarterback, the Dolphins will have had their most successful offseason in years.
Keep Reading

Miami Dolphins: Like this team?