New York Knicks vs. Boston Celtics: TV Schedule, Live Stream, Spread Info & More
February 3, 2012

Christopher Pasatieri/Getty Images
In a nice Super Bowl precursor, the New York Knicks will take on the Boston Celtics two nights prior, only this game will be on the hard court.
The Knicks (8-14) travel to Boston to take on the Celtics (11-10) on Friday night. 
The two teams last met on Christmas Day, when the Knicks beat the Celtics 106-104, in a game that was close throughout. We can only hope this game will be no different from an excitement standpoint.
Where: TD Garden. Boston, Massachusetts
When: Friday, Feb. 3 at 8 p.m. EST
Watch: ESPN; Streamed on ESPN 3; MSG in New York; CSN in Boston. 
Listen: ESPN 1050 in New York; WEEI 850 in Boston. 
Betting Line
Celtics (-6.5) according to Sportsbook. 
The Celtics are playing much better than the Knicks, and with the game being at home in Boston, they are a good bet to come out with the win and cover that spread.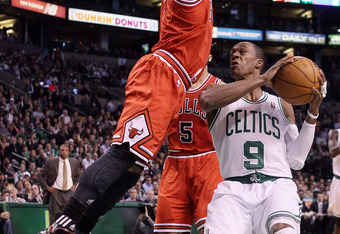 Elsa/Getty Images
Key Injuries
Per USA Today.
Knicks' G Baron Davis and C Josh Harrellson are out. 
Celtics' G Keyon Dooling is doubtful.
Celtics' G Rajon Rondo and G Marquis Daniels are questionable.
What's at Stake?
Both of these teams need to get a lot better to get to an elite level.
As it stands now, both are in danger of missing the playoffs. 
The Knicks are 2.5 games out of the No. 8 spot. If they don't get on track, New York will be watching the playoffs from home. 
The Celtics are in the playoffs as of right now, but can't afford a slip or they will be in the same spot. They are also six games out of the top spot in the East, and 4.5 games back from the 76ers for the Atlantic Division lead.
No teams currently stand between the 76ers and Celtics in the division, so a win here could trigger a nice winning streak, bringing a Top-three seed in play. 
What They're Saying
Marc Berman of the New York Post was critical of the Knicks, who don't have a shooter. He felt that flaw was exposed in a loss to the Bulls, where power forward  Amar'e Stoudemire was forced to try a three-pointer that would have tied the game in the final seconds, which he missed. 
"After the dizzying amount of moves made since November 2008, it is amazing the Knicks still don't have a point guard or a starter who can be considered a very good 3-point shooter, a staple in Mike D'Antoni's speedball offense. Carmelo Anthony probably would agree that it is not his strong suit. Maybe Baron Davis changes both."
Steve Bulpett of the Boston Herald wrote that he was encouraged with the team's blowout win against the Raptors on Wednesday, thinking it was a sign that the team is on track, in the right direction.
"Look, the Celtics will obviously need to get a whole lot better to concern anyone in the upper half of the Eastern Conference bracket come springtime, but as long as they can continue to clean up against the NBA flotsam, they can go about their internal business without the draft lottery gun at their head...It is still impossible to picture this team getting by a Miami or a Chicago in the playoffs, but they are no longer listless."
Knicks Player to Watch
PG Iman Shumpert.
With Rajon Rondo possibly not playing, the Knicks will need a good game from Shumpert at the point. If Rondo does play though, the Knicks will need Shumpert's defense to slow Boston's offense down. 
Celtics Player to Watch
SG Ray Allen.
He is in a favorable matchup against Landry Fields. That is a favorable showdown for the Celtics that they will need to exploit.
Key Matchup
Carmelo Anthony vs. Paul Pierce. 
Each leads their team in scoring, so this is pretty simple.
The Knicks will need Anthony to win this by a lot, but If Pierce keeps it close, the Celtics will win easily. 
Prediction: Celtics 97, Knicks 85
In Boston, the Celtics have a big advantage in this game.
They are playing better basketball now than they were early in the year, and the Knicks have dropped four of five.
The fortunes of each team will continue.