Super Bowl 2012: New York Giants vs. New England Patriots Injury Reports
February 3, 2012

Chris Graythen/Getty Images
So much for the Harbowl. 
Both Jim and John Harbaugh's Super Bowl hopes were vanquished in their respective Conference Championships at the hands of the New York Giants and New England Patriots. 
Looks like the only sibling rivalry between the two brothers on Sunday will be who holds the remote control during the big game. Or who gets the last hot wing. 
A word of advice for Jack and Jackie Harbaugh: Order an even number of wings. 
Fans can still expect Super Bowl XLVI to be a heated contest between the two teams, a rematch of the 2008 title game. Four years ago, New York stunned the world by defeating the heavily favored (and then-undefeated) Patriots 17-14. 
Giants Injury Report
Probable
RB Ahmad Bradshaw (foot)
WR Hakeem Nicks (shoulder)
DE Osi Umenyiora (ankle/knee)
CB Corey Webster (hamstring)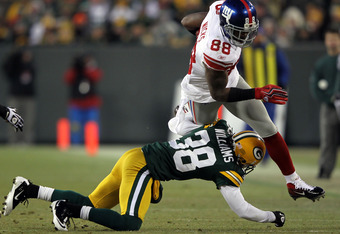 Jamie Squire/Getty Images
LB Jacquain Williams (foot)
S Tyler Sash (foot)
Outlook: Let's be honest, it's the Super Bowl, and nothing short of being relegated to crutches or a wheelchair are keeping these players out of the game. Even then, they would still try and hobble onto the field. 
Nicks, bum shoulder and all, is a favorite target of Eli Manning, and the two will look to exploit a shaky secondary. 
Umenyiora is a little banged up due to a brutal 19-game season—but healthy enough to start on Sunday. The team needs him and the rest of the front four to apply pressure on Tom Brady, much like they did in their 2008 victory. 
Overall, the team is well rested after a week off and fired up to compete for the franchise's third Super Bowl. 
Patriots Injury Report 
Questionable
OT Marcus Cannon (ankle)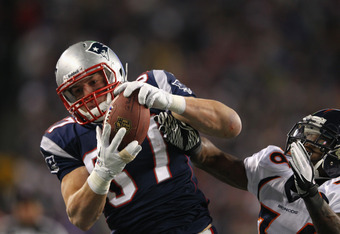 Al Bello/Getty Images
OT Sebastian Vollmer (flu/back/foot)
LB Dane Fletcher (thumb)
LB Rob Ninkovich (hip)
LB Tracy White (abdomen)
WR Wes Welker (knee) 
TE Rob Gronkowski (ankle)
G Logan Mankins (knee)
DL Kyle Love (ankle)
S Patrick Chung (knee)
Probable
WR Deion Branch (knee)
C Dan Connolly (groin)
OT Matt Light (flu)
WR Matthew Slater (shoulder)
S James Ihedigbo (shoulder)
Outlook: Gronkowski, whose sprained left ankle has been well documented these past couple weeks, is back in practice and looking more likely to play on Sunday. His workout on Thursday was his first since suffering the injury in a victory over the Baltimore Ravens. 
"He was OK," Coach Bill Belichick said of his tight end. "I don't think he had any setbacks. He has been getting better on a daily basis."
That's good news for the Patriots offense, who often rely on Gronkowski for crucial third-down conversions and big catches inside the red zone. 
Other than that, the team is healthy and ready to play for the Lombardi Trophy. 
Prediction: A combined 27 current starters between the Giants and Patriots were not even on either team for Super Bowl XLII, so all this talk of revenge is a bit overstated. It's a championship game between two highly competitive teams, and it should be a close one. 
The Giants, expected by many to win, will not surprise anyone on Sunday. The target has been switched to their backs, and that will be the difference.
Patriots quarterback Tom Brady has an abundance of weapons and will utilize each one throughout the game en route to his fourth Super Bowl ring.
Final Score: Patriots 31, Giants 27